You are about to get to your destination and spend an unparalleled vacation; that bit of Mediterranean paradise hidden in the Balearic island of Formentera is now closer than ever. And it is precisely through the port that La Savina welcomes you on your first step into your adventure.
This wonderful spot is mandatory for all visitors coming to Formentera from Ibiza by ferry. But take your time here, explore it and make it more than just a routine transfer. Are you up to getting to know it deeply? Are you up to falling in love with it? You will not be blind to its human warmth and stunning beauty.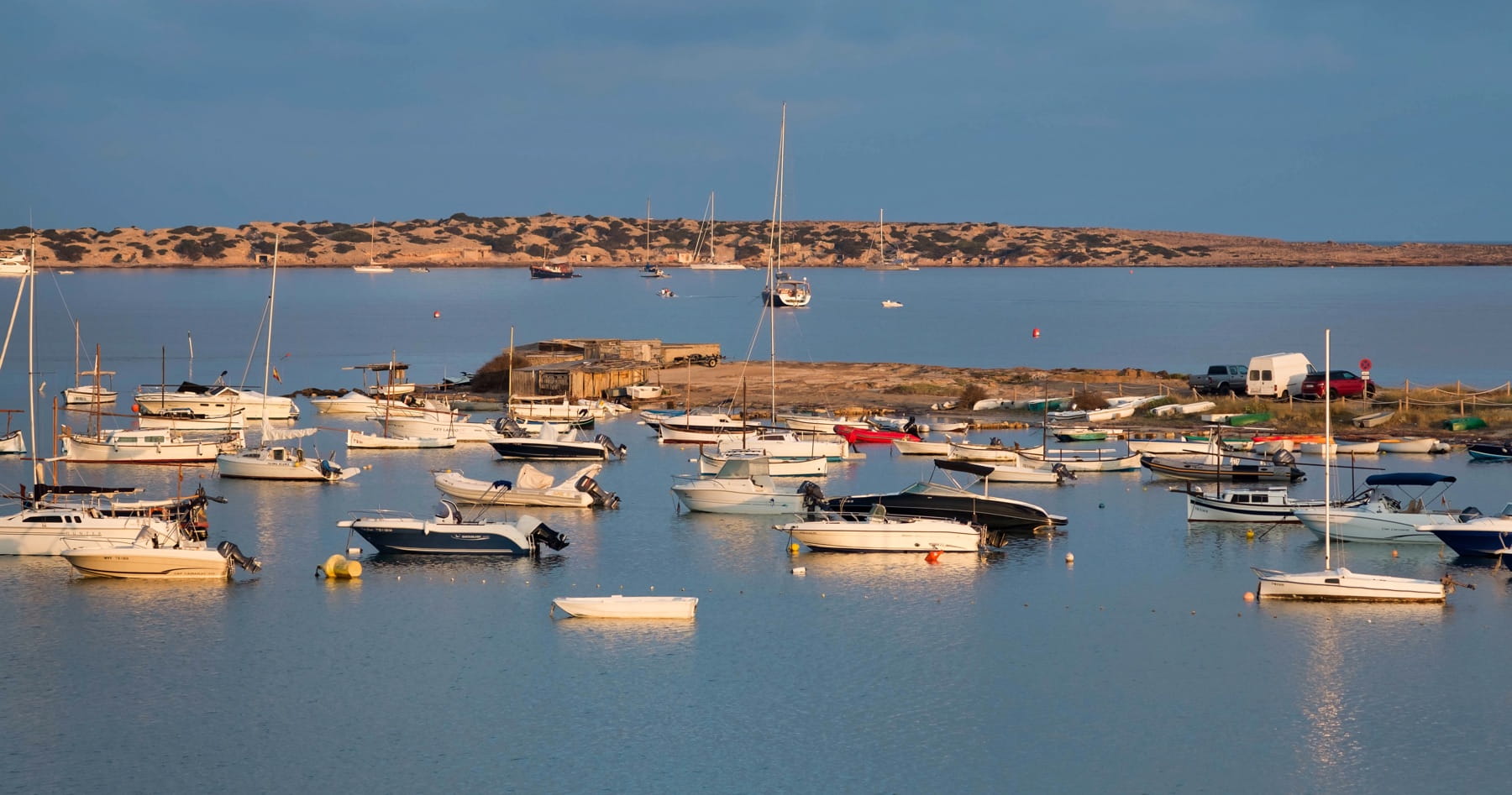 How to get there
What to see
The village of La Savina offers charming places to visit and discover. Next, we highlight some of them:
The port
It is the smallest pier in the Pitiusan Islands but the most captivating of all. The intense blue colour of its waters and the splendour of its landscape set this modern seaport apart and a place for boats and also striking yachts to dock.
From this point, you can contemplate the always impressive Ibiza on the horizon.
As soon as we touch ground, we can begin to enjoy the surrounding comforts that will make our stay special: car rentals, taxi service and bus stops, but also bicycle and motorcycle rentals.
The seafront promenade
Leaving the pier and we begin to enjoy with a walk that will takes us to different local attractions. One of the first to see from it is Es Vedrà Islet, but also the colourful beach bars while elegant boats float on the water.
Street markets and shops
There is a welcoming street market right on the seafront promenade and here you can browse for jewellery, crafts, clothing and assorted souvenirs. It is open every day from 11:00 a.m to midnight.
La Savina lighthouse
Surrounded by mayhem of rocks is the characteristic La Savina Lighthouse, whose impressive presence guards our arrival and also our departure. Located near the heliport, it surrounds the magnificent lake called Estany d'es Peix.
What to do
There is a building right by the pier where to purchase ferry tickets to different destinations and beaches on the island. Also, many companies offer us water sports services, so we can jump onto the opportunity and go flyboarding, jet skiing, kayaking, diving and much more.
Where to eat
A wide range of restaurants overlooking the sea skirt the port of La Savina. It is the ideal opportunity to relax while we take pleasure in the exoticism of this coast.
With the best Italian, Mediterranean and international cuisine, the menus stand out for their succulent dishes, which are certain to captivate your palate.
Where to lodge
You will have very different options for accommodation. From an elegant and very well equipped club with a natural garden, seawater swimming pool, cafeteria, bar, restaurant and dazzling terraces, to a hostel and several rural houses welcoming you with a warm and home-like atmosphere.
Check Available Accommodations
Surroundings
You can go to the village of Sant Francesc Xavier in just 5 minutes by car. Here you will find shops, restaurants of all kinds and all the amenities you need. You can also take a pleasant stroll through its streets and visit some of its most emblematic monuments.
Another nearby area is the famous Es Pujols, a very touristic place with a beautiful beach and a promenade that gathers many celebrities who come here in the summer season to enjoy its atmosphere.