The town that will seduce you
Many tourists decide to spend their holidays in Palma, also known as Palma de Mallorca, since its nomenclature has been changing over time. This city does not disappoint anyone and visitors always crave more time in it and further discovery.
This has brought the British newspaper "The Times" to consider it the best place to live in the world in 2015. They recognized the city quality of living, the environment, its warm climate and all that could be found here, which was also easily accessible on foot.
Considered to be the capital of the island, Palma is the largest city in Mallorca and the Balearic Islands, and the eighth largest city in Spain as far as the number of inhabitants is concerned. There are plenty of fantastic corners to be discovered in the 20,863 hectares that make this city.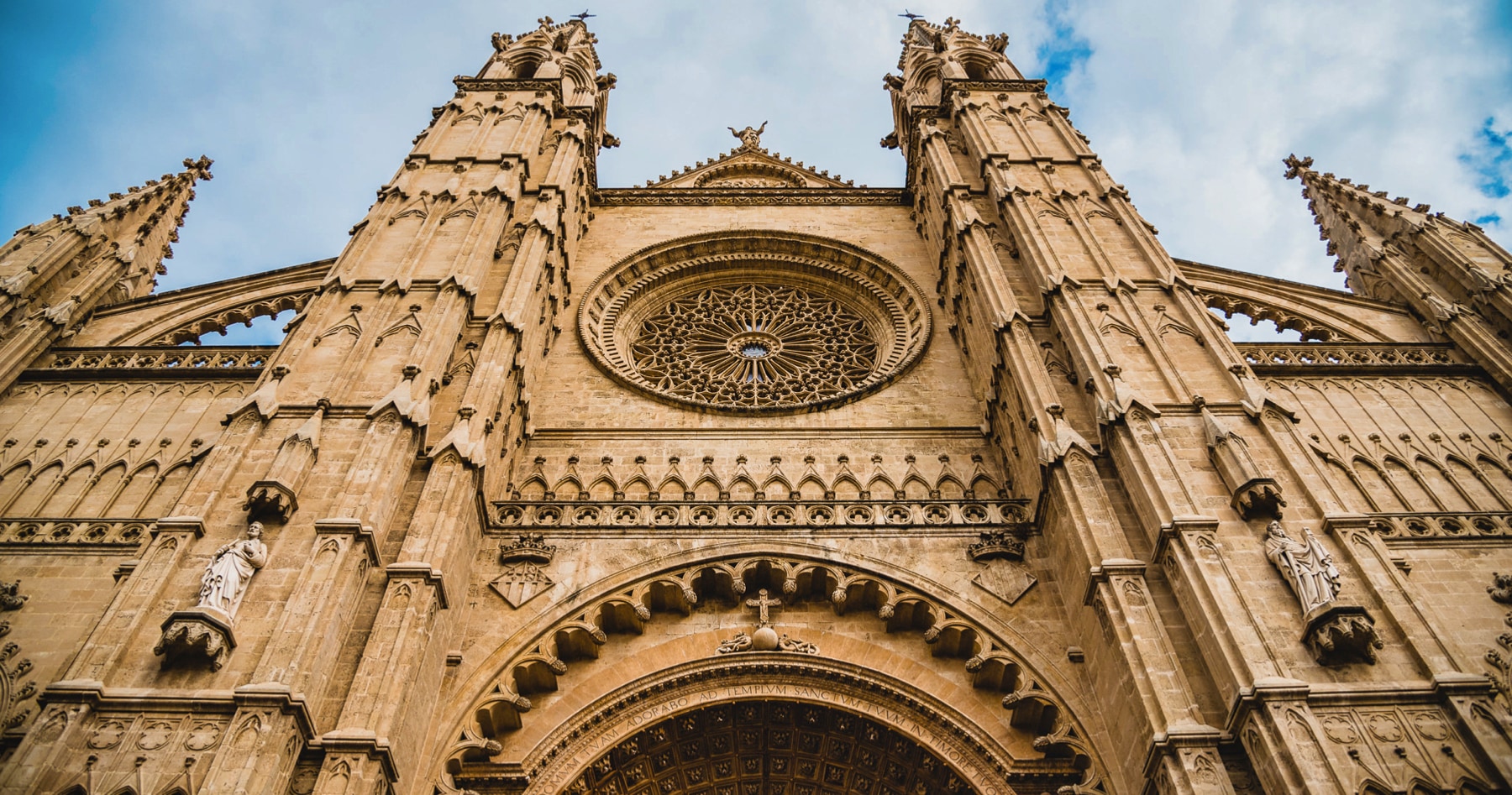 How to get there
Palma airport is 8 km from the city centre and has an important flux of passengers, especially in summer time. It is ranked the third Spanish airport for the number of passengers in and out, following Bajaras Airport in Madrid and El Prat Airport in Barcelona.
This airport has direct and daily connections to many cities in the United Kingdom and Germany, as well as to the main cities in the Iberian Peninsula, Madrid and Barcelona. It also connects to Menorca and Ibiza. Most airlines offer flights to Mallorca.
Palma port is the most important in the Balearic Islands and offers the possibility of travelling to Mallorca by boat. There are regular routes from Barcelona, ​​Valencia, Mahón, Denia and Ibiza.
What to see
There are many things to see in Palma: monuments, singular streets, shops or beaches; however, you cannot miss the main attractions here, which are the famous Palma Cathedral and the city old town.
Take a walk through the Parc de la Mar to reach the cathedral and take your time to enjoy its spectacular architecture. If you have the chance to pay a visit at night, the lighting in place will make of the sight a lovely memory for you to take home. Let your feet take you through the streets winding the old town, where thousands of shops and remarkable places await.
Find here further details for these and other places that should not be absent in your check list under 'what to visit in Palma':
La Seu or Santa María de Palma Cathedral
Towering in front of the sea, Palma Cathedral is very famous for its impressive Levantine Gothic architecture and for having one of the largest Gothic rose windows in the world. Its vault is 44 metres high and is the second tallest cathedral of its style in Europe.
Found in Parc de la Mar, its beauty is worthwhile contemplating for two reasons, the beauty of the building and its surroundings.
Called by many 'the cathedral of light', you will understand why the name once you enter the building. Its 61 windows allow a powerful beam of natural light to come in through the central rose window in the mornings, creating an amazing vision.
Located near the Bay of Palma, it is the only cathedral in the world that projects its reflection upon the sea.
There are several points in the city from where to contemplate the cathedral. One of them is Es Baluard, where we access a stairway in some sort of wall in order to have an absorbing view of that area.
To visit La Seu, we must access the museum after paying a small admission fee. This is free for residents.
It opens from Monday to Friday from 10:00 a.m. and its closing time will depend on the time of year. Hours on Saturdays run from 10:00 a.m. to 2:15 p.m.
Old Town or Historical Centre
Strolling through the narrow streets of Palma old town, mostly pedestrian, is a pleasant journey and a fine way to discover many things. You will encounter historical monuments and art galleries; you will discover particular building designs and house front doors, beautiful shops and cafés, and you will walk along very old streets and dine from the striking gastronomic offer. It is located behind the cathedral, surrounding the Paseo del Borne and will for sure surprise you.
Do not miss some of 'Ca'n Joan de s'Aigo' delights, a very famous chocolaterie-café in Palma for its ensaimadas, chocolates and other tasty varieties, while you rest a bit.
Bellver Castle
Located on the top of a hill to the west of Palma and surrounded by a pine tree forest, this castle is an intriguing place to visit.
It is a circular castle, built in the 14th century, and was used as a summer house by royalty, becoming afterwards a prison until 1915.
The Bellver Castle offers a panoramic view of the bay of Palma and Serra de Tramuntana, the most famous mountain range in Mallorca.
We can reach the castle by car and if we are lucky, park in its parking lot or on the side of the road; if you access by public bus, you will have to walk a few metres from the bottom of the hill; you can also use the tourist bus since there is a stop at the castle.
Guided tours are offered from Monday to Saturday at 12:30 a.m. We will learn about the castle history and be able to see almost all corners inside.
It is possible to enjoy outdoor concerts in one of the castle's inner courtyards in summer afternoons.
Hours
From October to March: Monday 8:30 a.m. to 1:00 p.m. Tuesday to Saturday: 8:30 a.m. to 6:00 p.m. Sundays and holidays: 10 a.m. to 6 p.m.
From April to September: Monday 8:30 a.m. to 1:00 p.m. Tuesday to Saturday: 8:30 a.m. to 8:00 p.m. Sundays and holidays: 10 a.m. to 8 p.m.
Parque de la Mar
Parque de la Mar is the name of the large park to be found below the cathedral and spreads 9 hectares in front of the promenade and the sea. Kids will have a blast here playing in the different playgrounds available.
You can continue your downtown route walking about this area and observing La Seu, La Almudaina, the sea and why not, you can also relax while having something to drink in one the bars or just sitting on a bench to enjoy the scenery around you.
In the past, the sea reached the cathedral walls. A road and an artificial salt-water lake were built below the cathedral and can be seen in the park today.
Pueblo Español
It is located in the neighbourhood of Son Espanyolet. Among others and throughout its 6,000 square metres, Spanish characteristic monuments are represented here. Come and see La Alhambra from Granada, the Christ of the Lanterns from Cordoba, or San Antonio de la Florida hermitage from Madrid.
Adult admission fee is around €5. This neighbourhood is currently competing against the Spanish Village in Barcelona for the first position in Spain.
Almudaina Royal Palace
It was a Muslim fortress and later became a Christian palace. Today, it is the King and Queen of Spain's official residence in Mallorca when they visit Palma. Its entrance is in front of Palma Cathedral.
Inside, we are awed by gigantic tapestries, as well as the enormous chimneys in the rooms. Also to be noted is the striking furniture, as the delicate and elaborate handicrafts emanate powerful warmth into the premises. The terrace offers the beautiful gift of the stunning views of the city seafront, as well as of Parque de la Mar. The inner courtyards are also rich in detail, like the fountain fed by a lion-shape fountain.
You can visit from Monday to Saturday for about €4 per person. Wednesdays and Thursdays are free of charge for EU citizens in the afternoon.
Arab baths
The Arab baths are near the cathedral, specifically on 7 Serra Street. This Muslim architecture from the 10th century is among the very few Muslim remains on the island today. The main room intended for hot baths is preserved.
You can visit these baths from April to November from 9:30 a.m. to 8:00 p.m. and from December to March from 9:30 a.m. to 7:00 p.m. Admission fee is €2,50 per person.
La Lonja
Known in Mallorcan as Sa Llotja, it is located in Palma old town and was in the past a building where merchants met to carry out diverse trading activities.
Nowadays, it is a great place to walk around or to go out at night, since it offers a wide range of restaurants, bars and nightclubs to suit all tastes.
The Abaco Cocktail Bar is well known and visited by tourists on the island in spite of its overpriced drinks.
There is a trade Guardian Angel in the doorway, carved in stone, in memory of the business done inside.
Walk the main street in La Lonja, Apuntadores Street, and be delighted by the large number of shops along the way. Do not forget to reach the well-known Italian restaurant Ribello.
If you are a jazz lover, you cannot miss the Blue Jazz Club on the top floor of Hotel Saratoga, which besides offering live music on Thursdays and Fridays, has breathtaking views of the port and the city centre.
The Jazz Voyeur Club is another club among the most famous and is on Apuntadores Street in La Lonja.
Paseo del Borne
Going up the great avenue that we find to the right of the cathedral, we will reach the Paseo del Borne, a distinctive area where to go shopping and find many shops, including Louis Vuitton, Zara or Boss.
Jaime III Street
It is known as the perfect street to go shopping in Palma de Mallorca. Here we find small shops and also luxury shop windows that will undoubtedly call our attention. In summertime, it is usually full of tourists who enjoy the good weather and walking around.
Santa Catalina
The district of Santa Catalina is one of the most alluring today, but it used to be the classic fishermen's neighbourhood. It currently attracts the attention of those who walk through its streets, which are embellished with brightly painted facades, old wooden shutters and balconies decorated with flowers and plants.
Mercat de Santa Catalina is within this quarter, which is the oldest gastronomic market in Palma and offers a great variety of products today.
Portitxol
Almost in the outskirts of the city of Palma but still very close to the cathedral, we find Portitxol. What used to be a fishing harbour has now become a very popular place to walk its promenade, bike or rollerblade, eat in one of its many restaurants (fish dishes do not disappoint) and enjoy its beaches.
It is a place frequented by tourists and residents, so parking may sometimes be hard to find.
Beaches
Beach of Palma is the longest in Mallorca and also the most crowded. You will also find other beaches such as Cala Estancia, Cala Major or the beach of Ciutat Jardí. If you are looking for something a little further away, we recommend you to go to Illetas beach, you will love the colour of its waters.
What to do
Nightlife
If you want to go out at night, La Lonja or Santa Catalina quarter can offer a wide variety of bars, pubs and restaurants for you to dine and enjoy a good mood and some partying. You can also stop by the promenade and Ca'n Barbara and enjoy the clubs and discos to be found there.  
Outdoor activities
You may practice water sports such as paddle surfing, kayaking, diving or sailing in many of the beaches in Palma.  
As a good alternative for leisure, you can rent a bike and explore the promenade or el Paseo del Molinar and Portitxol.
Renting a boat is a magical way to tour the coast and discover any inaccessible and intriguing corners on foot.
Where to eat
Palma is the largest city on the island and therefore has an infinite selection of restaurants where you can eat suiting your budget.
Many Spanish and Mallorcan cuisine restaurants are located in Palma old town and in La Lonja.
Where to lodge
Palma provides a wide range of hotels where to stay during your holidays in Mallorca. These include hostels, low-priced hotels, luxury hotels and apartments. If you are looking for a villa to rent, you will usually find it in the city outskirts.
Whether you decide to stay in downtown Palma or on the seafront, you will still have access to the main attractions in Palma on foot and there will be no need for using public transportation.
The seafront hotels benefit from sunny views and the sea. Boutique hotels have become very fashionable lately and many of them are to be found on the narrow streets near the cathedral.
Check Available Accommodations
Palma surroundings
If you wish to visit other areas or interesting towns near Palma, we highly recommend that you rent a car if you have left your own vehicle home. In spite of public transportation being very efficient in Palma, it does not reach all sides of the island.
An interesting visit would be Andratx and Puerto de Andratx. Visit also the beautiful town of Valldemossa or Sóller, and if you are willing to do drive some more, explore the north of the island and stop by Alcudia, Puerto de Alcudia, Pollensa and Puerto de Pollensa, and do not forget to visit the spectacular Mirador des Colomer and Cala Formentor.