A mandatory stop in Mallorca
Pollensa or Pollença is located in the north of the island. It is a charming town that radiates a pleasant mood, transmitted through its narrow streets. There are cafés everywhere you go, but also shops, crafts shops and beautiful corners that wind the main square. Here, there are always people around creating an intriguing bustle, especially on a market day.
This is a town capable of catching the visitor's attention, particularly the British, many of whom now call Pollensa their home.
The port of Pollensa is about 6 kilometres away from town and adds attraction to this tourist area.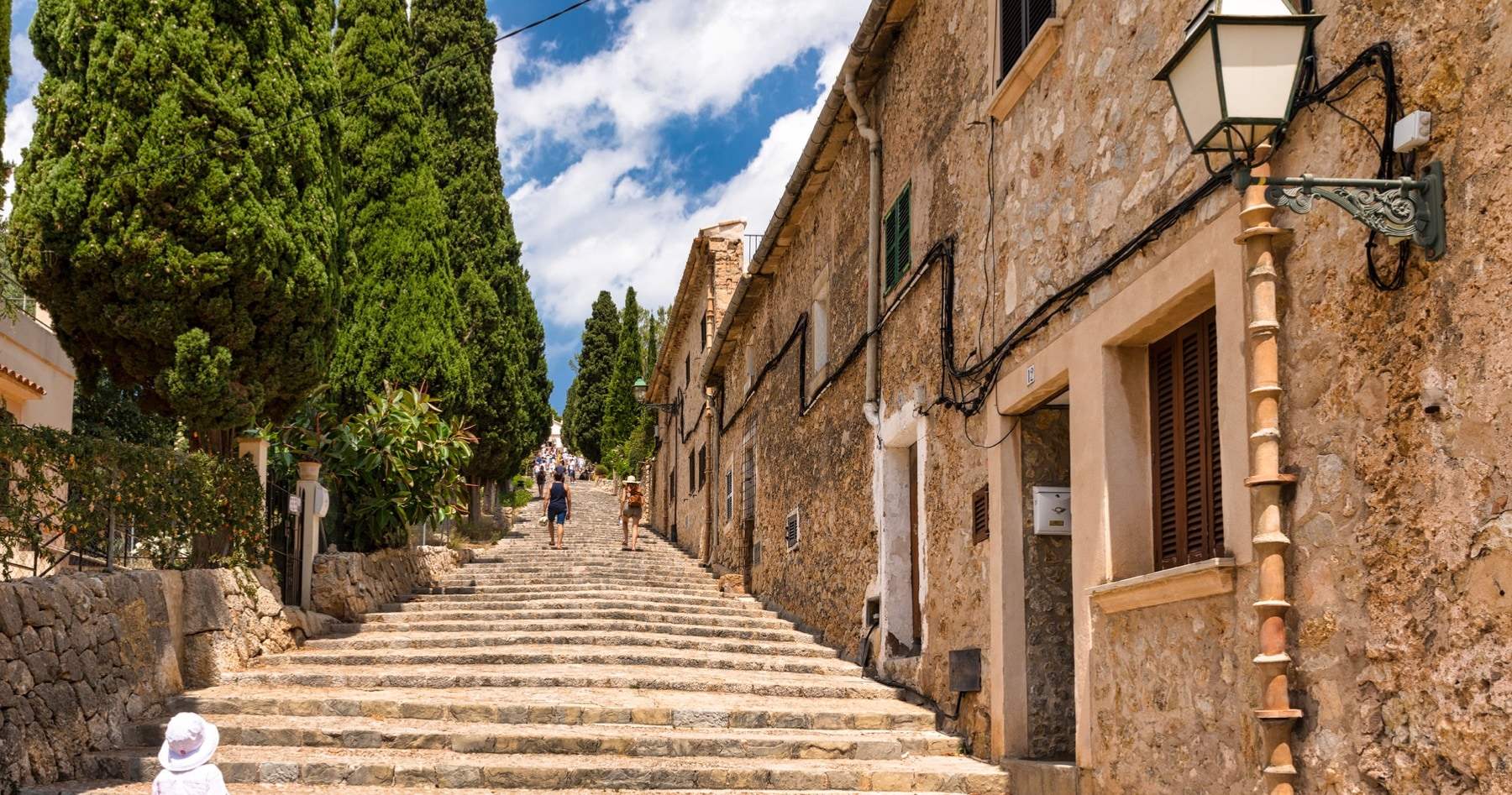 How to get there
What to see
If you come to Pollensa by car, your best option to get around town is by parking your car in one of the public parking areas at the entrance to the town, since parking is definitely a challenge further in. It will not take you more than a few minutes to get to the centre on foot.
Main Square
It is the main town square. Sunday morning is the day when the local market is the town's spotlight. The diverse market stalls lure in many tourists and also residents. This is an ideal place to make a stop and have a nice cup of coffee in one of the many coffee shops and bars that you will have the chance to choose from.
The Roman Bridge
This bridge is a sample of the Roman occupation in Mallorca. It has 2 large non-homogeneous arches and a smaller central one. It is located in Camí de Ternelles and you can take a pleasing walk around it.
El Calvari
365 steps will take you to this place blessed with beautiful views of Pollensa surroundings. But do not let so many steps discourage you! You can skip them and still enjoy its spectacular views since you can drive to the top with no problem taking the alternative road. Once on the top and in case you need to recharge your energy, you will find a small café next to the church.
Monti-sion
Ancient monastery and university
Dionís Benàssar House Museum
It can be found on Carrer Roca. It is an old house owned by this local artist and the place where to exhibit his work on different landscapes in Mallorca and special times on the island.
Santo Domingo de Pollensa Convent
It is a must-see, an architectural jewel in Pollensa. Inside, you can find the Pollensa Museum and the work of various artists. Admission is free of charge.
El Puig de María
It is a mountain 330 meters high. We can reach the top by following a path of Holm oaks patched with shady parts. It will take us about an hour, but once we are there, we will have access to Puig de María Sanctuary. Visitors may spend the night here and sleep in one of the old rooms used by the nuns. There is also a restaurant and spectacular panoramic views.
Popular shops
Pollensa has many singular shops, clothing shops, souvenir shops, food and bakeries selling delicious products. We highlight the Ensenyat delicatessen selling exquisite gourmet products and Ca'n Xim bakery, very popular among residents who come to buy tasty ensaimadas and other traditional products from Mallorca.
If you are a wine lover, you can find a great wine selection in Bodegas Ca'n Vidalet, which is located on the road from Pollensa to Alcudia.
Popular events
Moors and Christians Festival
A loud enactment of the battle between Moors and Christians is on every August 2nd in memory of this town history. This performance surely attracts many visitors, as participants dress up in costumes to represent both sides.
El Davallament
It is a procession that takes place on Holy Friday in Easter from the top of the mountain where El Calvari is, running along the Via Crucis, the 365-step staircase descending to the village. It is a very emotional religious act for all participants as it depicts the Passion of Christ to the light of torches and up the steps.
Music
The cloisters of Santo Domingo offer different outdoor concerts every summer.
The Pollensa Music Festival makes of this town a very important cultural spot on the island. Apart from these concerts, there are films and exhibitions, and even sometimes, artist such as Montserrat Caballé or Josep Carreras had made an appearance in this festival.  
Nearby beaches
In order to enjoy a day at the beach, you should go to the port of Pollensa and lie down on Formentor beach or Alcudia beach, both highly recommended.
Cala San Vicente is a small fishing village you should not miss, as its beautiful beaches and wonderful natural environment will certainly awe you.
Where to eat
There is a magnificent range of restaurants in Pollensa. Here you will find Italian restaurants, pizza places, Mallorcan cuisine restaurants, seafood and vegetarian restaurants, luxury restaurants, Argentine grills and also tapas bars.
Where to lodge
Pollensa is a wonderful town that rewards visitors with real calmness during their stay. Here you can find hostels, 3, 4 and 5 star hotels, villas, resorts and hotels with spa.
Check Available Accommodations
Pollensa surroundings
Es Colomer viewpoint
It is the most famous viewpoint on the island. We can see a very characteristic image of the Cap de Formentor from it, which you have probably seen already in some postcard or landscape from Mallorca. This will be an unforgettable stop as the views of the cliffs and Formentor Bay are second to no other place; the climb is with no doubt worthwhile your time and effort.
If you are to visit on peak season, we highly advise you to use your morning for this stop and avoid this way the usual crowds. We add a gift to this experience: the inimitable sunset you can enjoy here. You may reach this point by the road to Formentor.
If we take the paved road to the right of this viewpoint, we will go to the Atalaya in Albercutx, an ancient watchtower, and another impressive viewpoint to complete the views of this area.
Formentor Lighthouse
In order to get to this beautiful lighthouse, we take a quite narrow and winding road along Cap de Formentor. The bad road has however a great reward, in the fashion of panoramic views that cannot be described with words. If the weather is fine we will get an extra treat: we will be able to see Menorca in the distance.
To complete your trip to this area of ​​the island, discover all there is for you to visit in Puerto de Pollensa, Formentor, Alcudia or Puerto de Alcudia.