The island you will not want to leave
The island of Mallorca has a great diversity. It offers the tourist a varied scenario and absolutely fascinating in all its facets: from the rugged mountains that dominate all the north coast to the mysterious and glum medieval monasteries, without forgetting the beautiful villages and the spectacular beaches and coves, all of them accompanied by stunning landscapes that will make you fall in love.
All contribute to characterize in an unforgettable way this beautiful island which has always attracted artists of every kind, actors or writers.
It is the biggest of the Balearic Islands, in Spain. Its sunny weather is present most of the year. Although the best season to enjoy your holidays in Mallorca is from May to the end of September, although October is also a month with a pleasant climate to be able to enjoy all its charms, avoiding the tourist overcrowding of the summer months. 
The official languages are Spanish and Catalan (although Mallorquin is spoken, and this is a dialect of Catalan).
If you have never been on our island, or you haven't been able to enjoy its beauty, we show you a selection of what you can't miss during your stay. Prepare to enjoy some unforgettable holidays in Mallorca.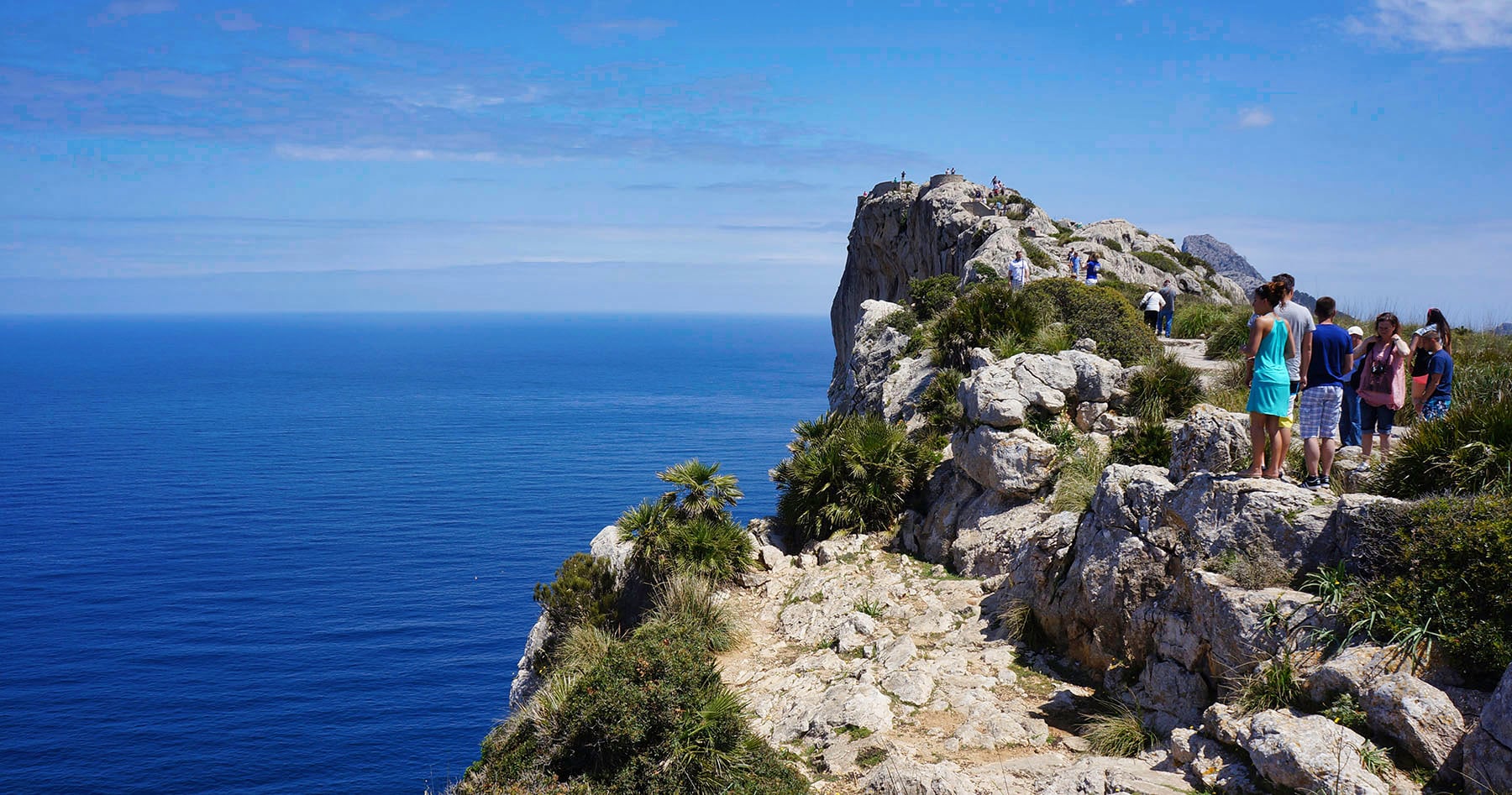 How to get there
You can only get to Mallorca by boat or plain.
There are many national and international flights arriving at Palma airport.
By sea, we can reach the port of Palma or the port of Alcudia by ferry, from different points of the Peninsula such as Barcelona, Valencia or Denia, or from the islands of Menorca and Ibiza.
Beaches and Coves
They are the main attraction of the island. Nothing less than 262 beaches await you.
If you're passionate about coves, take advantage and visit as many as you can, most of them can be accessed by car but others have a more difficult access, walking along long paths or even only by boat, although the effort is worth it, we assure you!
Es Trenc
Allocated in the south of the island, it's considered one of the most famous beaches in Mallorca. It's a 3km long sandy beach, with a dune landscape that together with its crystal and shallow waters it will captivate you.
Cala Varques
It has lately been very overcrowded during the summer months, but its beauty is spectacular. It's a virgin cove, in the south of Porto Cristo, to which you can get to walking along a rocky path.
Cala Formentor Beach
It's a long, narrow, sandy beach with a large amount of pine trees that provide loads of shade. From this beach you will be able to enjoy the incredible views of the Bay of Pollensa.
Cala Mondragó
The Natural Park of Cala Mondragó is formed by 4 coves of stunning beauty and incredible paths. Amongst them is Cala s'Amarador, a beautiful virgin cove surrounded by cliffs.
What to see 
Here is a list of the places of interest which you cannot miss out on during your holidays.
Palma
It's considered the capital of the island, Palma is the biggest city in Majorca and the Balearic Islands and it's also the eighth most populated city in Spain.
You have to take a walk down the "Parc de la Mar", then down to the famous Palma Cathedral and view its spectacular architecture (if you are able to admire it at night, it's lighting will offer you a lovely memory), then carry on walking down the narrow streets of the Old Town where you'll find thousands of shops and charming corners.
You can also hop on the tourist bus, which has a stop at the "Parc de la Mar" and you'll be able to visit the main places of interest during the journey.
The Bellver Castle, on the top of a hill in west Palma, is another place of tourist interest, from which you'll be able to enjoy the panoramic view of Palma Bay and the "Serra de Tramuntana".
If you wish to have a wonder round at night, "La Lonja" (In Palma Old Town) or the well  known neighbourhood of Santa Catalina, offer a great variety of bars, pubs and restaurants, where you can eat and enjoy the atmosphere and the nightlife.
Valldemossa
Allocated in the "Serra de Tramuntana", the town of Valldemossa is an obliged visit when you decide to come to Mallorca. The flowers that decorate its streets and houses create a pleasant atmosphere for the visitor.
Andratx and Port Andratx
Andratx is considered one of the oldest towns on the island. Port Andratx, 10 min away from Andratx town, is one of the main coastal areas on the island and is well known for its small coves and stunning cliffs. From "Sant Elm" we can view the Natural Park of the Dragonera Island and even pay a visit to the island by boat.
Deià
Various known artists have searched for shelter in this town, it's well worth a visit and a walk down its streets to discover its beautiful hidden landscapes. The small cemetery and its sorroundings will leave you astonished.
Soller
The sea and mountain combination makes it a town with a variety of things to do, such as hiking, enjoying the sea or practice mountain sports. In the Port of Soller you can try its gastronomy amongst a wide selection of restaurants. For those of you that dispose of plenty of time you can hop on the Soller Train and enjoy the journey from Palma to Soller and then grab the Tram to the Port of Soller.
Formentor
From the lookout of "Es Colomer", the most famous one on the island, you can enjoy the stunning view of "Cabo Formentor", the bay and the impressive cliffs.
Caves of Drach
These Caves in Porto Cristo are the most famous in Mallorca and they are well worth a visit. If you like caves, there are others on the island, such as the Caves of Hams, the Caves of Campanet or the Caves of Artà.
Sa Calobra 
In Escorca you will find the beach of "Sa Calobra" and the "Torrent de Pareis", these form a unique landscape and well known amongst the tourists that visit Mallorca. A tortuous road with lots of curves will lead you to this destination.
Pollensa
Allocated in the northeast of the island, it has a special charm. Don't forget to take a walk down its lovely streets and go up the steps that lead to the hermitage known as "El Calvari", from which you'll enjoy the stunning views of the town of Pollensa.
Alcudia
It is another town that you will surely like, with a medieval wall and a lot of history. Alcudia beach or Muro beach (nearby) are ideal to spend the day with the family. 
Visiting Mallorca in 3 days
If you're are not able to stay long on the island and you have to decide what to see in Mallorca in 3 days, you can follow this plan:
Day 1
Palma center, visit the Cathedral, the "Palacio de la Almudaina", the Old Town and the "Paseo del Borne". If you still have spare time go down to Port of Andratx.
Day 2
Soller and Port of Soller, after lunch you can go visit Valldemossa, where you can enjoy eating a "Coca de patata" (Potato cake) in any of its bakeries. Then you can head off to Deià to enjoy the sunset at "Sa Foradada"
Day 3
Formentor, visit the "Es Colomer" lookout and then end the morning at the Formentor Beach. Then make your way to Alcudia to have a swim at Playa de Muro beach followed by  a walk around Alcudia Old Town.
Where to eat
During your holidays in Mallorca, you will enjoy its fabulous beaches, landscapes or hiking, but you mustn't forget to try the Spanish and specially the Majorcan food. Apart from typical Majorcan food you will also find a large variety of restaurants that offer international food such as Italian, Indian, Asian, British, fast food and basically anything you want.
If you love fine dining than you will want to know there are five restaurants in Mallorca which have been recognised in 2013 with Michelin stars: Es Fum in Costa D'en Blanes, Zaranda in the Hilton hotel in Llucmajor, Es Molí den Bou, in Sa Coma, Restaurante Jardín in Puerto de Alcudia, and Es Raco d'es Teix in Deià.
In the following link you can find a list of restaurants that go from the cheapest to the most expensive choice, for who may afford it.
Outdoor Activities
For those hiking lovers out there, there are many routes and paths to walk along on the island.
Renting a boat and sailing around the island is a way to discover beautiful landscapes and rocky corners hidden around Mallorca.
Most beaches offer water sports such as paddle surf, kayaking, canoeing, kite surfing or snorkeling.
Renting a bicycle is a good, healthy and ecological way to practice sport and there are many companies on the island that rent them out.
The island of Majorca also offers you the chance to try other activities, such as paragliding, a trip on a hot air balloon, canyoning or mountain climbing.
Where to stay 
The island offers a wide range of hotels for everybody to stay at. There are the classical hotel complexes with all inclusive, luxury hotels and other more economical hotels and apartments.
There are also various camping sites. Another accommodation to consider are agroturisms and rural hotels,  most of them sorrounded by a beautiful and calm environment that you will remember forever.
Majorcan Gastronomy
You cannot forget to try Majorcan typical food whilst on the island.
Breakfast can be accompanied by a typical "Ensaimada". In most bakeries you will find "panades", "Cocarrois" and "Cocas de Trampó" as a savoury option for our breakfast.
"Sobrasada", Olive Oil and Wine are local produce very much appreciated by their quality.
"Trampó" is a typical summer salad, made with tomato, onion and green peppers diced very small and dressed with olive oil and salt.
At typical Majorcan restaurants you can try dishes like ""Sopas Mallorquinas"(Majorcan Soup, made with brown bread, meat and vegetables), "Arrós brut" (rice soup with a strong  flavor  due to its ingredients which also give the broth a dark colouring), "Frito de matances" (a stew made with pork meat, potatoes and vegetables), "lomo con col" (pork loin and cabbage), or "Tumbet" (a vegetable stew made with finely cut aubergines, potatoes, peppers and sometimes also courgettes, cooked in tomato sauce) which accompanies various typical Majorcan dishes.
A stop in Valldemossa to try its "Coca de patata" alongside an Almond frozen smoothie (slush) is compulsory and delicious.
How to move around 
There are various means of transport on the island such as car, motorcycle, public transport, taxi, bicycle or boat.
Our recommendation, especially if you're going to spend various days on holiday in Majorca, is to rent a car. Most tourists rent it at the airport after having booked it in advance, if possible.
Public transport is quite frequent in Palma city, with various bus and tube lines available and also a train that runs through the island. If you decide to take the public transport during your holidays, make sure to check timetables and the destinations as you will not be able to get to everywhere you would like to. 
You can find more information about this on Mallorca's public transport website.