Part of the UNESCO's heritage for its natural reserve.
What is it about Menorca that makes you fall in love with it? Could it be its beaches with crystal waters that stand out on their own merit and feel no different to the Caribbean beaches? It is perhaps the product of alchemy. Menorca combines amazing beaches and spectacular surroundings, alluring all and many still virgin. It also offers an important amount of talayotic remains and Bronze Age structures that dominate much of the landscape awakening the curiosity inside those who contemplate them.
It is an island smaller than Mallorca, and unlike it, it is practically flat. There is a single mountain 350 meters high, but in spite of this fact, the island has many beautiful corners to offer the traveller.

It belongs to the archipelago of the Balearic Islands and where it dawns first in Spain due to being farthest east.
Spanish and Catalan are both official languages, although the menorquín language (a Catalan dialect similar to Mallorcan) is specifically used in Menorca.
With less than 90,000 inhabitants, Ciutadella and Mahón (its capital) are the main cities of the island and have almost 30,000 inhabitants each.
Menorca welcomes many tourists every year and is a perfect holiday destination for those seeking calmness and wishing to unwind for a few days. The island is especially crowded during the famous festival of Sant Joan held in Ciutadella.
Come and don't miss out of all there is to be discovered during your holidays in Menorca.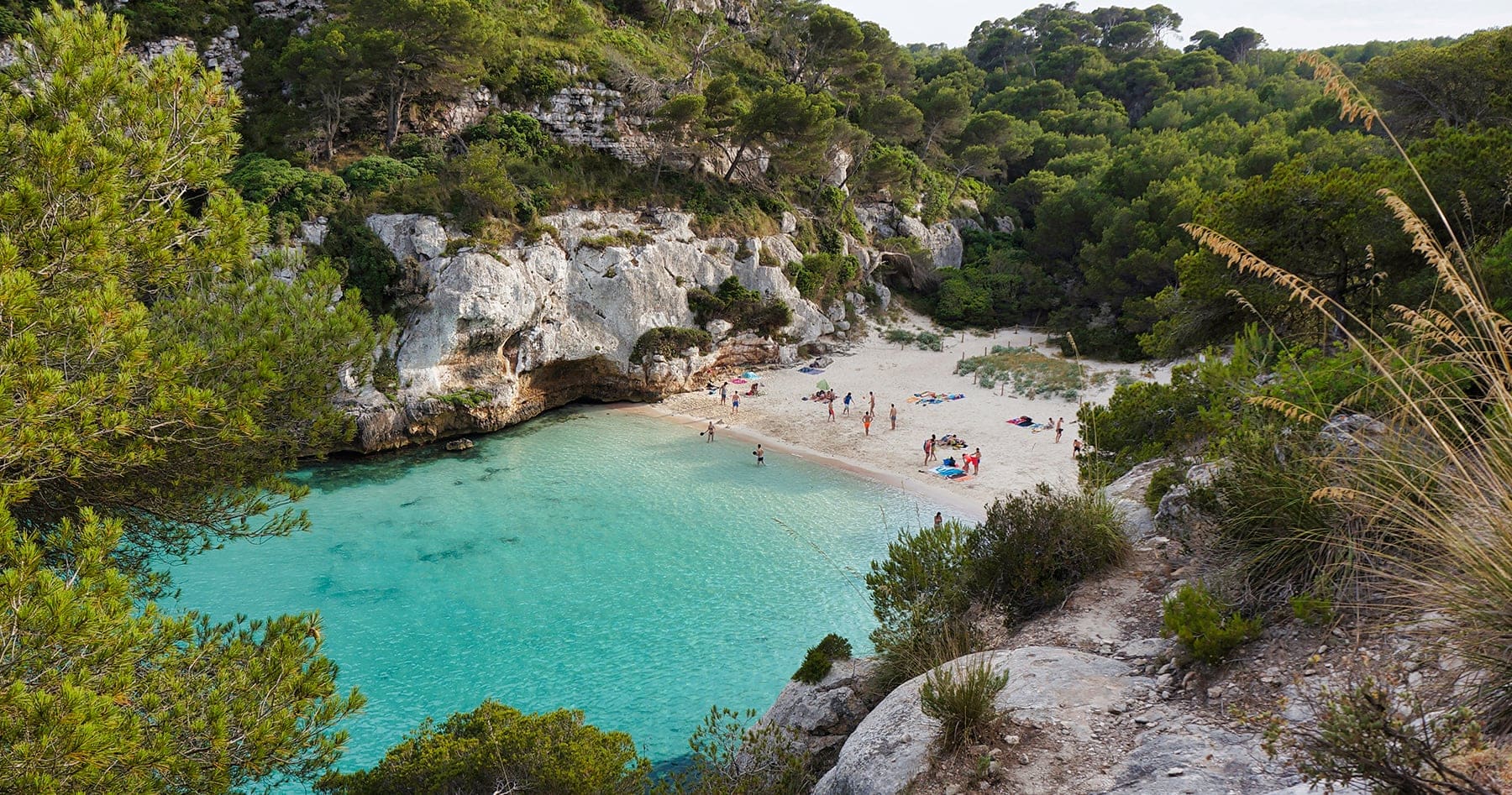 How to get there
By Aeroplane
Menorca Airport is 4.5 km from Mahon.
Menorca is very well connected with Spanish main cities such as Madrid, Barcelona or Bilbao to name a few, especially during summertime when there is a higher tourist inflow. There are also flights to international destinations such as Berlin, Munich, Paris or Vienna.
By Boat
This is another option for transportation, especially for those who want to take their own car with them during their holidays. There are ferries from Valencia, Barcelona and Mallorca to Ciudadela and Mahón.
Beaches
To highlight some among the most famous:
Cala Macarella and Cala Macarelleta
For many considered to be among the best beaches in Spain. We may park near Cala Macarella, but in order to get to its sister beach Cala Macarelleta, we must walk for a while. Note that this walk is worthwhile as you will find out once we realize of its beauty and its turquoise and see-through waters.
Cala Turqueta
Many will fall in love with this beach with fine white sand and transparent waters. Located 10 km from Ciutadella and very close to Cala Macarella, you will reach this cove after walking about 15 minutes from the parking.
Cala Mitjana
Being away from a parking area decreases the inflow of bathers in this beach. The amazing walk, along its spectacular waters and views make of this cove a wonderful place to be.
Cala Galdana
Cala Galdana is a large full-serviced cove among the famous beaches on the island. It is perfect if you like doing aquatic activities or rent a boat for a boat trip.
What to see
Ciutadella
You should not miss Ciutadella old town. Come and walk through its narrow streets with manorial features. In Ciutadella (or Ciudadela) you can see Menorca Cathedral (the most important Gothic building on the island), walk through the Port of Ciudadela until you reach the wonderful Castle of San Nicolás and enjoy a well-deserved rest in the Plaza del Borne.
Favaritx Lighthouse
With a landscape strikingly different from the rest of the island, this site should be a must in your route. You can discover the daring cliffs and black slate rocks that give the place a moon like atmosphere.
Binibeca
Binibeca is a small fishing village with narrow streets and houses that form a peculiar labyrinth. It is one of the most touristic areas on the island and it is worthwhile visiting.
Mahón
Mahón is the capital of Menorca and to its port, which is considered to be one of the best natural ports worldwide, ships are continuously arriving from Barcelona, Mallorca or Valencia.
It is the main partying area on the island, so the nightlife atmosphere here is much more noticeable.
Another must-visit is La Mola Fortress in the port, Santa María Church and the Bastion of Sant Roc (remains of the gate of the wall that surrounded the city once).
Cova d'en Xoroi
It is a cave in the south of the island, located on a cliff called Cala en Porter. It offers stunning views from its viewpoints at any time of the day but especially as the night falls.
D'es Grau lagoon
It is the most important natural park in Menorca. There are 3 different routes to explore it, in which you will enjoy the landscape with bountiful animal and plant life.
Prehistoric monuments
Naveta des Tudons, Torre d'en Galmés, Torralba d'en Salord and Cala Morell Necropolis (14 caves dug in the rock) are some of the prehistoric and Talayotic monuments that should not be missed during your holidays on the island.
What to do 
Outdoor activities
Hiking, bike touring, sailing or kayaking are some of the things to do on the island.
Gastronomy 
La caldereta de langosta (lobster stew) and eggplant stuffed with assorted products stand out as typical dishes in Menorca.
Mahon cheese is a typical island product with designation of origin, as well as sobrasada, camot, formatjades, carquinyols, ensaimadas and pomada (a mixture of gin and lemonade). We are surely not to be hungry with such a variety of products!
Where to eat 
If you're on holiday on the island, you won't go hungry. There is a wide range of places to eat well in Minorca, from the most affordable restaurants to the most luxurious.
In Ciutadella and Mahón you'll find the most variety, but the rest of the island's towns have also thought of everything to satisfy the culinary needs of tourists.
Where to lodge 
Hostels, hotels, apartments, agrotourism, villas or campsites; you can find a wide variety of places to spend your nights on this island that will suit your style and budget. Discover the option that best works for you when staying in Menorca.
How to get around 
Car Hire
Once you arrive in Menorca, it is almost essential to hire a car to be able to move around the island. Rentals are the most comfortable form of transportation and it must be said that there is no mystery to the local roads. They are very simple and you can get from one end of the island to the other in about 40 minutes.
By bus
There are buses that connect the airport to Mahón every 30 minutes in summer.
However, taking the bus is sometimes not feasible; it will depend on the destination, the bus hours of operation, the frequency or just the time the bus takes to reach the destination, especially if we want to go to certain beaches.
Taxi Service
Taxis are available throughout the island. Prices will depend on the point of destination (up to €60 or €70 if it is a very isolated place).
Transfer Service
They are private vehicles that can take you to your accommodation. The driver will wait for you at the airport with a sign showing your name. The price may range from € 40-95 for a vehicle for 4 people, depending on the destination.
Popular festivals 
Even though there are several popular festivals in Menorca, the festivities of Sant Joan in Ciutadella are undoubtedly the most famous.  
Celebrated around June 24th (lasting approximately a week), this spectacular festival brings about a complete transformation in the city of Ciutadella, radiating fun and a family atmosphere. It should be pointed out that Gin Xoriguer (a mixture of gin and lemonade) is widely present in every corner during these days. 
The different social layers of the 14th century are represented: nobility, clergy, peasantry and craftsmanship. In Caragol des Born, a horse parade circles La Born Square to the rhythm of music, to later on, together horses and riders, parade through the streets of Ciudadela and enter some houses as a fascinating touch.
Products from Menorca
The Menorcan avarca is a type of craft shoe, very comfortable and typical of Menorca, which can be easily found throughout the Balearic Islands. These sandals come in many different colours and models, and both men and women wear them. It is so comfortable and simple that whoever purchases a first pair, will definitely get another one very soon.