Ibiza's capital takes its name after the island but is commonly known as Ibiza Town. It is located in the southeast part of the island.
This city has a great story to tell and enjoys an unmatched atmosphere and dazzling colour. As you take a stroll through the streets and surround yourself by the eternally positive mood floating over the busy squares, look around and check the different places, bars, shops and restaurants that make Ibiza, by day or by night, a delightful place to go out, have fun, shop and taste the island's distinctive gastronomy.
The Port is the main incoming point for travellers arriving by sea.
Ibiza's nightlife is well known worldwide, what makes the sighting of famous people in their clubs, streets or beaches a common event.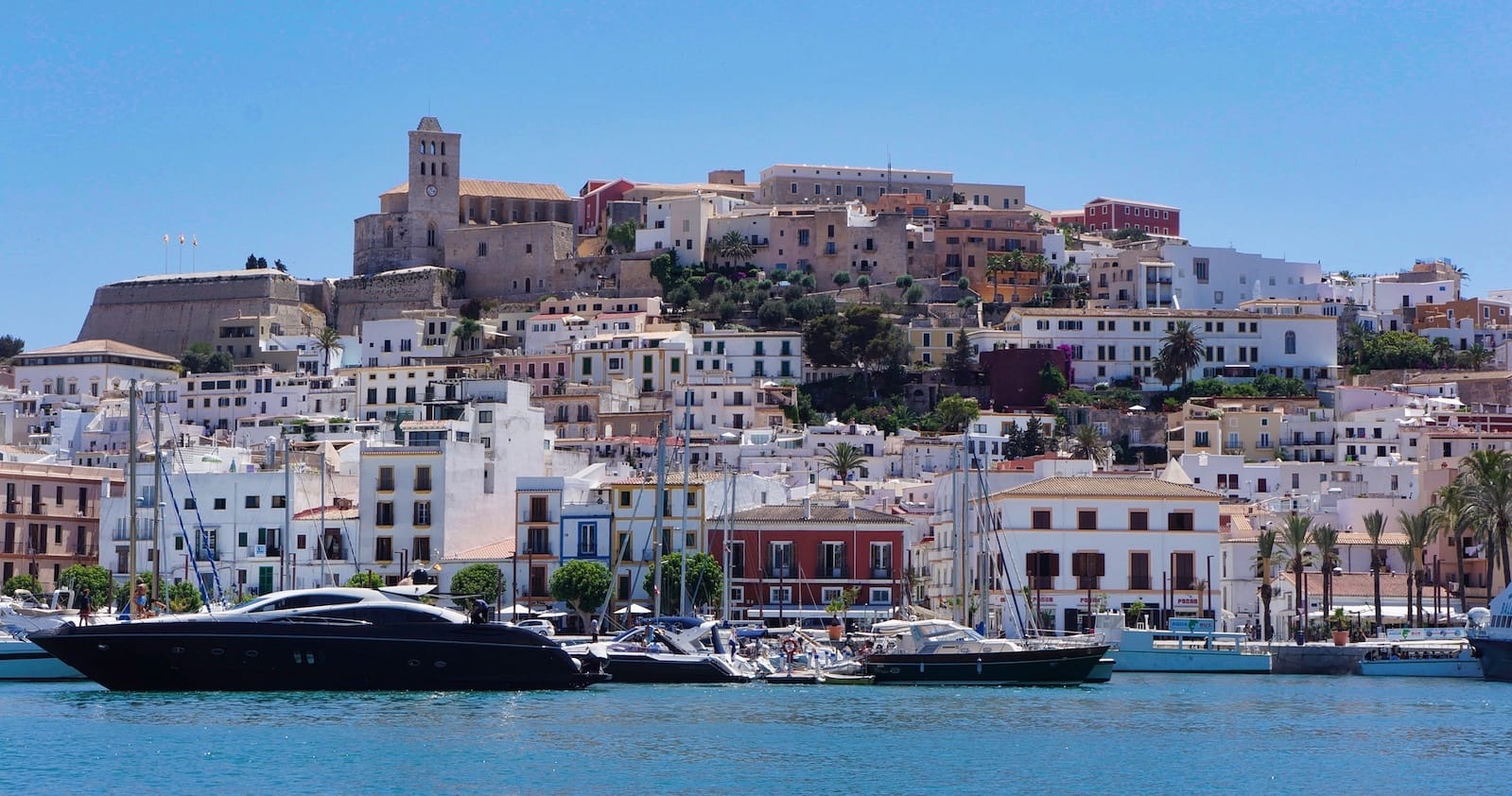 How to get there
What to see
The old town
There is no limit for the amazement that awaits those who dive into this fantastic borough.
Named Dalt Vila, the old quarter is located in the upper part of the city and stands surrounded by a 16th century wall built to protect this area from invaders at the time.
A bridge takes us to one of the entrances to the wall. Although there are others, the Renaissance door called "Ses Taules portal" is the most beautiful and impressive of all. Further on, we find a square called Plaza de Vila, a perfect spot for you to rest and replenish your energy with a snack while enjoying the pleasant local atmosphere.
The old town fortified area is part of the UNESCO World Heritage Site. Besides the walls, do not forget to visit the Virgen de las Nieves Cathedral and city council, which used to be an old convent and from where you can see the island of Formentera in the distance. Also a must-see here is the Church of Santo Domingo. They are all handsome and splendid buildings to see.
The route through Dalt Vila steep streets will take you to the highest point where the cathedral is at, but also where you will be rewarded by spectacular and panoramic views. The best time of the day to walk around here will be at dusk or during the night, as you may then avoid the torrid summer heat.
Ibiza harbour
The area near the harbour is known as La Marina borough. This neighbourhood is formed by picturesque narrow streets filled with bars and restaurants, but also many shops and hippy markets you should not miss out on when in the mood for shopping.
The harbour radiates a partying atmosphere you will feel as soon as you step in, which will evolve and become more and more vibrant as the hours go by.
There are countless restaurants, bars with outdoor terraces and fascinating shops open until midnight while go-go dancers cheerfully parade the streets promoting the nightclubs in town, making of this area one of the liveliest spots to go out at night on the island.
Museums
Ibiza Archaeological Museum: we find it in Dalt Vila, near the cathedral. Visit it and go on a fantastic journey back in time through its many objects and some extraordinary Ibizan treasures, from prehistoric times to the Muslim era.
Monographic Museum and Puig des Molins Punic Necropolis: here you will see the remains found throughout the different excavations around the island.
What to do
Visit Formentera
You can take a ferry or any other type of boat from the harbour in Ibiza Town and visit Formentera, an amazing island you do not want to miss out on. Trasmapi and Balearia are two of the companies that offer ferries with the Ibiza - Formentera route.
Boat parties
A boat party is an incredible experience cherished by all those trying. There are several companies that organize such activities with boats departing from the harbour in Ibiza Town or d'en Bossa beach, among others.
Catamaran excursion
We can sail the coast aboard a catamaran and see some incredible beaches around Ibiza, and we can even reach the always wonderful Formentera. Choose the length of the trip that suits you best!
Motorboat rental
You can rent one and visit the many beautiful corners along the coast. Do so with or without a skipper on board.
Sports and water activities
You can go kayaking, paddle surfing, scuba diving or diving in Ibiza.
For the more daring, there are other activities such as renting a jet ski or getting on a motorboat to tour the coast while feeling an adrenaline rush pushed by the speed, the turns and the wind.
Eivissa Jazz Festival
It is held in Dalt Vila each August and offers music lovers an unforgettable show with a fascinating city background.
Medieval Festival
It takes place in the area of Dalt Vila in May. It becomes a powerful expression of medieval customs, compelling performances, exciting craft stalls, tempting gastronomy and much more.
Beaches
The best known beaches of Ibiza Town are Ses Figueretes, Playa d'En Bossa and Talamanca beach. Learn more about them below.
Ses Figueretes
As it is located in Ibiza Town, it can be reached from the city centre on foot. This is a beach where you will find families and tourists lodging at the numerous hotels around.
Talamanca
It is the largest beach in town, but does not stand out for its beauty. However, it has several beach bars and offers the possibility of practicing water sports such as sailing, water skiing or diving.
En Bossa beach
It is without a doubt the most famous beach in Ibiza. To be found next to Ses Figueretes and reaching the neighbouring municipality of Sant Josep. You will find an extensive variety of hotels and entertainment venues throughout its promenade, including Space, the famous nightclub.
Where to eat
Ibiza Town is privileged by the presence of a myriad of gastronomic options, and you may savour them in one of the many restaurants available, but also on any small terrace found along the way.
Choices are plentiful and range from typical Ibizan food to Spanish, Italian, or Asian food, but also tapas bars and much more. We recommend that you pay attention to prices before ordering as some places have really high prices.
Where to lodge
You will not feel short of choices when looking for accommodation in Ibiza Town. There are numerous hotels, apartment buildings, resorts, hostels, aparthotels, boutique hotels in the city centre and other luxury hotels.
A substantial increase in the price of lodging must be noted in summer. However, it is not impossible to find a reasonably priced hotel, so be alert to possible deals!
Check Available Accommodations
Nightlife and partying
Partying in the clubs in the capital really begins around 1 or 2 in the morning, so in order to warm things up, people usually crowd in bars, terraces or pubs around the harbour. Many of these places offer 2-for-1 deals in drinks and shots.  
With the strike of midnight, the streets are taken over by el pasacalles, a parade that go-go dancers in scant or eccentric and extravagant clothing use to promote the different clubs in town.
If you are looking for a deal as far as nightclub tickets are concerned, you can buy them online, but also in the shops or bars around the harbour and d'en Bossa beach. It is common to see go-go dancers distributing discounts bracelets on this beach from midday which will be applicable when buying your ticket.
Surroundings
Come to Cala Llonga and enjoy the dazzling beach.
In the municipality of San José you can climb down to Sa Pedrera from Cala d'Hort, an old quarry with stunning natural pools. Make your way to Es Vedrà, the viewpoint on the island, and be ready to be bewildered by views before you.