A lovely little village
Sant Francesc Xavier is a small town of barely 3,000 inhabitants and the capital of the island of Formentera. By car, you can access the harbour called La Savina port in just 5 minutes and treasure the charisma of this small Mediterranean municipality latent in its streets and shops.
Built around its church, this is the largest municipality on the island and a typical corner of the Balearic Islands where to savour a beach famous for the quality of its services. Find in our guide all the necessary information to enjoy your vacation.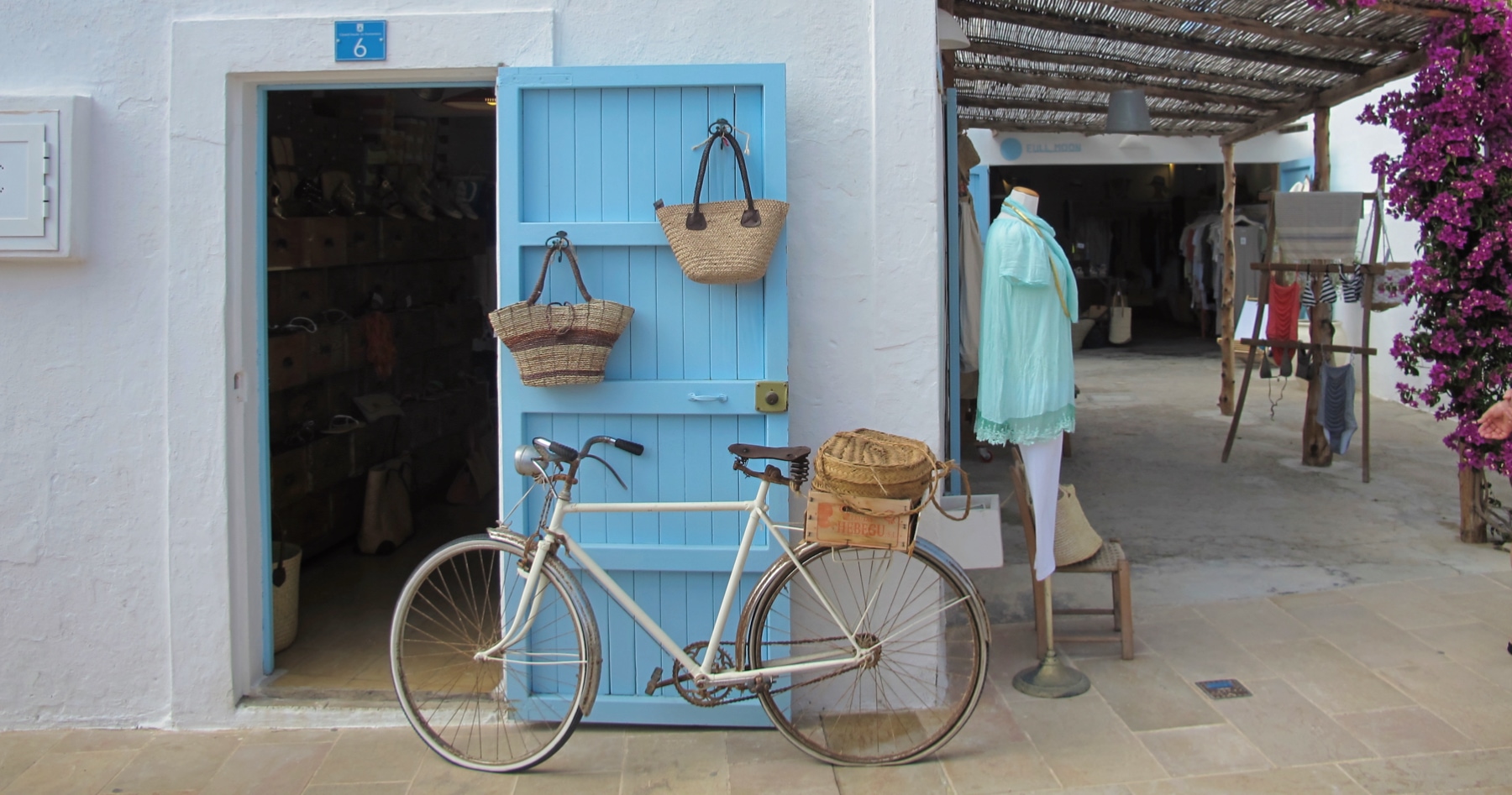 How to get there
What to see
Strolling through the village, you will feel the magic of its streets, where to find white houses and small shops of Mediterranean spirit. Come inside and you will see that you can buy all kinds of garments and handmade goods made by local craftsmen, influenced by the sea and local traditions.
The main monuments to visit here are the following:
Town hall
The town hall is a clear example of the island's typical architecture. It is a white building of low height but great beauty. You will find it in the square called Plaza de la Constitución, the neuralgic centre of the town. Undoubtedly, it is a must-see for anyone visiting Sant Francesc Xavier.
Sa Tanca Vella
It is the oldest Catholic chapel on the island. It is dedicated to San Valero and built in 1336, serving as refuge during pirate attacks. Its robust walls and shape reminds us of a castle. It hardly has any windows, which meant to keep invaders out.
Despite its small size, this building is a great representative of the Romanesque period in Europe, and due to its extraordinary beauty, it is just normal to find tourists photographing themselves with it in the background all the time.
This church has one floor only, a barrel vault and displays modesty in the decoration and its dazzling white colour. It has interesting stories around it as well, transmitted by the elderly in Sant Francesc Xavier. It is said that there are underground tunnels and secret passages that connect to San Valero Cave, which is located in Torrent de S'Alga. This has not been proven though.
Cap de Barbaria Lighthouse
A little more than 10 minutes from San Francisco Javier by car, you will reach this lighthouse. It is very popular since from the top, we are able to witness one of the most beautiful sunsets in the Mediterranean. This is a perfect place to get the best shots with your camera. So book an afternoon, go to this place surrounded by impressive cliffs and take a once in a lifetime memory with you.
If you walk towards the rocks, you will find Cova Foradada just a few meters away. It is a hole in the rock that has a staircase for you to enter and go down this sort of cave.  At the end, you will find an opening on the cliff that brings spectacular views, views we do not have words to describe. Do not miss out on this chance!
To the right of the lighthouse and towards the cliff, you will see the Cap Barbaria tower, also known as Torre des Garroveret. It is a defensive tower and back in time, there was a cannon used to keep pirates away.
Where to eat
In Sant Francesc Xavier, it is possible to find numerous restaurants and bars in which to enjoy the mild and pleasant weather while immersed in the calmness of the municipality. Drinking a beer with tapas on a terrace while contemplating white houses under the sun or going out to dinner in any of the restaurants here is a good plan. Here, it will be easy to find a restaurant offering top-notch food and luring prices.
Where to lodge
There are some enchanting hotels with swimming-pool in the capital of Formentera, as well as small hostels to stay during your time in the municipality.