The highest point in ​​Formentera
Pilar de la Mola concentrates most of the charm in Formentera. Here, in the eastern part of the island and safeguarded by imposing cliffs that plunge into the dazzling sea, are this beautiful town and lighthouse.
The access road will take us to one of the highest points on the island. You will see that it is quite impossible to prevent yourself from stopping halfway by the viewpoint called Formentera; this might be the only way to understand the spectacle of the views to be seen from here.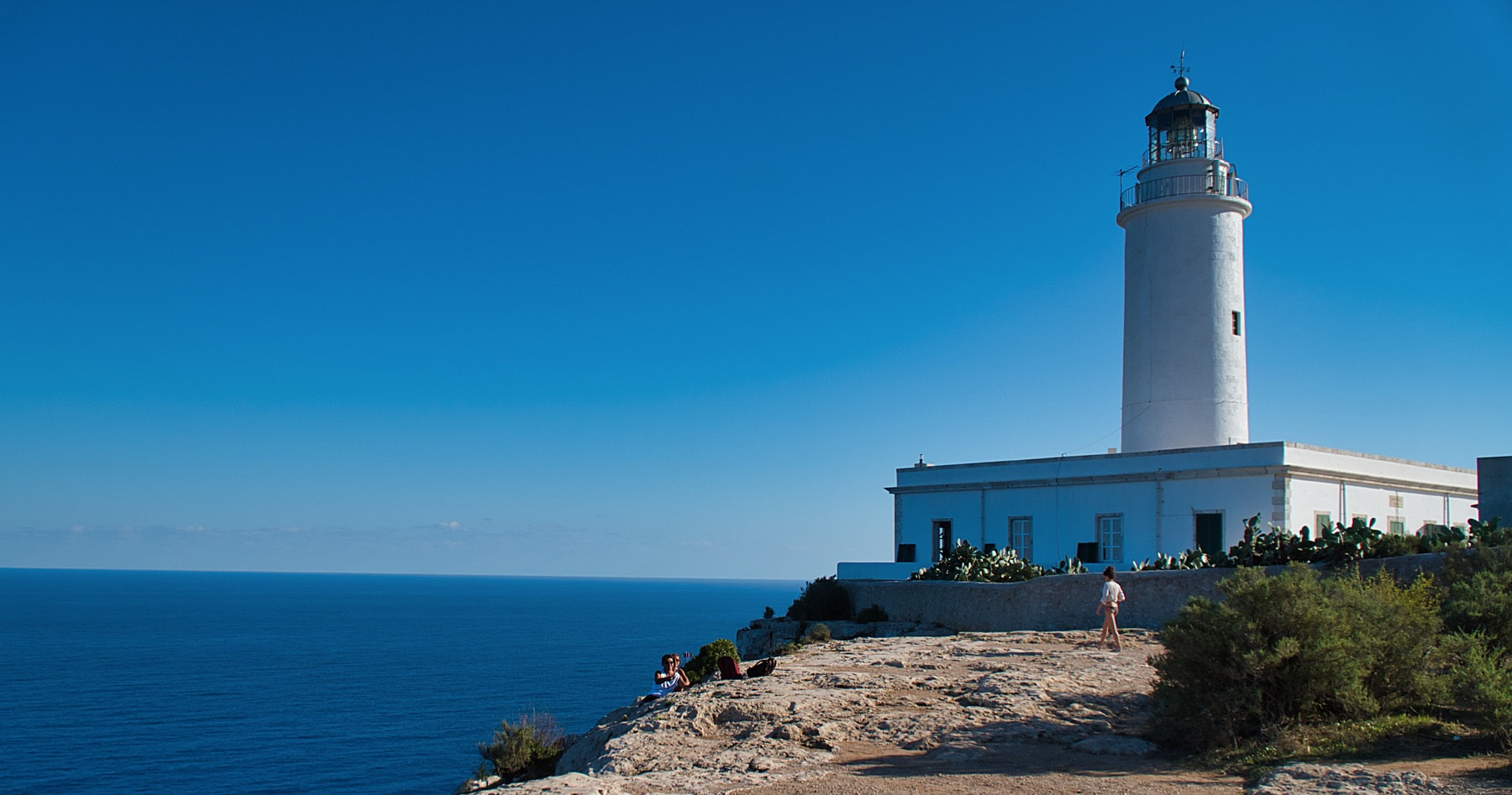 How to get there
What to see
Pilar de la Mola is an unquestionable place with an infinite charisma, a place to enjoy a quiet holiday and combine beach time with touristic visits. Worth mentioning among the many distinctive beauties are Virgen del Pilar Church, a construction with beautiful and simple traits and a barrel vault dating back to the 18th century or La Mola crafts market, ready to attract hippy and bohemian culture fans. For its artisanal objects and costume jewellery, it is considered to be the hippy market par excellence.
De la Mola Lighthouse is an iconic element, illustrative of the eastern part of the island, whose emblematic nature makes it impossible for anyone to disregard. The mill called Molí de Vell and its old rustic zest, together with the route Camí de Sa Pujada, catalogued as one of the best preserved green routes in Spain, are great alternatives to a day on the beach.
What to do
Trekking
Hiking enthusiasts will enjoy the paradisiacal routes of this island, with dunes, beaches, pine tree forests, vineyards and picturesque rustic villages standing out along the way. All these amazing spots in one single area!
If you wish to reach Formentera's highest point, you can walk to the top of sa Talaiassa and gaze at the marvellous island of Ibiza and its islet called Es Vedrà, spotted in the background.
Also worth mentioning is the S'Estufador route in the southern part of La Mola, where the unmatched blend of cliffs, windmills and fisherman houses is responsible for the magnetism of the area, resulting in a soothing small-town atmosphere.
Where to eat
You will be sure to find friendly and cosy bars near the lighthouse, but also restaurants and fun beach bars. All of them offer Mallorcan and Mediterranean cuisine, but also dishes from different parts of mainland Spain. You can also relish a tasty pizza and other Italian specialities.
What are considered to be traditional inns today are capable of satisfying the most nostalgic of tourists with their culinary creations.
Do you fancy a dance? Well, you can also dance to the music while savouring a delicious cocktail or a mojito in one of the lively cocktail bars in town.
Many of these places celebrate their spectacular views, especially at sunset, where slowly but surely, an unforgettable experience begins to enfold in this silent, arid and secluded nook.
Where to lodge
Pilar de la Mola offers different accommodations full of enchantment, capable of adapting to all budgets: hotels, houses with swimming pool for rent, magical small-town accommodation, cottages, apartments for 2, 3 or 4 people, villas for families, spa hotels for total relaxation and a club hotel that will grant the wishes any sybarite may crave.
Almost the entire offer is blessed with the necessary amenities and they are linked to the category of the chosen hotel. Some will offer internet and Wifi connection, swimming pools and other amenities. In general, they deliver all kinds of pleasantries for tourists.