Calmness and serenity
You will begin to feel the tranquillity and the peacefulness of Formentera as soon as you set foot on the island from the boat used to reach it; no haste, no hassles. All that matters now is to fully enjoy your holidays. If this feeling was not enough, a unique and compelling sensation will appear when travelling its roads and finally reaching its beaches. Welcome to paradise!
This is an island whose landscapes are widely admired, as well as the serenity that reigns here; but first and foremost, the quality of the crystal clear water beaches created by the oceanic Posidonia, an endemic marine plant in the Mediterranean that makes the water transparent. The largest Posidonia meadow lies between Ibiza and Formentera and covers an area of ​​700 square metres. This plant was declared natural heritage and consequently, a World Heritage Site by UNESCO. The Freus d'Eivissa and Formentera Marine Reserve and the Ses Salines d'Eivissa and Formentera Natural Park try today to preserve this natural environment.
Formentera is the smallest inhabited island of the Balearic Islands and is located south of Ibiza.
Discover all this island has to give and be ready to be awed.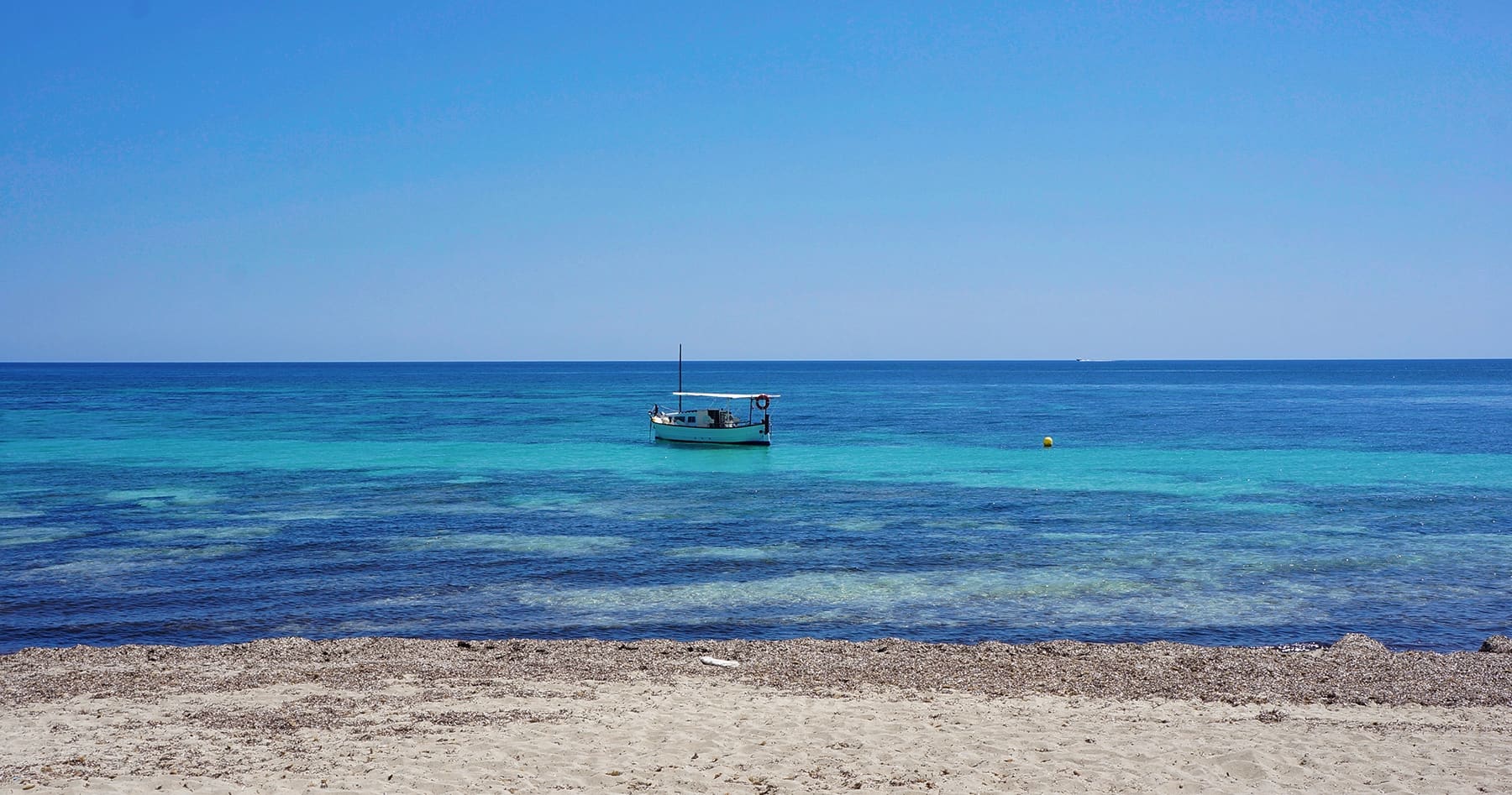 How to get there
There is no airport in Formentera, so the only way to get here is by boat. This fact has prevented the island from living with the mass tourism happening in its neighbouring islands.
The boats bound for Formentera leave the island of Ibiza, which can be reached by plane and also by boat from Barcelona, ​​Denia and Valencia. In high season, Denia and Formentera are directly linked by the Balearia Company.
The Ibiza-Formentera route is serviced on a daily basis by different nautical companies from the maritime station in the port of Ibiza; it takes approximately 35 minutes.
When trying to reach Formentera, we recommend that you take into account price and time of the trip, since many low-cost companies offer 1-hour trips on small boats and you are likely to get sea sickness on board.
Below you will find a list of companies that offer transport between the 2 islands:
Mediterranea Pitiusa: 971 32 24 43 
Trasmapi: 971 31 44 33 | 971 32 27 03 
Balearia: 902 160 180 | 971 31 20 71 
Aquabus: economy ferry from Ibiza to Formentera
Taxi marítimo: Barco Salao: (+34) 609 84 71 16 
Próximo ferry: It is a web page of maritime traffic information between the ports of Ibiza and Formentera.
Acciona Transmediterránea: 902 45 46 45 
Fly & Vai Global Touristic Services: it offers bus transfer service from the airport to the port of Ibiza, boat tickets, accommodation, excursions, car hire and special services. 629 585 917 
Beaches
Formentera beaches are protected and little altered by humans but they are still accessible to tourists. You will be amazed by the turquoise tones and the transparency of its waters, which will make you crave the experience.
Illetes
It is the most famous and visited beach. Being the closest to La Savina port, it is ideal for tourists who come to the island to spend the day. The colour and the lack of waves are sure to mesmerize all visitors.
Llevant Beach
Near Illetes and less crowded. It has small pockets of rocky surface but it is mostly covered by fine white sand; it may have waves depending on the day. If you walk northwards, you can see Illetes and Levante beach at the same time, enjoying the beauty of both at once.
Cavall d'en Borràs
You will find this beach before reaching the beach of Illetes. From here, we can see the islets of Es Vedrà and Es Vedranell, both belonging to Ibiza. It is a waveless beach with fine sand, perfect to watch the sunset from your towel.
These 3 beaches are part of Es Trucadors peninsula, which is located north from Formentera and forms an extension of sand and long tongue shape that narrows from south to north. Illetes and Levante are within the protected area of Ses Salines Natural Park, so there is a €2-€4 mandatory entrance and parking fee if we use a motor vehicle. Free access is reserved for those on foot, coming by bike or electric vehicle.
Migjorn Beach
It is a 5 kilometres sandy area south from the island. Here we will find places with proper name such as Es Mal Pas, Es Ca Marí, Racó Fondo, Códol Foradat, Es Valencians, Es Arenals and Es Copinar, alternating rocky areas and fine sand. Ca Marí, Es Copinar and es Arenals have the easiest access and also the greatest number of tourists coming. There is a plentiful gastronomic offer here as well as several hotels.
Cala Saona
This is a small natural bay with transparent and shallow waters that surrounds itself by small cliffs and fishermen's huts. Families love to visit this place.
Es Pujols
It is a seashell-shaped sandy beach in the north of the island; stunning landscape formed by boathouses or casetas varadero, rocky areas and small islets to be seen in the background.
Caló d'es Mort
This is a small and difficult to access cove, located next to Es Copinar (Migjorn Beach). It has little sand for you to sit on and is surrounded by several small boathouses and a limestone mountain with small caves.
Ses Platgetes
They are two small coves with both rock and sand, and we may access them from Es Caló de Sant Agustí.
Cala en Baster
It is a rocky cove to be accessed from Sant Ferran. Surrounded by limestone walls and forming natural caves, they are used as boat docks.
Sa Roqueta
Sa Roqueta is ideal to get away from crowds in high season. Located west of Es Pujols, we will reach this beautiful beach if we continue walking towards Levante beach.
What to see
S'Espalmador Island
Walking towards the northern end of Illetes beach, you will come upon this semi-deserted island that will undoubtedly surprise you. But beware, although it seems to be near and easily reachable, it is forbidden to cross on foot. There are strong sea currents in the strait separating the 2 islands and being reckless by venturing to cross on foot can bring serious consequences.
Therefore, in order to get to s'Espalmador, we can hire transportation from a local company. There is daily service from Puerto de la Savina to s'Espalmador and you can rent a boat or hire a marine excursion.
S'Espalmador spans 2 square metres and can be easily explored on foot. You can find here several beaches, but s'Alga is the most visited.
Es Pujols
Es Pujols is the most tourist area on ​​the island with lots of hotels, restaurants, shops and all kinds of touristic establishments. Here you can let yourself go in its nightlife and go out for a drink.
Sant Francesc
The town of Sant Francesc is a lovely place to wander around with its pedestrianized streets, market stalls and pretty shops and cafes. Check out Restaurante Can Carlos if you can when you are in Sant Francesc, it's lovely. You can dine on the garden terrace in the evening with tiny, pretty nightlights twinkling in the Olive trees around you. The food is Mediterranean, and delicious, and the service is attentive. You should book in advance.
Es Caló
We recommend its arch-shape fishing harbour and gastronomy, a pleasure you cannot miss.
Formentera lighthouses
Cap de Barbaria
The lighthouse is to be found between rocks and impressive cliffs, and it is the spot from where you can watch one of the most beautiful sunsets in the Mediterranean. Walking around here we can see the once a defence tower against pirates called Torre des Garroveret and also Cova Foradada, this hole in the ground grants access to a grotto so you can reach the end, and from where to delight in the spectacular view awaiting your arrival.
La Mola lighthouse
It is the oldest lighthouse in Formentera. If you can pay a visit at night and see its 12 light beams rotating from sea to earth; it is an extravaganza. Follow the paths around this lighthouse to enjoy and take a mental picture of the sea and cliffs.
Savina lighthouse
Located at the entrance to the main port in the island, it is the first lighthouse we will see upon our arrival. Estany des Peix is nearby, a lake that flows into the sea, creating a port that is almost completely closed. There are small beaches ideal for you if you are travelling with kids.
Pou lighthouse
On a small island in front of s'Espalmador island.
Lake Pudent
It is the largest lake in Formentera. Bathing here is forbidden, but the beautiful landscape here is perfect to explore it on foot or by bike.
Sa Pedrera
This coastline is to be found between the port of Savina and Cala Saona; its particular nature gives the impression of a desert, formed capriciously shaped rocks. The area is exceptional for snorkelling and diving excursions.
Can Marroig Estate
Located in a pine-tree wooded area, Can Marroig Estate has the mandate to protect the ecosystem. Here is also the Ses Salines Natural Park Interpretation Centre for Ibiza and Formentera, which informs visitors about the points of touristic interest in an environment-friendly manner.
La Mola craft market
Open on Wednesdays and Sundays from 4pm to 10pm. Here you can also enjoy live music.
What to do
There are many sea-related activities to be done in Formentera such as scuba diving, kayaking, hiking, horseback riding and bike touring through green routes, as there are 32 green routes to explore the island.
Water activities
Scuba diving: the serene and transparent waters in Formentera offer an exceptional underwater bottom ready to be explored and photographed by you.
Diving: diving equipment rental, diving and baptism courses, diving boat trips, snorkelling.
Kayak: the climate and the geography of the island make of Formentera an excellent place to practice kayaking, whether you are a beginner or an expert.
Green routes
They are routes to do on foot or by bicycle and there are a total of 32 you can choose from to get to know this beautiful island. We would like to highlight Green Route 25, where Camí de Sa Pujada climbs to La Mola and from where we will be overwhelmed by the spectacular views Formentera island.
Boat rental
Dare to live the experience of renting a boat without the need of a license; travel the coastline and reach s'Espalmador island. Your reward will be the tranquillity that will involve you there.
Catamaran excursions
There are different companies on the island that organize excursions on board a catamaran. You can sail and get to know the coast and beaches of Formentera while enjoying an excellent buffet. 
Horseback excursions
Enjoy an excursion along the different paths that the island offers, riding on horseback.
Out for a drink 
There are several chiringuitos or chill out bars where to relax to the music and have some drinks, and you will always be surrounded by the beauty of the landscape.
Pirata Bus is a typical beach bar on the island, to be found on the road from Sa Savina to La Mola. It is a great spot to watch the fabulous island sunset while enjoying a superb mojito or something else you may fancy, always deep in a good atmosphere.
Blue Bar is another classic, decorated in hippie blue essence, where chill out music is the background for a summer sunset in Formentera. This is with no doubt a magical moment.
Where to lodge
It is sometimes difficult to find accommodation in high season and at the last minute, so we highly recommend that you plan your stay in advance. Formentera is generally a pricey island to spend your holidays in, but you will certainly find the offer that best suits your needs. There are several hotels, apartments with swimming pool, rural tourism lodging, and a large number of private vacation rental homes where you can stay.
Please, note that camping is forbidden throughout the island, as well as sleeping in vehicles or on the beach.
How to get around
Car hire
Car hires, motorcycles, bicycles or dirt quads.
You will have plenty of rental offices where to find these vehicles when you arrive at La Savina port. The most affordable option, and of course the most environmentally friendly, is to rent a bike, which allows you to reach almost any area given that you don't carry much with you. It will depend on the experience you wish to have on the road, a dirt quad or a motorcycle may be enough if you are going to be here for a few days.
Electric vehicle rental
These vehicles are becoming increasingly popular because they are the most environmentally friendly and the least polluting way to move around comfortably. Europcar, Cooltra and E-Mobile there are some of the companies you can rent it.
Public buses
There are regular bus lines running throughout the year, but service is increased during summer months.
Taxis
You can easily find them at the port, and also in the rest of urban centres.
Marine taxis
Used for boat trips between Ibiza and Formentera.