Known around the world for partying and discos, Ibiza is an island that has much more to offer than fiesta. Natural parks, beautiful coves and beaches, unforgettable sunsets, incredible cliffs and beautiful villages, as well as nights out partying; you can indulge yourself with all of this during your holidays in Ibiza.
With irregular morphology, the island has several mountains, islets that graciously splash the coastal scenery. It also has a river, the only one in the Balearic Islands and to be found in Santa Eulalia del Río, although over exploitation keeps it dry in a large part of its course. Thanks to the rich resources of its ecosystem, the great Poseidonian colony that lives on its seabed, its archaeological remains and its old structure of suburbs, the island has been recognized by UNESCO as "cultural heritage".
Called Eivissa in Catalan, it is the second most populated island of the Balearic archipelago. The city of Ibiza is the capital of the island, followed by the towns of Sant Antoni de Portmany and Santa Eulalia del Río.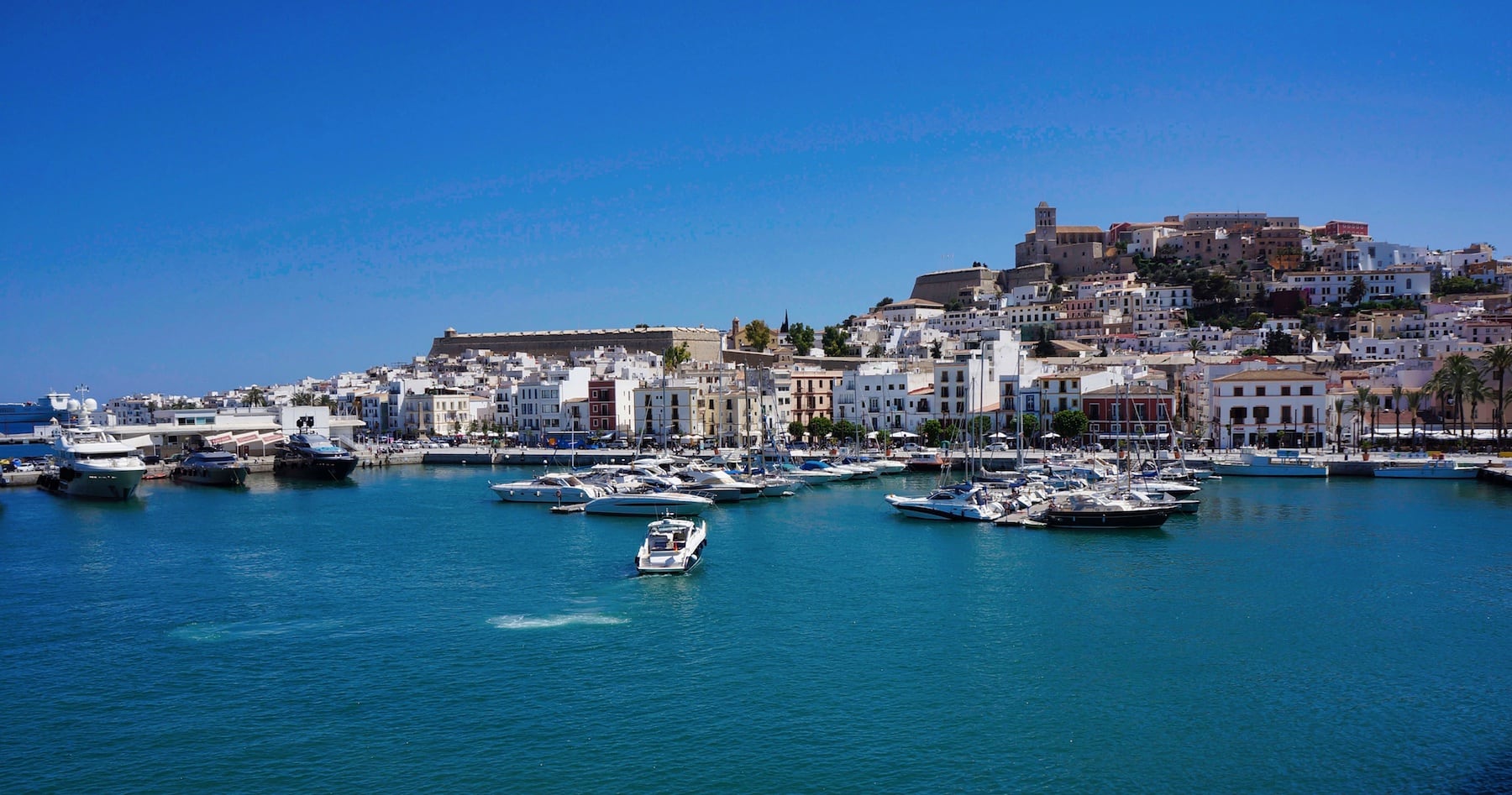 Ibiza's weather
It rains little in Ibiza and rain is more likely to appear during the month of October.
It has a pleasant temperature most of the year, with an average temperature of 17ºC. January is the coldest month of the year reaching temperatures of 10ºC or lower, and July and August the hottest and driest, bringing temperatures ranging from 25 to 30ºC. This situation may vary depending on the year, but overall, the weather is always nice during our holidays on the island.
Beaches
The beauty of the coves and beaches in Ibiza is also widely known. The oceanic Posidonia that lives on the seabed is responsible for the deep turquoise colour and transparency in the waters surrounding the island. 
We highlight some among the most popular:
Cala Conta
It is one of the favourite beaches for tourists and locals. It has very fine sand and particularly turquoise waters.
Benirràs
It is the beach that you should not miss on your vacation. You will be amazed by the fascinating cliffs in the background, the great pockets of pine trees and the inimitable sunsets that together as one, come to create the fascinating setting for the famous drum show on Sundays. This experience will be for you to keep all your life.
Cala d'Hort
Cala d'Hort waters are particularly clear. Dip yourself in them and you can relish the beautiful views of the islet of es Vedrà.
D'en Bossa beach
Its vibrant non-stop partying makes it the most famous beach in Ibiza.
Cala Salada
It is one of the most visited beaches. Its surroundings are hardly developed and you are guaranteed to be captivated by its green setting.
What to see 
Ibiza Town
Ibiza Town is located in the south of the island. It is worthwhile visiting its streets and being suddenly surrounded by all the colours fusing there. Expect to run into some Street Performance that with little warning pops off the moving crowd.
Walk around Dalt Vila, the town upper side, watch carefully the wall that surrounds it and stroll its streets uphill until you reach the church, the Town Council, and calmly savour the views from the highest point.
The port area should not be overlooked, since you can find many shops, bars and restaurants as you walk through the streets.
San Antonio
Located in the west, Sant Antoni de Portmany is one of the main tourist areas on the island. It is very famous as well for being the heart of the nightlife for young people.
Famous indeed for the sunsets contemplated from the Café del Mar and its nice long promenade, best to be calmly enjoyed before it is taken over by a fearless party mood.
Santa Eulalia del Río
Santa Eulalia del Río is a very quiet town and it is therefore, the favourite destination for families with kids or travellers wishing to rest and get away from the island nightlife on this island. Walking through its harbour, promenade and old town will bring you undoubtedly endless joy.
Can Marçà Cave
It is located inside a cliff in Port de Sant Miquel. Can Marçà Cave is a very old cave that awes visitors. It was previously used by smugglers on the island and it has been now turned into a tourist destination in Ibiza.
Santa Gertrudis de Fruitera
It is a small and quiet village in the centre of the island with white Mediterranean-style houses. Here you will find several antique and craft shops.
What to do 
Water or outdoor activities
There are plenty of things to do in Ibiza, such as renting a boat without the need of a license, catamaran ride, kayak tour with snorkel, horseback riding, buggy or dirt quad ride on the island, and boat trips to Can Marçà cave.
Boat party
Offering boat parties at sea has become an inimitable experience on the island of Ibiza. There is a selection of companies and promoters that organize such events. Find yours!
Excursion to Formentera
If you have time during your holidays, you can spend a day in Formentera, another island that will make you fall in love. You can take a boat to Formentera in the morning, return in the afternoon and enjoy its beaches. Once there and in order to move around Formentera, it is best to rent a motorcycle or if you dare, a dirt quad; this type of vehicle will make of your time in Formentera a unique experience.
Discos and nightclubs: the nightlife in Ibiza
Ibiza Town and Sant Antoni de Portmany are the 2 prime examples of where nightlife is concentrated on the island.
We can enjoy ourselves in many clubs and discos such as Privilege, Eden, Pacha, Amnesia, Space, Es Paradis, Ushuaïa Ibiza, Gala Night and DC10.
Famous DJs such as David Guetta, Pete Tong, Tiësto or Brian Cross come or have come to one of these nightclubs. Discover all there is about clubs in Ibiza.
Where to lodge 
If you are looking for accommodation in Ibiza, you will find many options such as apartments, low-priced hotels, hotels with swimming pool, luxury villas, agrotourism, etc ... Consider your budget and depending on what you are looking for, choose the area of ​​the island that fits your needs best. It is always highly advisable to book your hotel in advance.
The port of San Miguel and Santa Eulalia del Río town are both perfect places to stay if you are on a family holiday or if you want to escape the nightlife bustle on the island.
Where to eat 
Choosing a restaurant in Ibiza can be challenging due to the great selection available, but you will find options to suit all tastes and budgets.
You will find Mediterranean cuisine, signature cuisine, typical Ibizan cuisine, Italian food, Asian food, brasseries, and many more.
Gastronomy
Ibiza's local cuisine is committed to make the most of the island's resources. Here are some typical dishes:
Sofrit Pagés
Lamb, chicken, sobrasada, potatoes, toasted almonds, lard, garlic, parsley, bay leaf, cumin and saffron.
Slaughter rice
Rice cooked with pork.
Botifarró and sobrasada Ibicenca
They are also typical and meat-based products.
Borrida de ratjada
Stingray fish with potatoes, eggs, garlic, parsley, toasted almonds, fried bread, saffron and olive oil.
Tonyina a l'eivissenca
Tuna stew with raisins, pine nuts, eggs, lemon juice, spices and white wine.
Bullit de Peix
Fish and seafood stew with potatoes.
Flaò
Fresh cheese cheesecake, eggs and mint leaves.
Greixonera
Cottage cheese pudding, eggs and cookies.
Other products
Other typical products are the Coca de Pebrera (with pepper), Les Orelletes (sweet with anise liquor) or Els Bunyols, along with the Ibicencan lobster, the Ibizan herbs (anise based) and a variety of local wines.
Getting around 
Car Hire
If you are going to rent a car in Ibiza, we recommend that you book in advance in order to get a better price, ensure that there is availability when you arrive on the island and this way, avoid unnecessary queues.
At the airport, you will find the offices of the most well-known companies, where you can pick up your rental car and reach your destination.
By bus
Ibiza airport is connected to different points of the island by several bus lines, more active during high season.
For example, Line 10 connects the airport and Ibiza Town, the port and Formentera maritime station.
The fare from Ibiza Town to the airport has an approximate cost of €3.50.
Taxi Service
We will find a taxi stop when leaving the terminal. The journey from the airport to Ibiza Town can cost about €18 or about € 28 if we want to take the route to San Antonio from the airport.