All you need at your fingertips
There are certain places in the world that you must visit at least once in your life. One of them is Cala Llonga, one of the most beautiful and enigmatic coves of this Pitiusa Island, capable of embracing you with its magical and charming touch. A perfect corner in the southeast of Ibiza, in the Balearic Islands, offering everything you are looking for. This place is ideal for families to enjoy the many activities available around, but also for couples in a romantic getaway.
Its beach is of fine and white sand, and crystalline waters, while the sea slope is modest, making it perfect for children. Services are available around the beach, hotel complexes with well sorted facilities that make this place a spot you will not need to leave during your stay. Everything you need will be there.
In addition, Cala Llonga is near Ibiza Town, where the partying and cosmopolitan atmosphere is guaranteed. It is also near Santa Eulalia del Río, one of the most beautiful and enigmatic towns with a charming marina and seafront promenade.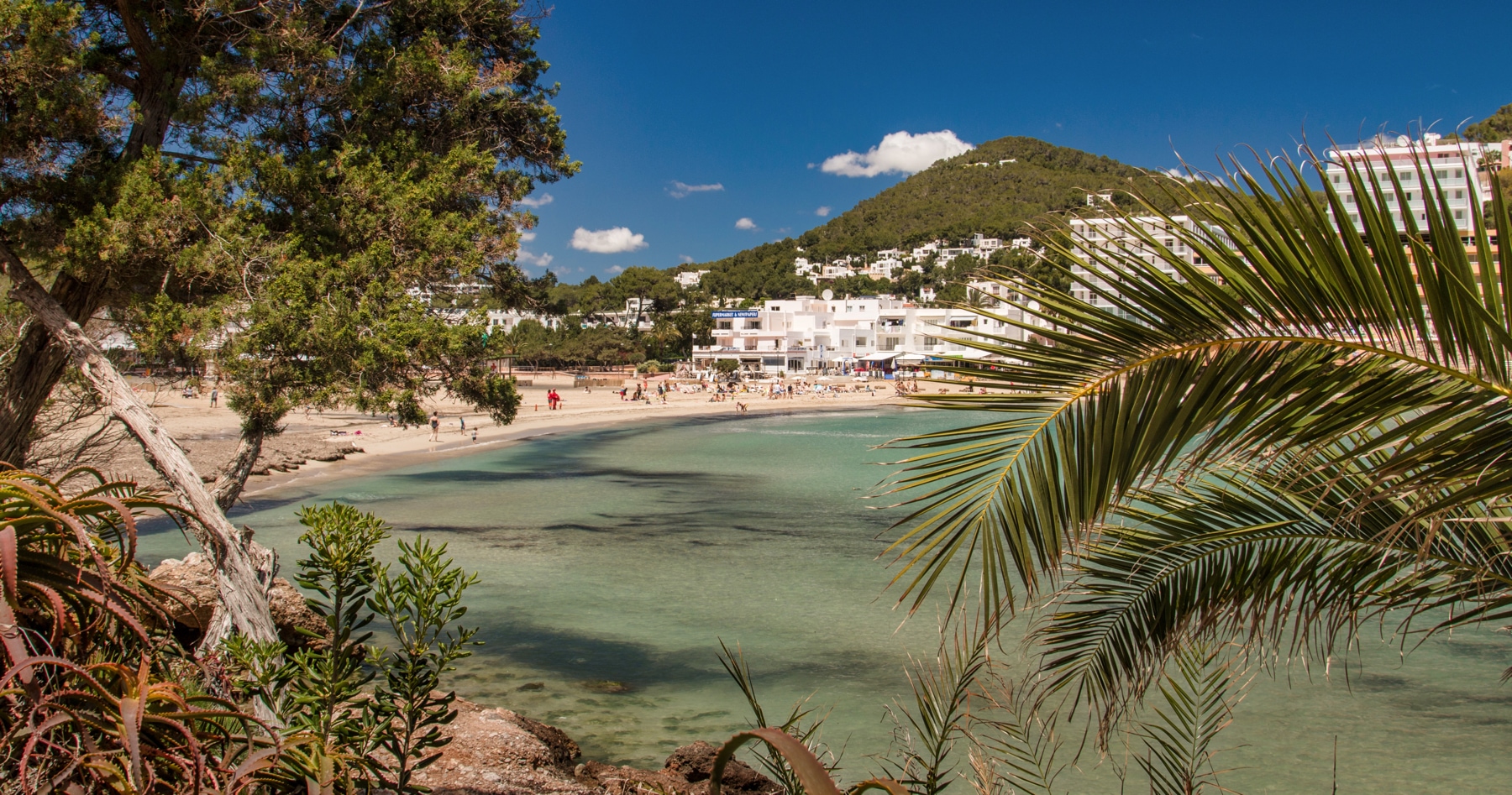 How to get there
Cala Llonga is about 20 minutes from Ibiza Airport.
The distance and route from the Port of Eivissa is similar to the airport's, but a few minutes shorter. You can also get to Cala Llonga from Ibiza Town centre by public bus, taking around 30 minutes.
Sant Antoni de Portmany is just over half an hour's drive from Cala Llonga. There are bus lines connecting both places in a journey of approximately 1 hour.
You can visit the nearby coves by using the small boats connecting them, but also, Ibiza Town. This is an interesting idea if we want to avoid using the car, although we may find a higher concentration of tourists using this means of transportation in summer time.
What to see
Beach
The main attraction in Cala Llonga is its magnificent beach, one of the largest you will find in Ibiza. It is shaped as an arch and of fine sand, sheltered by a small bay where children can have fun in the shallow waters. It is one of the cleanest and quietest areas on the island, although it has a lively atmosphere due to the many shops and restaurants around.
There is an area for children's activities and even a small amusement park.
Services & Live Performances
Among the services available here are supermarkets, pharmacies, several bars aimed at young people looking for places to go out drinking at night, clothes or souvenirs shops, and most hotels within walking distance from the beach. Many of these bars and hotels offer shows and live performances every night, entertaining visitors and offering a good time.
Surroundings
And after a day at the beach and a good nap to regain your strength, you will be ready to visit the surrounding towns and get to know the island in-depth.
Santa Eulalia del Río is one of the prettiest villages, striking for its flowery baroque decor, the harbour and the seafront promenade skirting the beach. Here, you can rest while savouring an ice cream.
Hippie Market
Another peculiar place for you to visit is the hippie market located on the outskirts of Es Canar. It is known as the hippie market in Punta Arabí and is much loved for the jewellery made of Indian silver sold at a very affordable price. Here, traders and artisans come together to offer a great variety of products and souvenirs, which you can buy without spending much.
Ferries
Local ferries cover the route from Cala Llonga to these 2 destinations, passing through Eivissa Town as well. This is ideal for those wanting to get lost in its streets and enjoy the atmosphere or spend a wild night in one of the clubs.
What to do
There are endless possibilities to enjoy the island outdoors in Cala Llonga, such as hiking or water sports.
Water sports
You will find a diving school in Cala Llonga, where you can rent diving equipment in order to get to know the depths of the cove. Another possible option is to rent a pedal boat, perfect for the whole family, or to hire a canoe trip along the coast.
Trekking
A fantastic route is the one that goes from Cala Llonga to Cala Blanca. The route goes through the forest and continues through an old tunnel currently in disuse. It will allow you to savour the mountainous landscapes that circle both coves and take you near the sea.
Where to eat
It is almost inevitable to 'splash out' in restaurants on the island, since prices tend to go up and be very high as we approach more touristic areas. You will feel the difference between here and the less visited areas.
We highly recommend checking all the restaurants, bars and cafés in the area, as there will always be strategic places where to have a nice set menu, sandwiches or hamburgers for a reasonable price.
Where to lodge
You can find a wide range of hotels and apartments in Cala Llonga, most of them barely a stone throw's from the beach and at quite affordable prices. The hotel offer in Cala LLonga is mainly found in three 2 and 3 stars resorts built within well-serviced residential areas, all of them at reasonable prices.