A popular destination for families
Do you feel like getting to know a fascinating and very peculiar place on the Ibizan eastern coast? Es Canar is that place, a very popular small town among tourists, ideal for an unwinding holiday but also, to experience intense emotions and enjoy its outgoing mood.
Besides the beach, perfect for spending the day with the children, what really attracts thousands of curious onlookers is its hippy market. So, make sure to write it down on your to-do list because it is something you cannot pass up!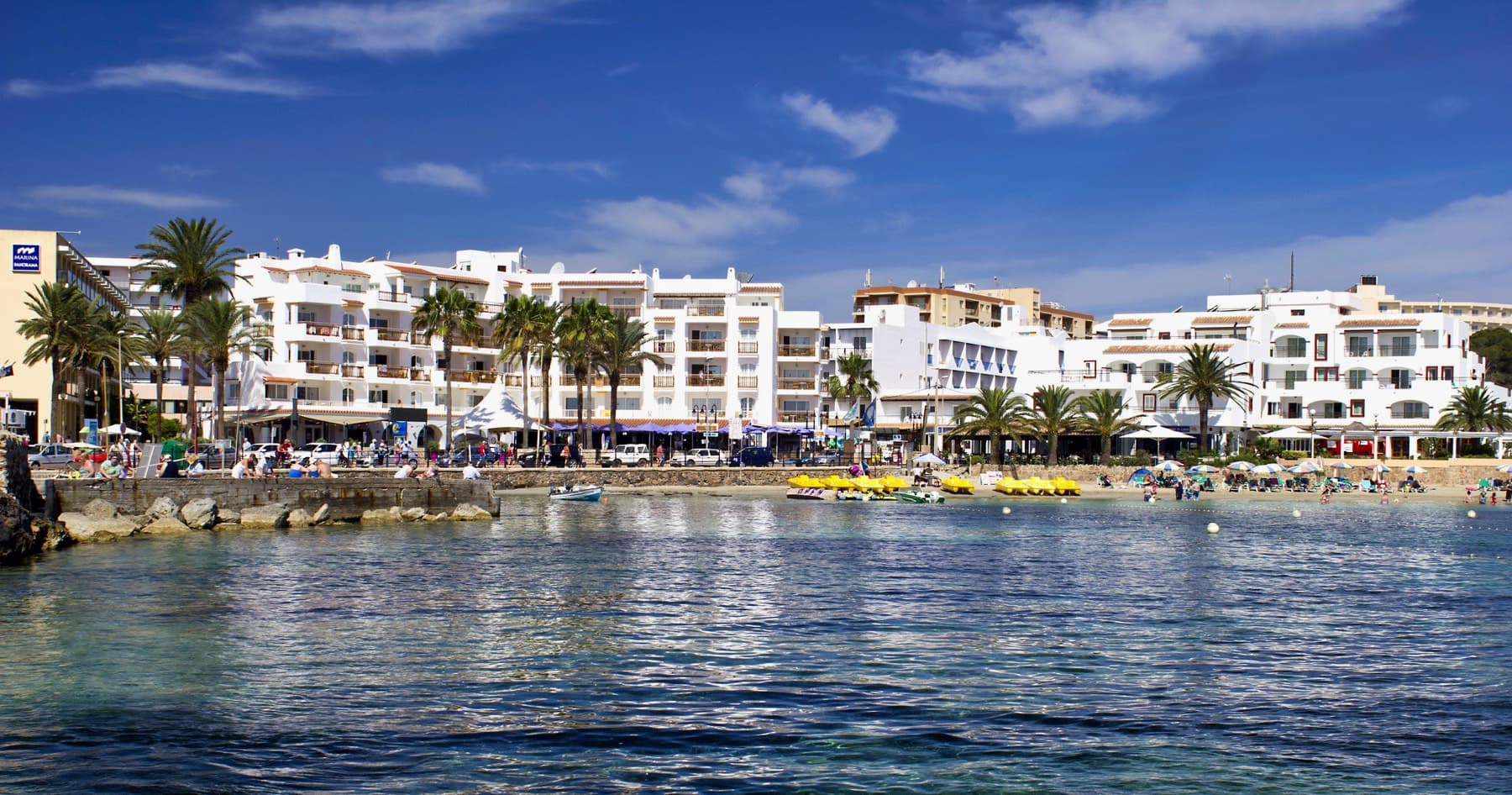 How to get there
By car, Es Canà is 30 minutes from Ibiza Airport and less than 10 minutes from the town of Santa Eulària des Riu.
What to see
Es Canar is a tourist destination that offers an ample variety of places of interest. Touring the streets is a real pleasure anyone can experience. Some of the most interesting places in this charming town are the following:
The harbour
What you see on one side of Es Canar beach is a small fishing harbour, owner of spectacular views. This is the destination for several ferries arriving from Santa Eulària harbour, offering this transportation option that allows the faithful savouring of the sea while on the move.
Look at the beautiful boats embellishing this and other harbours on the island: they are called llaüts and they are typical Balearic boats, relics that you will surely want to immortalize with a photograph. Actually, you can enjoy a trip sailing one of them along the coasts of Ibiza and feel closer to a magnificent sunset like no other.
Punta Arabí Market
Es Canar is just the place for those who love shopping and a variety of products can be found and browsed in the different markets here. The most iconic and fascinating of all is the hippy market in Punta Arabí, a magical and popular place where people from all over the world come to take a look and buy. This is a must-know event when visiting Ibiza and it is open every Wednesday in summertime.
Las Dalias Hippy Market
We can also wander around another popular hippy market taking place every Saturday, Las Dalias Hippy Market, a colourful and cheerful market that creates the perfect atmosphere for you to browse and find quality products at very good prices. For instance, you can find jewellery made of silver from India.
You can also run your eye over a large amount of clothing, footwear, handmade leather goods and impressive works of art.
Beaches
Fine white sand, crystal clear waters, palm trees, delicious cocktails, postcard sunsets, a unique and cheerful atmosphere ... these are just some of the wonders we will find on Es Canar beach, the supreme beach in this area. Moreover, there are a lot of activities for visitors to do, both day and night, together with a spectacular selection of beach bars where to taste different dishes or relish a cold drink while embracing the sound of the waves in the sea.
Another magnificent beach we would like to mention is Cala Nova, located just 10 minutes on foot from the previous beach. It has kept its natural charm and is the favourite place for surfers. It has great beach bars serving fine food and numerous beach clubs, so fun is above all guaranteed here.
What to do
There is a wide range of entertainment and leisure activities for us to enjoy the wonderful town of Es Canar.
Water sports
Es Canar beautiful beaches are the perfect setting for parasailing, scuba diving, surfing and windsurfing. In addition, thanks to the fishing harbour in the area, we have guaranteed access to boat trips and ferries, so that we can live the experience of an unmatched sunset by the sea. In fact, this is one of the best ways to get to know the Ibizan coast, so we cannot brush this opportunity aside.
Tourist train
This train offers a magnificent 3-hour tour, during which we can visit the historic town of San Carlos and other interesting places in the area. The train departs from Club Cala Blanca hotel in Es Figueral. It makes a first stop at Punta Arabí Market and another one in Cala Nova. It is an exciting and different way to get to know the northern part of the island, forgetting about driving and learning interesting facts about towns and landscapes on our way.
There are other routes running from Santa Eulària, Portinatx or Cala Llonga that we might be interested in.
Where to eat
Needless to say that there are a lot of restaurants in the area, so the local cuisine is very assorted and it will satisfy all kinds of tastes and demands. International dishes, Mediterranean, Ibizan and Italian food are all cooked and served here. Many restaurants have beautiful facilities that integrate perfectly with Es Canar landscape and atmosphere. On the beach, several beach bars offer good food, so you don't have to leave in order to eat.
Fortunately, there are places to eat for all budgets and tastes.
There are also supermarkets in the area in case you prefer to cook.
Where to lodge
There are many hotels available for you to stay no matter how you travel, on your own, with a partner or with the whole family. Many of the hotels here have magnificent sea views and a swimming pool, spa and a wide range of entertainment activities for all their guests.
It is also possible to rent 1 or 2-bedroom apartments, which is a great option for families; some come with all-inclusive service.
Accommodation is varied and for all budgets, from rural hotels to luxurious private holiday homes. So we only need to choose the option that best fits our holiday requirements and get ready to enjoy a magnificent holiday in Ibiza, a place where we will live one of the best experiences of our life in a holiday paradise.