Ibiza is one of the five islands that make up the Balearic archipelago. The municipality of San José, known by its residents as Sant Josep de sa Talaia, delights tourists with the most beautiful beaches on the coast.
It's a cheerful and captivating town, boasting a privileged location. It offers all the comforts and services close to the crystalline waters of the coast. If you're looking to have an unforgettable holiday, Sant Josep de sa Talaia is the perfect spot.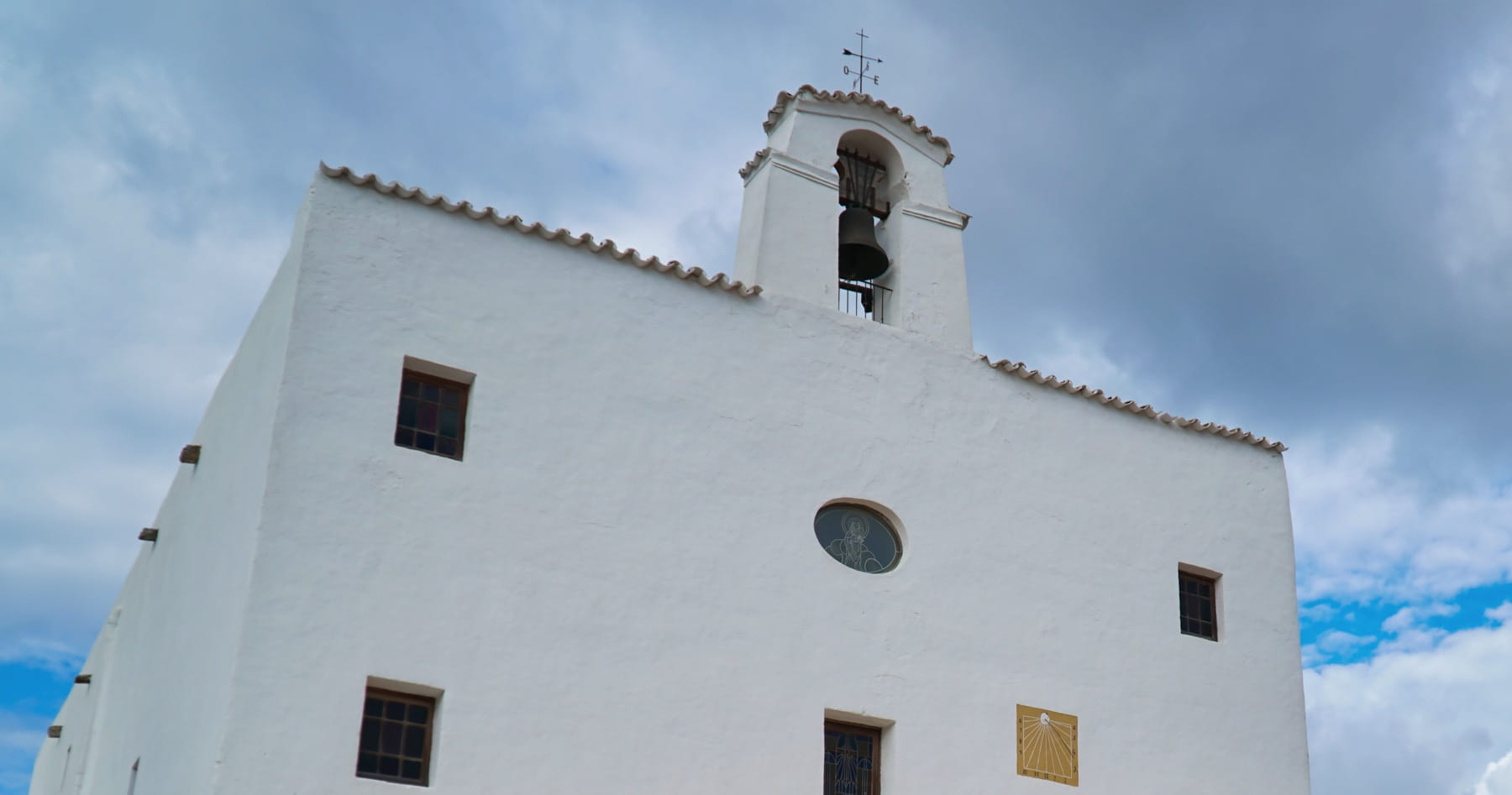 How to get there
Sant Josep de Sa Talaia is approximately 10 km from Ibiza Town airport.
What to see
Both the heart of this small urban centre and its surroundings offer interesting places to visit:
The Village of San José
This beautiful corner sits at the foot of the Sa Talaia hills. Its white lime houses sketch a picturesque landscape at the highest point of the peninsula. It's an ideal place to rest and take a break in one of its cafés.
Sa Talaia
This majestic hill is a viewpoint 475 meters high. Its peak dazzles us with an incredible vision. Morning hours are the most recommended for admiring Ibiza and Formentera.
Phoenician Settlement of Sa Caleta
This archaeological site is located in the south, between the beaches of Sa Caleta and Es Bol Nou. This village is an enigmatic universe that transports us back in time. It's estimated that its origin dates back to the end of the 8th century BC. Its traces reveal the remains of narrow streets and communal squares.
Among them, you can find the ruins of circular furnaces, some for domestic use and others destined for melting silver-bearing galena, iron or bronze. It's the largest and oldest settlement on the island.
Defence Tower of Savinar
This tower, also known as Pirate's Tower or Cap des Jueu Tower, served as a watchtower and lies in the Cala d'Hort Natural Reserve.
An extraordinary cliff emerges in front of the islets of Es Vedranell and Es Vedrà, revealing this structure built in 1756. From a ramp, we can access its upper entrance. It's the only tower that retains its original door.
Sa Pedrera
To discover this magnificent oasis, we must descend a path from the Savinar Tower.
There, amid rocks carved with geometric motifs and natural pools, we'll be delighted by its presence. In the 60s, it became a cult area for the hippie movement. Many nickname it "Atlantis", as it evokes the ancient lost civilization.
The intense blue of the sea and its grand elevations called "Walls of Dalt Vila" will completely captivate us. This magical corner is an old quarry used to extract marés. Its image is a symbol of the powerful insular nature. It was declared a World Heritage Site by UNESCO.
Without a doubt, Sa Pedrera is one of those destinations we cannot miss.
Settlement of Ses Paises
This settlement dates back to the 5th century BC and remained active until the 7th century. Its origin is Punic-Roman and it lies in the Cala d'Hort Natural Reserve.
Here, we can appreciate its two ancient buildings and its necropolises. The latter enclosed 20 tombs that were excavated in rock. Ceramic remains were found there, which were part of the deceased's trousseau. Its ruins tell us about the life and customs of this authentic Roman villa, its oil mills, its houses, and its people.
Beaches and Coves
San José has small and very quiet beaches. And although the favourite among visitors is undoubtedly Cala d'Hort, a spiritual haven accompanied by the overwhelming presence of Es Vedrà, there are many other beaches you'll love. Here are some examples:
Cala Carbó is in the lower part of the bay, its charm allows us to forget about worries.
Cala Valadella, on the other hand, is a secluded breath of fresh air.
Cala Molí can be enjoyed between two elevations, it's peaceful and protected from the wind.
Es Cavallet is a nudist marina located in the heart of Ses Salines Natural Park. From there, we can see the beautiful silhouette of Formentera on the horizon.
Las Salinas is the celebrities' favourite. It has luxurious beach bars and the necessary amenities to have a great time.
What to do
Hiking
Starting from Sa Talaia, there are exceptional routes for hiking. Our walks will be infused with savin junipers, pine forests, rural dwellings, historical heritage, and unforgettable panoramas.
Flower Power Party
The flower power party is the most popular in San José. It has been held for over three decades on March 19th, attracting thousands of people with colourful wreaths, music, and the immortal hippie spirit. Dancing to the rhythm of Bob Marley, The Beatles or Aretha Franklin, we can dance until dawn, enjoying various shows, performances and the best DJs.
San Pepe Rock
Every year the famous San Pepe Rock event is celebrated, where renowned national artists of this genre gather. It's an explosive night for music lovers.
Where to eat
In Sant Josep, we find a heterogeneous range of gastronomic alternatives. From the most elegant restaurants, with splendid atmospheres and Mediterranean, European, and international gourmet food, to places with more moderate prices, serving succulent Italian dishes, seafood, and local cuisine.
We can try delicious pizzas, snacks, and various drinks, in settings with exemplary service.
Where to sleep
This municipality offers a modest but attractive range of accommodations. You'll find a delightful four-star hotel in the hills of the west of this island. It has a large terrace to contemplate the sea and wonderful rooms.
Villas are the most varied options in this town. They're 100% equipped and have fascinating gardens and pools. These places offer glamour and the warmth of a home.
Check Available Accommodations
Surroundings
Very close to Sant Josep, you have the city of Ibiza, about 14 km away. Here you'll find plenty of local shops and a lively atmosphere, especially at night. Don't forget to stroll through the streets of its harbour and visit the walled area of Dalt Vila.