Santa Eulalia del Río, or as locals call it, Santa Eulària des Riu, is a village located on eastern Ibiza. This town is celebrated as the most stress-free and family area of ​​the island.
This area of ​​the island is one of the most visited by families and couples looking for a place to stay away from the hectic nightlife.
The nature and structure of the town is especially characteristic of the Ibizan architecture and radiates a special charm. The town developed around a 16th century church built on top of Puig de Missa and took its name after the only river flowing through the Balearic Islands.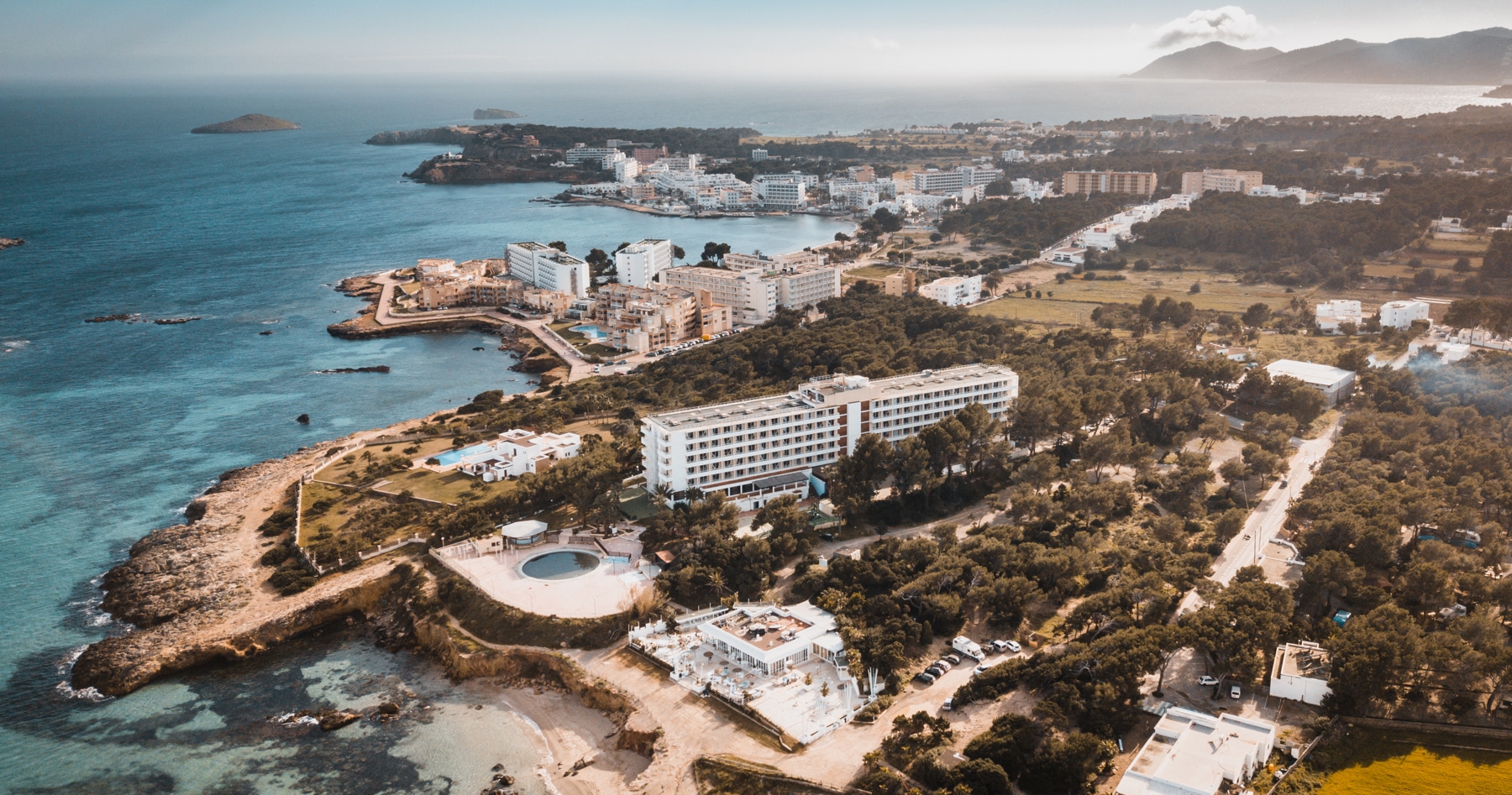 How to get there
As Ibiza is a fairly small island, the truth is that it does not take too long to go from one point to another. There are several options to get to Santa Eulària des Riu, which depends on how much you are willing to spend and if you come to the island by boat or plane. If you are flying to Ibiza Airport and expect to take a taxi from there, it will not take more than 20 minutes to get to town and the fare will be around €30.
If you do not wish to spend that money on transportation and prefer to use it on other activities and entertainment, another highly recommended option is to take the bus. Specifically, line L24 will take you to the same place and the cost is only €4 for a 25-minute ride.
If instead you are coming to Ibiza by ferry and will arrive in Ibiza harbour, you can take the quite regular bus line L13 from there for a fare that will not reach €2.
What to see
Being one of the main towns on the island, Santa Eulalia del Río has a large number of touristic attractions that are certain to move visitors.
Here are some of the places you cannot miss out on:
The marina
Marina Santa Eulalia is located in a natural and unique enclave, only 14 kilometres from Ibiza town, surrounded by spectacular coves and mountains. It is definitely a fantastic plan to visit some of the nearby beaches and relax by sailing in the crystal clear waters. Moreover, in order to enjoy some leisure hours on land, the port has a complete commercial area that is nonetheless quiet. In fact, this is one of the towns, along with the northern part of the island, chosen by many locals to avoid the crowds in high season.
The promenade
For those who love walking and sunset strolls, this is undoubtedly a great option due to its important size, spaciousness, comfort, and beautiful beach views. It is perfect for families and couples who want to relax a bit after a long day under the sun by enjoying the great variety of places, restaurants and shops.
The Old Town
Santa Eulària des Riu not only has a key location next to some of the most gorgeous beaches and coves on the island, but also the town itself has a striking and distinctive old town to explore. The small Ibizan-style houses that have been adding one to another over the years have shaped the town around the church and are responsible today for the distinctive and special atmosphere present.
The church
Santa Eulalia Church, 'Puig de Missa', is another of the most visited touristic spots in town. It is a dazzling fortress-temple with a tower dating 16th century and stunning views. It was built on the top of a hill with the same name and laid the foundation for the town to come about.
Pont Vell
And finally, a place that you might not find in travel guides but that you should not overlook: Santa Eulària des Riu Pont Vell. Also known as Pont des Molins, it was the old main entrance to the village and a constant target for pirate looters, since it had easy access and was constantly used by peasants coming in and out. Today, those who cross it do so on foot and peacefully, since it is now a pedestrian bridge with the river flowing under.
This image offers a wonderful and hassle-free walk that can be enjoyed as a family, along its bank. In fact, Santa Eularia is one of the towns in Ibiza that can be proud of having one of the best settings to walk on the island. The fact is that there are not many places where you can start a walking route by contemplating Mediterranean beaches and finish the tour inland on the banks of a river.
What to do
Cycle routes
Bicycle tourism is increasingly becoming the preferred activity on the island for many visitors and as it happens, Santa Eulalia has various cycle routes. They are in a privileged natural environment and allow you to get to know Ibiza from a different and more personal angle.
Where to eat
It is true that Santa Eulalia has a wide selection of restaurants, offering gastronomy of all kinds. Without a doubt, the town stands out for its restaurants and local bars serving typical Ibizan food that will make your day. The vast majority have very nice terraces and open spaces for you to enjoy the food and the great atmosphere together.
Where to lodge
When deciding where to stay, you will find several possibilities at your fingertips in Santa Eulària d'es Riu: from affordable hostels with basic services to the most sophisticated hotels that offer commodities such as swimming-pools, spas, or other leisure activities.
In short, the town offer ranges from establishments aimed at the youngest public, to families or couples with different needs and expectations, but who are above all, seeking tranquillity and pleasing service. In any case, you can always find accommodation to suit you and your budget.