A natural labyrinth made of narrow streets and charming houses
It is one of the most visited areas on the island of Menorca. The striking charisma of this small fishing village lies in its houses, which are so perfectly interspersed with its narrow streets, making you feel like you are inside an exciting maze.
Come and get lost in it while enjoying the way out!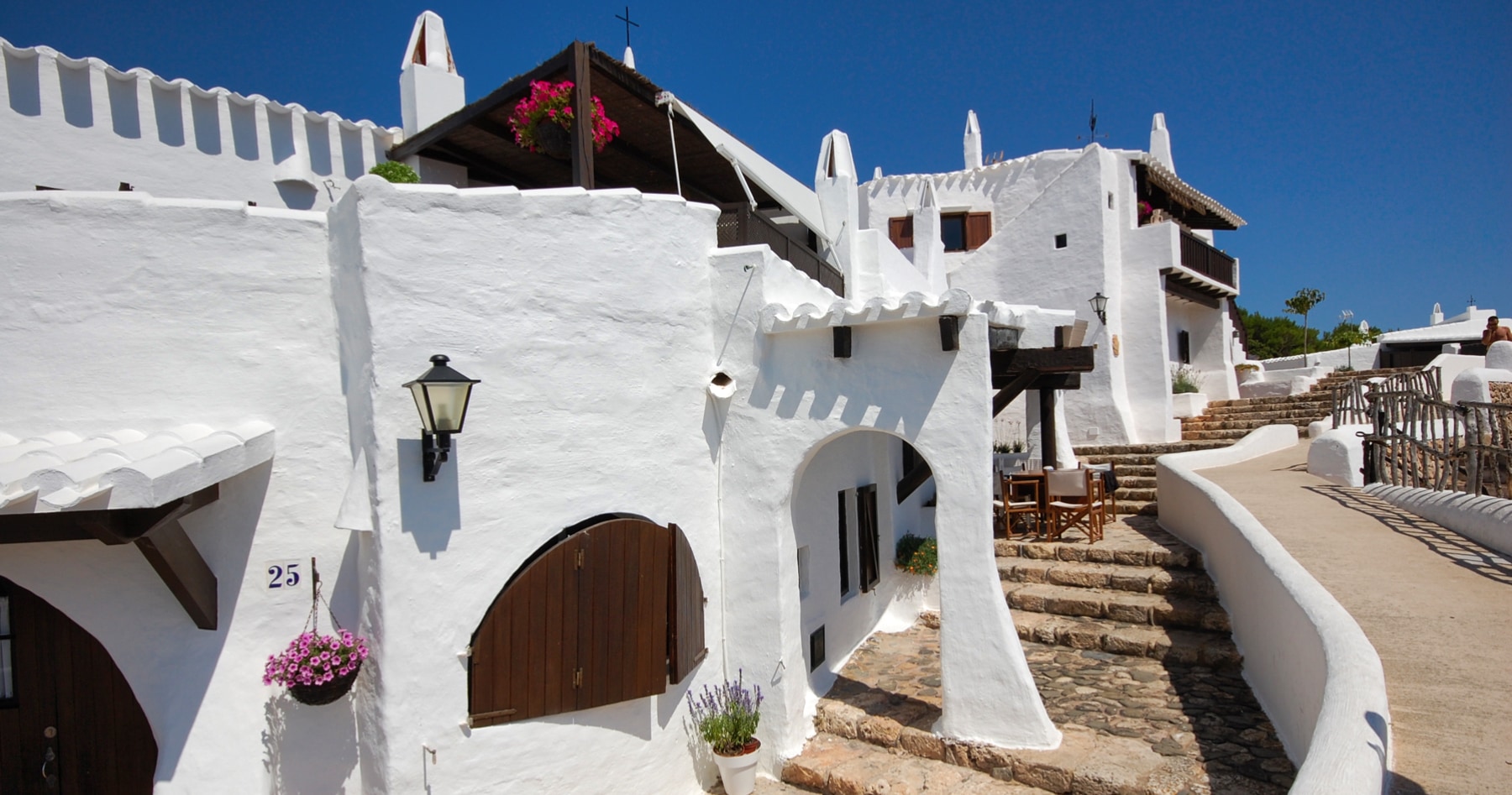 How to get there
The easiest route is through Mahón, where you will take the road to San Luis. Follow the signs to Binibeca (Binibèquer in Catalan) right away, and drive through Binibèquer Vell. The town is about 8 kilometres from Mahón and belongs to San Luis municipality.
What to see
What is most striking when arriving in Binibeca is, as if portrayed in a postcard, the image of houses built in this town as in a tourist complex. They are all white and share a very special architecture, creating a magical synchronization among them.
Oh, do not stay in the car! What is really worthwhile is diving into an entertaining time of walking through its narrow alleys and discovering the hidden charm in all its corners. This area is known as Binibèquer Vell.
Most houses are currently inhabited, so it is important to keep that in mind when visiting and avoid excessive noise. In fact, you will be able to see signs concerning this issue that kindly ask for silence with a "Please, be quiet".
The flora embellishes this beautiful little village, especially the bougainvillea, which natural and striking colours are particularly prevailing to the eye of the visitor.
The doors, shutters and the particular brown wooden fences stand out against the white facades.
If you are keen on photography, you will have a blast here!
The streets will lead to the harbour, where several boats are usually moored. You will also find several interesting souvenir shops where to browse for a while and before taking a well-deserved rest on the terrace of one of the local bars overlooking the sea. This will allow you to fully absorb the magic in the air.
Beaches
You will find Binibeca beach in the urban centre called Binibèquer Nou. 
Other nearby coves you can find around are Cala Binisafúller, Binidalí, Biniancolla or Biniparratx.
Cala Binisafúller
Also called Binisafua, it is a small cove with gentle waves due to its U shape.
There is free parking next to the beach to fit about 20 cars, which shows how crowded this beach can potentially be.
The "camí de cavalls" path skirts the cove and is a good option for those who wish to walk a bit and enjoy the landscape firsthand.
Where to eat
Binibeca offers a quite wide variety of restaurants such as pizza and burger places, grills, Signature Cuisine restaurants, taverns, and amazing spots where to enjoy scrumptious tapas and the winner fresh fish.
Where to lodge
This little village is a perfect place to stay during a vacation in Menorca. Located less than 20 minutes away from the airport, it offers apartment buildings, rental houses and some small hotels.
Check Available Accommodations
Surroundings
You will find the city of Mahón just 15 minutes from here. Do not miss out on all its fascinating spots.