Es Migjorn Gran is a small town in the centre-south of the island of Menorca, in the Balearic Islands. Its 32 square kilometres are home to about 1,400 inhabitants, living mainly from the tourist economy. Widely known are the archaeology, music, beaches and festivals in this municipality, making it a very common destination for tourists coming from all over the world.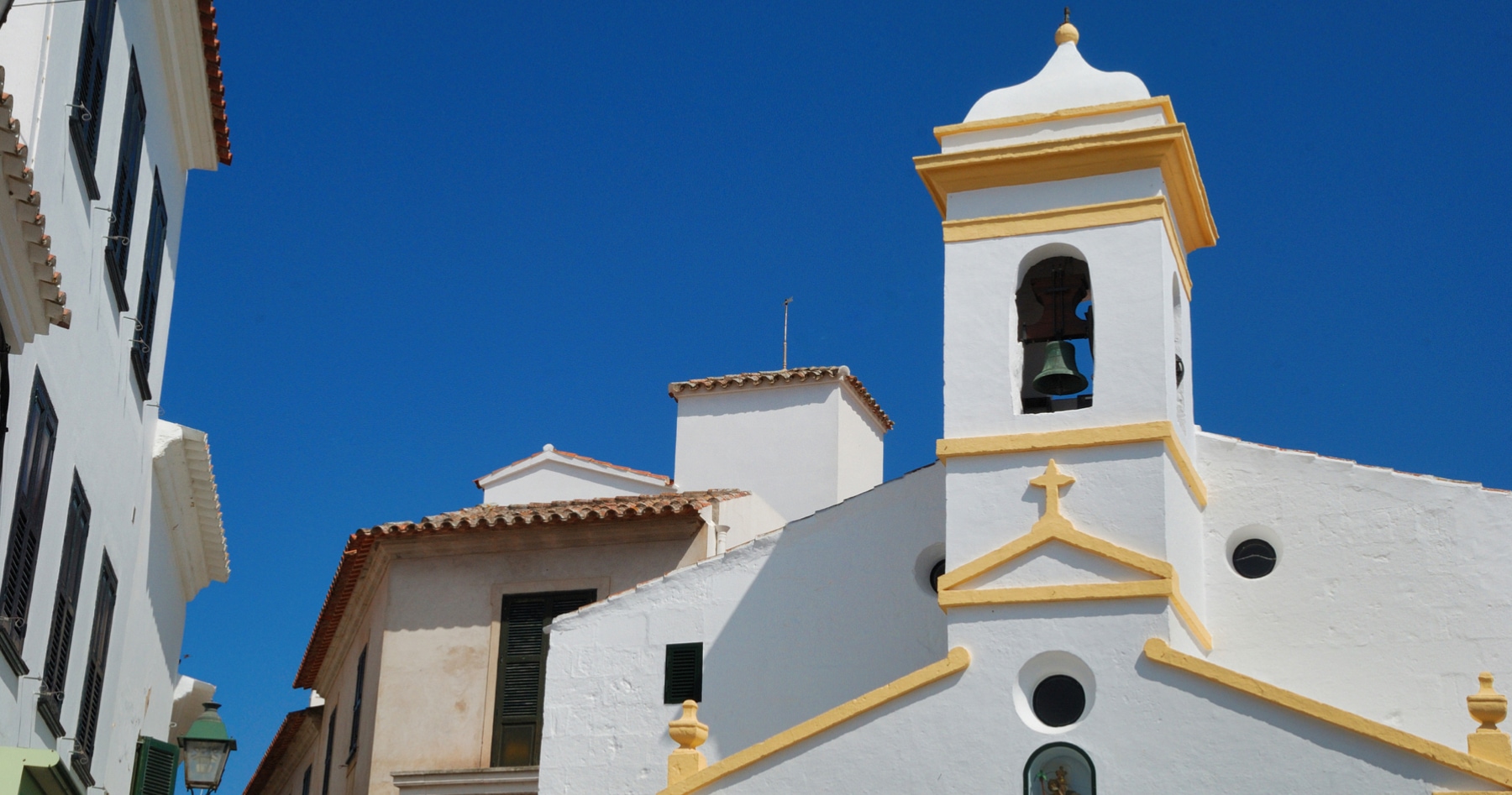 How to get there
What to see
Es Migjorn Gran offers a wide range of tourist attractions. Both the centre of the municipality and the surroundings are worthwhile a visit.
The special glow in this town is all around the historic centre, its narrow streets and typical Balearic houses. These are some of the places you must visit:
Sant Cristòfol Church
To be found in the square called Plaza de la Iglesia in the town centre. It is a church built in the 18th century and is open to the public every day from 8 a.m. to 7 p.m.
Air-raid shelter
It is near the church and visits are free of charge on Fridays from 9 a.m. to 1 p.m.
Sant Agustí el Vell Town
Located just 3 kilometres from the municipality centre, the town of Sant Agustí el Vell offers a pleasant visit to the past. These archaeological remains can be visited anytime and are free of charge.
Galliner de Madona
It is a Menorcan prehistoric construction, competing for UNESCO World Heritage recognition. Belonging to the Talayotic era, it offers countless spectacular architectural forms. Although restricted, access is free of charge it is convenient to contact [email protected] before visiting.
Beaches
Es Migjorn Gran outskirts are full of dazzling beaches and paradisiacal coves where you can really savour your holidays.
Some of the best known are Cala Trebalúger, San Tomás beach and Binigaus.
What to do
Variety is the spice of life. Es Migjorn Gran brings all kinds of tourist leisure possibilities, from tranquillity and rest to physical activity. One of the essential activities here is the excursion to Barranco de Binigaus or Binigaus Ravine.
Excursion to Binigaus Ravine
It is a family-friendly route needing a little previous physical training. The day can be fairly long (4-5 hours round trip), so comfortable shoes and food and water are essential.
One of the most spectacular points along the route is the Cova des Coloms. Also known as 'the cathedral,' this cave is 24 metres high, 300 metres long and 15 metres wide. There is suspicion that it was used for religious purposes decades ago. It is also worth mentioning that the humidity present in the cave makes the ground slippery therefore, much care is advisable when inside and walking around.
Where to eat
After doing an activity like the one just mentioned, you will want to eat well and Es Migjorn Gran can grant your wish. Being a relatively small town, the list of restaurants and bars in Es Migjorn Gran is not too long, although it is adequate for all tastes and budgets. In this town near the coast, Mediterranean cuisine predominates with the use of fresh products. There is a pizza place in the town centre for those craving Italian food, but also different tapas bars and restaurants offering a la carte and fixed menu service.
Where to lodge
Accommodation in Es Migjorn Gran will not be a problem. You can stay in the municipality centre or closer to the beach in the residential area of ​​Sant Tomàs. As with restaurants, the list of hotels, hostels and apartments is not too long, but sufficient.
There are 3 and 4 star hotels, several rural hotels and luxury hotels on the seafront. Apartment rental is a good choice for those who want the beach nearby.