The island of Menorca is one of the most picturesque in the Mediterranean, where tradition and modernity come together in towns such as Es Mercadal. This hospitable town of white houses is the epicentre of the island and undoubtedly one of the corners of compulsory visit by tourists who want to discover the most authentic side of Menorca.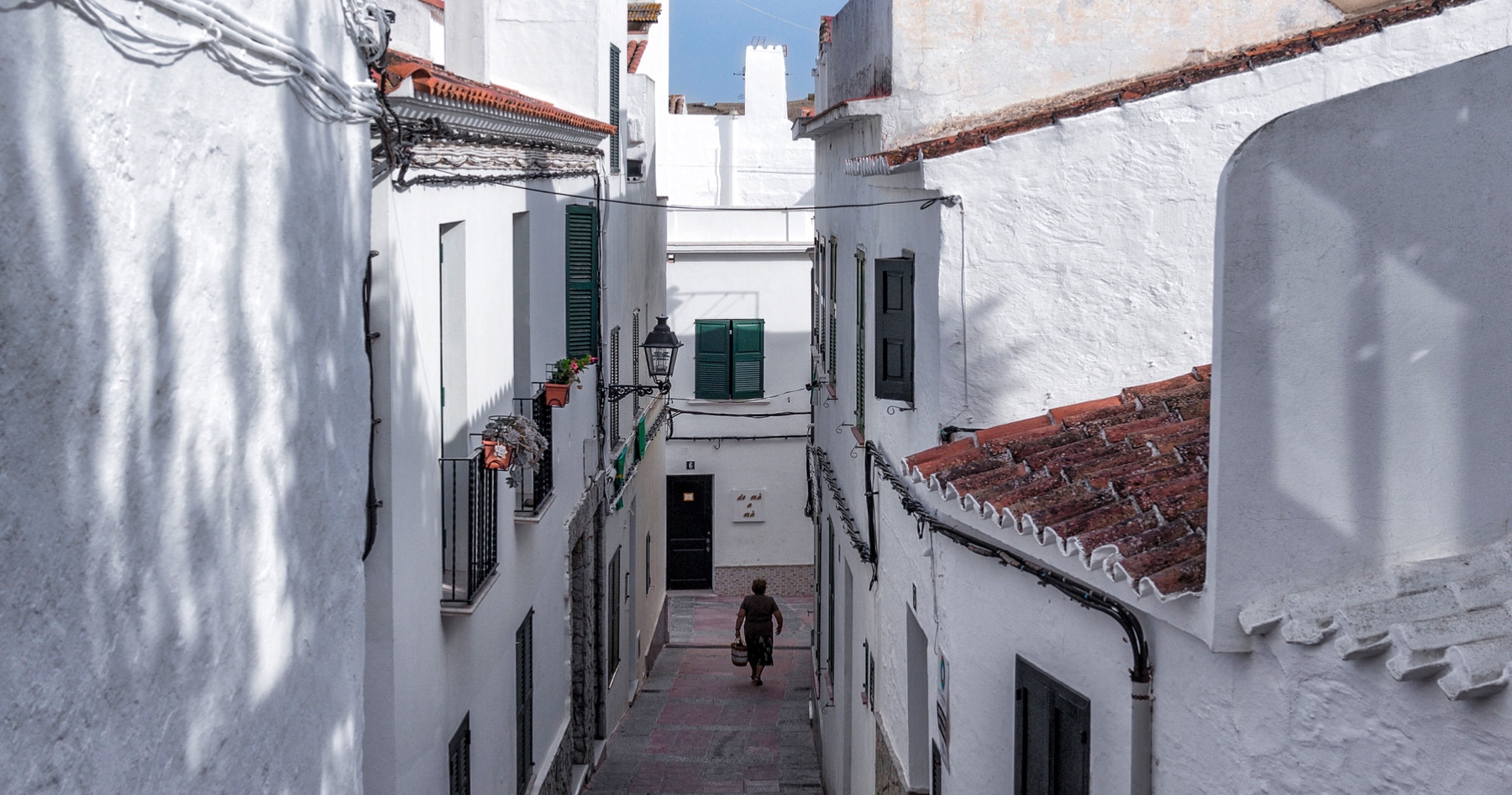 How to get there
If you travel to Menorca by plane, it will not be complicated for you to reach this town from the airport. You can take the ME-1 road and drive 20 minutes to Es Mercadal, if you have a vehicle.
If you prefer the bus, line L10 will take you to Mahón and from there you can take either line 01 or 51 to get to Es Mercadal.
Bus line 41 goes from Port Addaia harbour to Es Mercadal.
What to see
Es Mercadal is a municipality with very different interests, so it is definitely suitable for any type of tourist or visitor. Among the most important tourist attractions the following are included:
San Martín Church
This church was built on a previously existing church. The work began in 1767 when the need for a larger temple appeared as a consequence of an increase in population. It is a spacious and simple Renaissance temple with very nice stained glass windows.
The reservoir
The impressive reservoir in Es Mercadal is a clear example of the English heritage present in the island of Menorca. Built in 1735, it is a large deposit in which rainwater is collected in order to supply the municipality. With a great historical importance in this town, this reservoir is still in use today.
Fairs and markets
Dozens of different markets are held throughout the year in Es Mercadal and we highlight the following: Partridge Fair, Craft Fair and Es Mercadal Gastronomic Exhibition, where you can taste the most typical products of local cuisine.
Harbours
There are two harbours in this municipality, Addaia harbour and Fornells harbour, both located in a bay of great beauty and worthwhile visiting.
Montaña del Toro or Mount Toro
It is the only mountain in Menorca, 358 meters high, from which you can see a stunning and unforgettable panoramic view of the island. It is perfect for a family visit and to enjoy its natural surroundings.
Cas Sucrer
It is a homemade sweets and local products store in which to discover the traditional Menorcan cuisine, a luxury for the palate without any reservations.
What to do
Trekking
In the public estate of S'Arangí, you can go on different low-difficulty hiking trails as a way to discover and capture the many sensations ready to be unveiled in a typical Balearic forest.
We can also go on an excursion to S'Indi Rock, a rock of great beauty that looks just like the bust of a Native-American chief, which has prompted its name.
Nautical sports
If we want to practice water sports, we must go to Fornells bay, where windsurfing or diving holds an important tradition.
Where to eat
The area is popular for being a leading exponent of the Menorcan traditional cuisine, so there is no shortage of restaurants with local dishes, but also Mediterranean and even Italian restaurants. Their typical sweets are also in high demand among tourists.
Where to lodge
You will find all types of hotels and hostels in Es Mercadal, although small and cosy hotels predominate here. The fact is that the town's location makes it a perfect choice for those looking for a bit of tranquillity and direct and uncensored connection to the area.
Check Available Accommodations
Surroundings
Its strategic and central location in the island makes of Es Mercadal a place of easy access from other spots such as Mahón and Ciudadela of Menorca.
Ferrerías and Alayor are other two towns also very close by where you will be able to enjoy shopping or just visiting.