Ferreries is one of the most picturesque towns of Menorca. It is located in a privileged spot, a valley between shy mountains, being famous for the colour white of the houses and buildings here.
Although it is an inland town, it has some of the most beautiful beaches and coves in Menorca in its municipal area. Moreover, it has been a jewellery and footwear manufacturing authority, activity that remains pivotal in the economy of the municipality.
With barely 6,000 inhabitants, Ferreries channels through its alleyways and small squares that Menorcan charm that has undoubtedly attracted millions of visitors to the island for decades. This is a calm place, charismatic, that thrives surrounded by nature ready to grant you an unforgettable experience.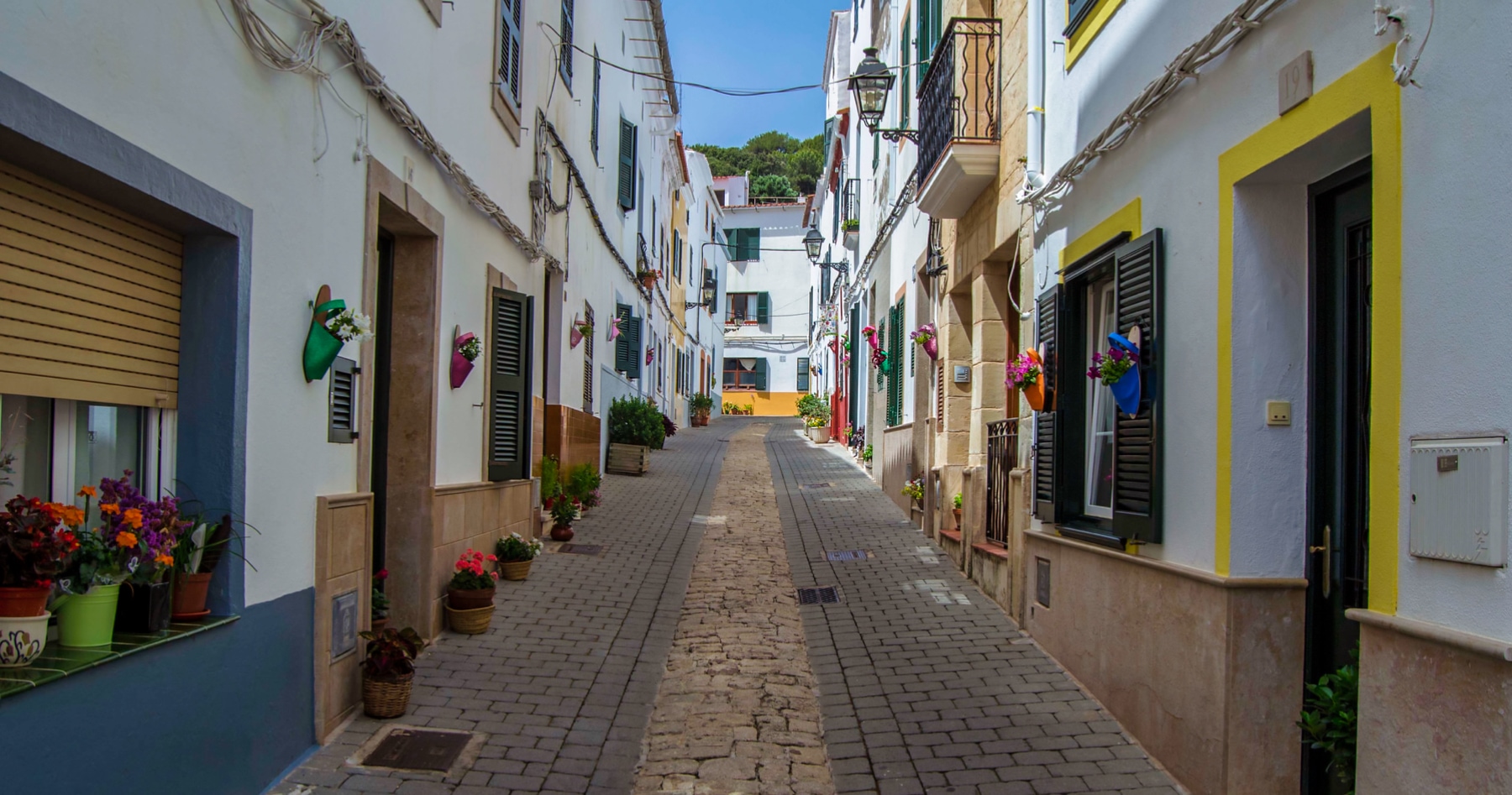 How to get there
You will find Ferreries 28 kilometres from the island's airport by road, which makes more or less 30 minutes by car. Follow the main road called Me-1 and you will reach your destination.
If you disembark in Ciutadella's port, the journey will take you about 20 minutes and this town will be the first you find on your way through road Me-1.
What to see
The town of Ferreries has a historic centre, renowned for its great beauty and its purely Mediterranean flair. The town centre dates back to the 17th century and routing through it is an experience that we should not miss out on when we visit Menorca during a vacation. In addition, there are other points of great touristic interest here, which we describe below:
Santa Águeda Castle
The remains of this impressive defensive castle are to be found on the top of Santa Águeda Mountain. Built between the 10th and 13th centuries, it was considered one of the largest and most important defensive complexes within the territory of the Al-Ándalus.
It is a fortification that has 37 defence towers, of which barely a dozen are still in good condition today; the walls are over 1,800 meters long. This castle was of extreme importance during the Christian recapture but became obsolete soon after. This is indeed a very interesting place to visit with the family and discover the fascinating Menorcan history from up close.
Sant Bartomeu Church
Built between the 17th and 18th centuries, this beautiful, immaculate white church is a clear reflection of the popular architecture in this area. With 8 chapels, it is home to San Bartolomé carving. It is considered to be the most important Catholic centre in Ferreries and its slender bell tower can be seen from any point in town.
Peixateria Square
This small corner in Ferreries is also one of its most charming places. Right on San Bartolomé Street find this small cobbled square that owes its name to the old fishmonger's building located there. In addition, you can see here one of the two wells that provided the neighbours with fresh water until recently. A unique place highly regarded by the people here.
Son Mercer de Baix village
It is one of the oldest prehistoric sites in Menorca, since it is more than 3,500 years old. You can visit the part of the structure that still stands today while enjoying the surrounding breathtaking views from the ravine of Son Fideu. It is just 4 kilometres from Ferreries.
Weekly market
The weekly market is open on Saturday morning and here we can find delicious local products. Fruit, cheese, sausages, jam, Menorca's honey ... an endless amount of exquisite gastronomic products to taste and buy during a vacation in the area. Moreover and during summertime, the market is livened up by cheerful folk dances that can only make this place more magical.
Beaches
The municipality of Ferreries enjoys a great coastline, considered one of the most breathtaking on the island, with unbelievable beaches all along. Cala Galdana is one of the most beautiful and you can find it in the residential area bearing its same name. Cala Mitjana and Cala Mitjaneta beaches also stand out as far as beauty is concerned.
What to do
There is no shortage of fun and activities to relish in Ferreries. Besides visiting all the places of interest that we have mentioned above, we can go hiking or cycling to better get to know the area and enjoy its natural landscapes.
Trekking
Walking along the roads adjacent to the town is one of the most common activities that you can do if you are sightseeing in the area.
There are different set routes with diverse degrees of difficulty, suitable for all types of people. These routes allow us to walk right into the beauty of the Menorcan Mediterranean forests and some of them can be done as comfortable bike rides. Specifically, the routes that end at the top of the mounts near Ferreries are perfect to contemplate the town from above. This will become the ideal occasion to immortalize the town with your camera.
Where to eat
There are different catering establishments with plenty of gastronomic options that will suit all tastes in Ferreries. Seafood is predominant in typical restaurants of Menorcan cuisine; for delicious typical Spanish food and diverse Mediterranean dishes, you will find mesones and grills or Italian restaurants.
Most of these establishments are located within the municipality urban area, so they are easily accessible on foot.
Where to lodge
Both within Ferreries urban nucleus and the outskirts deep in nature, there are hotels for all likings and budgets. Accommodation options range from affordable 3-star hotels to alluring 4-star hotels with swimming pools. Also available in the municipality, there are small hostels and rural hotels that provide a higher degree of tranquillity for all their guests.
The local agroturismo establishments are another interesting option. Most of them are close to the places of tourist interest in Ferreries, offering appealing gastronomic activities as well as great accommodation.
Check Available Accommodations
Events
During the municipal festivities, known as Fiestas de San Bartolomé, the town experiences an authentic explosion of joy and colour. A parade with more than 70 horsemen dressed in 19th-century costumes riding horses runs through town before the expectant gaze of the public. The event takes place from the 23rd to the 25th of August.