Menorca is one of the islands of the Balearic archipelago, where crystal clear waters deliver exquisite bays so that we can enjoy a vacation like no other.
Cala Blanca is a small sandbank located in a residential area bearing the same name and only 5 minutes from Ciudadela.
It is the perfect destination for family tourism with a beautiful beach of fine sand and a landscape capable of capturing the visitor with an overwhelming sense of peace. Come and get to know Cala Blanca and you will surely be happy to spend your vacation days here.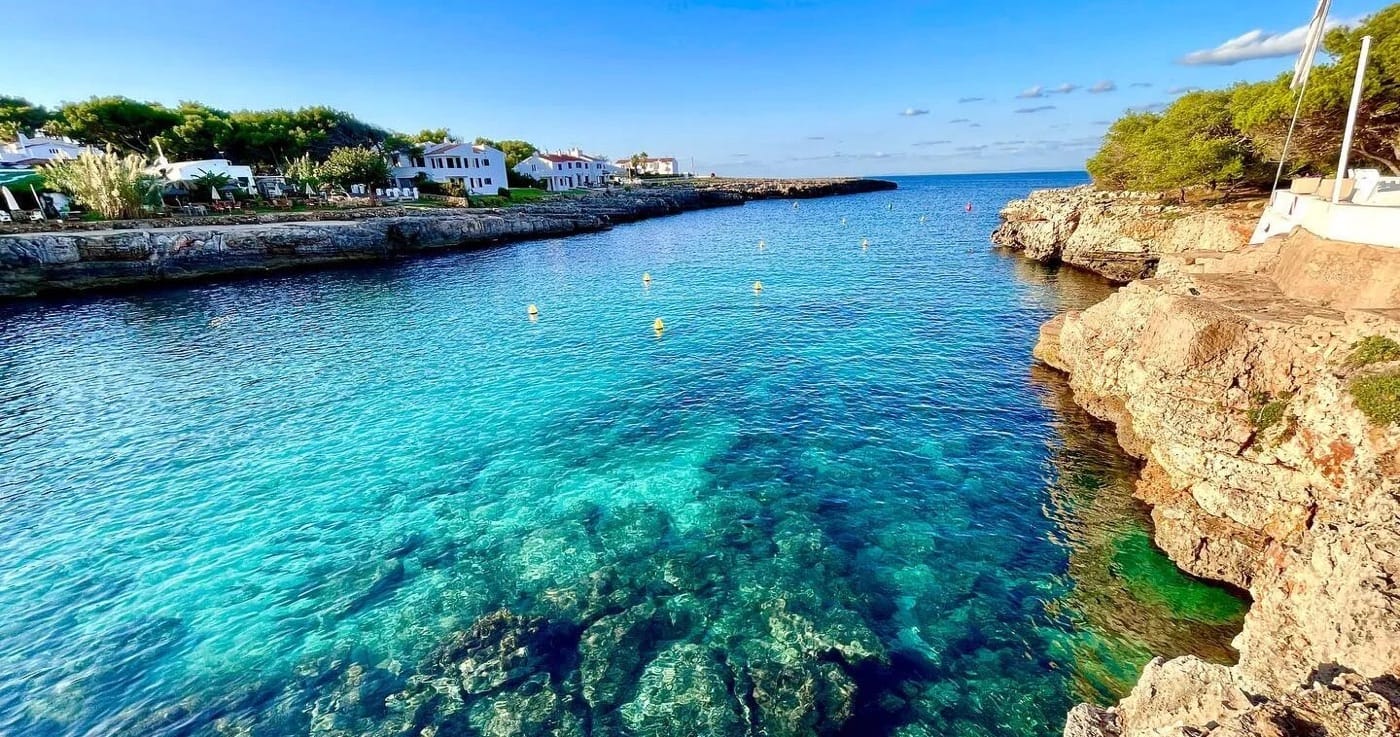 How to get there
What to see
With warm temperature throughout the year, ​​Cala Blanca welcomes us with all the necessary comforts to relax and have a great time. Without a doubt, the beach is its strong point. However, you can find different places also worth visiting within the residential area and around.
Assorted clubs and bars bring about a unique and dynamic nightlife. Its privileged location allows you to go on outings to the magnificent historical heritage sites nearby.
The beach
This paradise is an intimate spot. It has a lovely U shape with scarce 45 metres long and 140 metres wide. Its shore is wrapped with magnificent cliffs.
We can contemplate the soothing landscape created by the dunes in the back, while the gentle breeze caresses our skin driven by the east winds. Its gentle tide seduces local and foreign swimmers.
This beach has umbrellas, sunbeds and beach bars where we can get everything we need to have the best experience. Nearby, a wealth of archaeological remains and geological deposits await your visit.
Caballería Cape
It is a viewpoint in the Mallorcan northern coast. Its imposing cliffs deliver unmatched views from a height over 90 metres.
At the side end, we can see a lighthouse from 1857. It was built on an impressive precipice, 94 meters high, projecting our eyes into infinity. Do not forget to capture a memory of this place with a photo, and if we may add, take it at sunset and grasp the magic!
What to do
Since Cala Blanca is a tourist centre, fun is guaranteed night and day. As we stroll through the streets in town, busy shops and modern bars and pubs promise a good time in the company of a refreshing drink.
The wonderful waters here are ideal for water sports such as diving and kayaking, but also to enjoy a fantastic boat trip and much more.
Where to eat
Heir to a multicultural gastronomic fusion, Cala Blanca offers the ravishing combination of Catalan, Islamic, French and medieval recipes.
Be prepared for your palate to surrender to the explosion of flavours and textures. Among the typical products you can relish here, Mahón cheese and traditional gin stand out for sure.
We can choose from a wide range of restaurants to eat well as there are establishments with great sea views, famous for an elegant atmosphere or liked for the unruly setting perfect for coffee and snacks. Feel like having some pizza? Have a slice surrounded by the fantastic Mallorcan architecture in Cala Blanca, this will be an experience like no other!
Where to lodge
Book a room in a 5 or 4 star hotel, relax in the swimming pool during the day and sleep in a luxurious suite at night. For those wanting to lodge in a more affordable place, this town also has 3-star hostels and they are comfortable, spacious and with excellent services.
Rental apartments in Cala Blanca represent the greatest offer for lodging, bringing the opportunity to stay right on the seaside.