Cala Galdana is a coastal area with one of the most famous, popular and beautiful beaches in southern Menorca, receiving thousands of tourists every year. It has an area of ​​400 meters fenced in by two cliffs, shaping it as a horseshoe.
The cliffs surrounding this cove are entirely developed. One of the advantages of the growing urbanization is that it allows access to a wide variety of services. However, the downside of this is that we will not be able to enjoy unaltered natural landscapes.
Come to Cala Galdana if you are looking for a quiet and relaxing holiday, surrounded by a large beach and all the necessary services.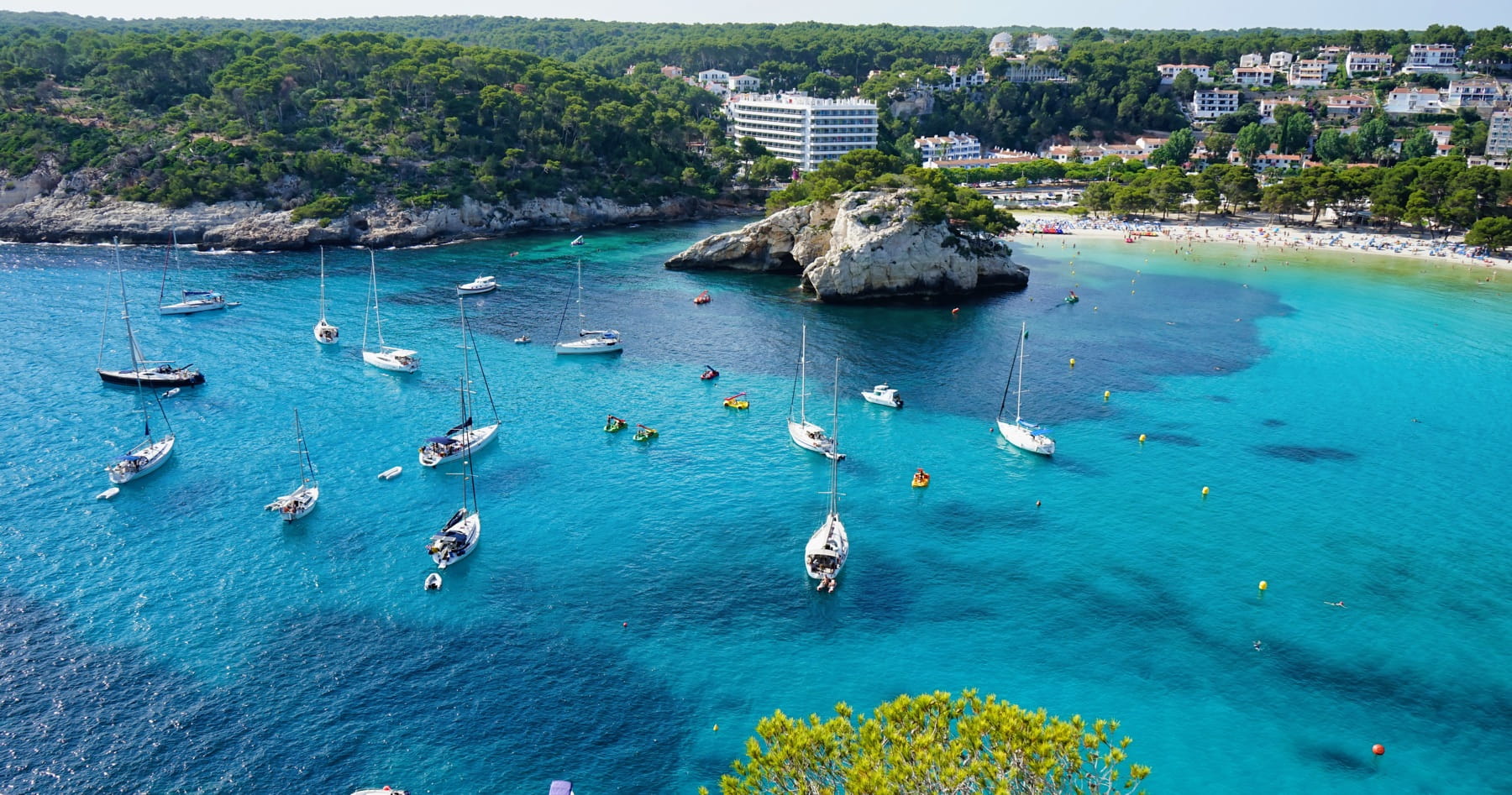 How to get there
Cala Galdana is 30 minutes from Menorca airport in Mahón and 25 minutes from Ciutadella's port.
The only way to reach this semi-natural enclave is through the village of Ferrerías, 8 kilometres from town. The journey from there to the beach is a pleasant one and takes only a few minutes by car.
What to see
It is advisable to know the main points of tourist interest before arriving in Cala Galdana for your holiday, so you can get the most of them once settled in there. Here, we propose the most outstanding:
Cala Galdana viewpoint
It is one of the most visited spots together with the beach. In order to reach this viewpoint, we must go to the end of Sa Punta Avenue and climb up the cliff in front of us. The highest point will be the ideal place to take family pictures or enjoy panoramic views, being able to appreciate the magnitude of Cala Galdana beach.
Beach
Cala Galdana beach is very crowded by tourists in summertime. Its great extension, shallow waters and fine white sand make it the perfect option for those eager to spend a nice family day. As we enjoy this beach, we will capture the presence of small boats sailing before our eyes, collaborating in the scenery with a special touch.
The beach is intended to offer the greatest comfort to tourists and has rental service for sunbeds and umbrellas, but also beach bars, showers and a lifeguard post. We can find several hotels around, along with restaurants, spas, bars, nightclubs, supermarkets, souvenir shops and free parking areas.
What to do
There are many activities for you to do in this part of the island, aimed both at families with children and more adventurous people travelling alone. Some of the most interesting things to do in Cala Galdana are:
Cycle-tourism routes
These routes are intended for both cycling and trekking. One of the most popular is the one that starts on sections 13 and 14 of the famous Camí de Cavalls, the path that runs along the Menorcan coast. From here, you can reach nearby coves such as Cala Macarelleta, Macarella or Trebalúger. It is possible to enjoy a wonderful view from these spots, while discovering the autochthonous flora and fauna.
Equestrian shows
Find them by following the main road from Cala Galdana to Ferreries. There are several stables and farms offering such shows, combining music and dance choreography.
Water sports
If you enjoy water sports, Cala Galdana has them all. Come and choose between diving, kayaking, scuba diving, Jet Ski excursions, paddle surfing, water skiing or sport fishing. There are dozens of schools providing these services and renting the necessary equipment to visitors.
Hiking/trekking
If you want to unleash the peace and tranquillity of this place, there are several trails to discover the most natural part of the island, away from the urbanizations and in the vicinity of the beach. Pine trees, that Mediterranean natural gift, will accompany you as well in this side of Menorca, showing hikers the way along these fantastic and unique routes for hikers.
Spas
If you want to enjoy a personal well-being session, spas in the area offer different types of massages and sauna service. These services are for couples and also for families.
Where to eat
One of the advantages offered by the growing urbanization near this beach is the large number of dining options we will be able to choose from. Among them are restaurants serving delicious Italian, Mediterranean or Japanese food.
Tourists interested in tasting the Menorcan gastronomy will also find several restaurants and bars serving local dishes made with native recipes such as baked aubergines, lamb in sauce or baked stingray fish.
Where to lodge
In order to complete this perfect trip, it is essential to be able to find a quiet place to stay.
Tourists looking for exclusive service will be happy to find resorts and luxury hotels with spa and swimming pool just a few meters from the coast; from there, they will be awed by the sea views and the wonderful sunset. If you want a quieter and more affordable area, look for high-quality hostels at an affordable price in the interior or the outskirts of Cala Galdana.