The perfect bay
Fornells is located in the northern part of the island, a beautiful coastal town within Es Mercadal municipality.
The white houses, the natural harbour and the atmosphere of tranquillity reigning throughout make of Fornells the perfect place for anyone wishing to escape busier areas.
Caldereta de Langosta is a famous dish in this fishing village and here it is cooked like no other place in Menorca. Dare to try it?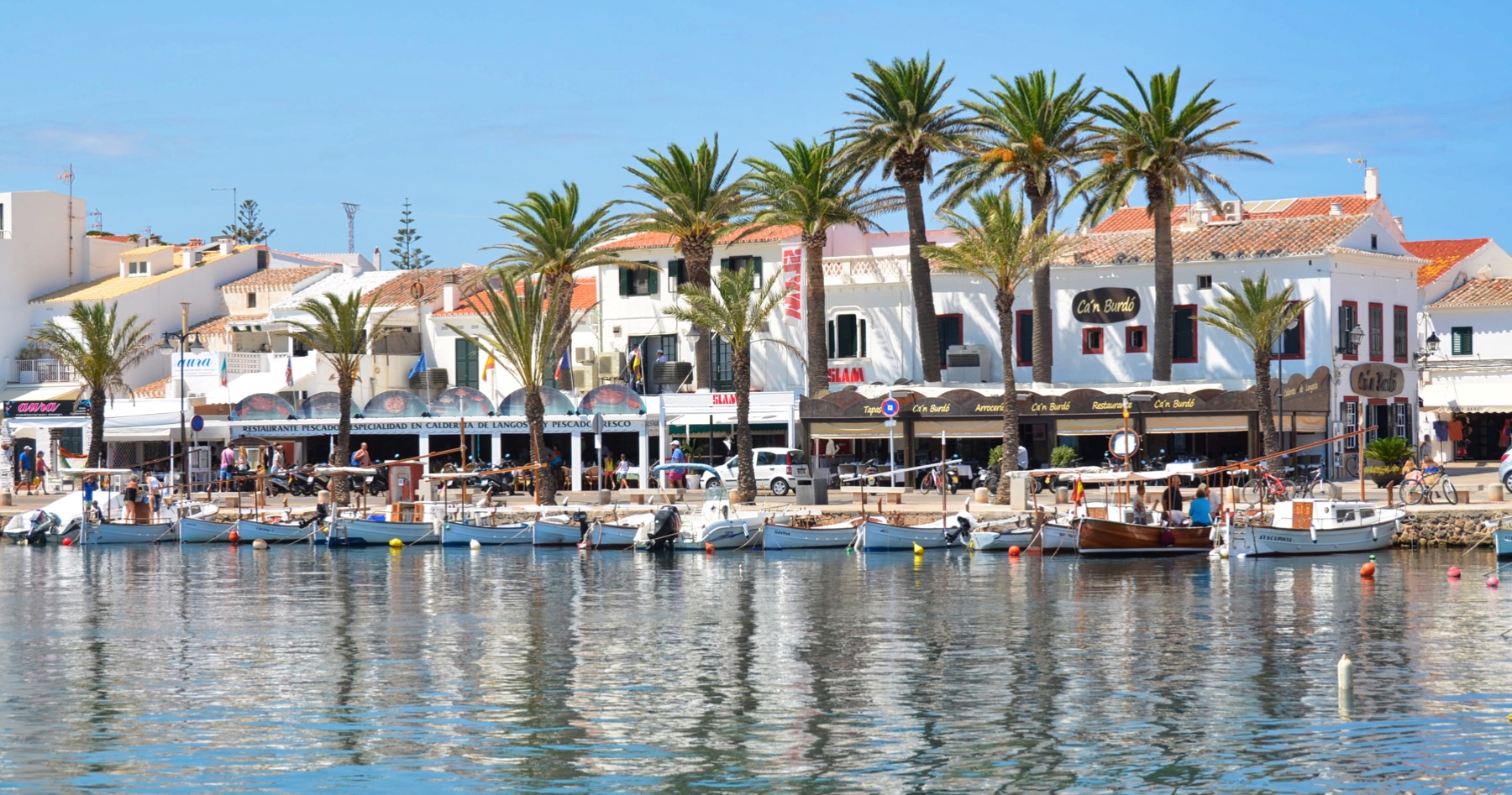 What to see
Allow yourself to be mesmerized upon arrival in this town, as the perfect whitewashed houses create a fantastic image, typical in this area, that we are confident to say you will keep in your mind for a long time to come.
Fornells has a spectacular bay; its particular shape almost closed on itself gives it the appearance of a small isolated sea. This bay is even more alluring due to the presence of small islets, virgin coves with crystal clear waters and saltworks in the background, now in disuse, which decorate the landscape with a powerful touch.
The bay is sheltered from the north wind called Tramuntana, which means that there are hardly any waves and that the wind is just perfect to sail or practice water sports. All this territory is part of the Menorca Marine Reserve.
Its 3-kilometre long harbour is place for mooring for sport and leisure boats as well as the typical llaüts used for fishing. The long seafront promenade allows us to cross it from end to end, so after walking, we can sit down and have a cold drink or a snack in one of the bars or restaurants located here.
Fornells Tower
This defence tower was built during the British occupation and it was meant to protect the harbour from enemies. It is one of the largest towers on the island, and because it is in a high ground position, the spectacular views of the entire coast available from here make it a stunning place, even more than the interior.
You can visit it any day of the week and opening hours are from 9:30 a.m. to 4 p.m. from Easter until October. Adult entrance fee is €2.50.
Cabo de Cavallería Lighthouse
This lighthouse is 6 kilometres from Fornells and is still operational. This white tower is located in one of the highest and most imposing cliffs on the island. It is a good place to enjoy the sunset, although during summertime, the high concentration of tourists makes it a bit... less charming.
You will also find a small bar here where to have a drink and relax.
Beaches 
We can find several virgin coves in its bay. S'Arenalet or Cabra Salada can only be reached by boat. Cala Rotja and Cala Blanca are other more accessible places.
2 km from the town is the beach of Fornells followed by Cala Tirant. A little further to the northwest, we find the beach of Cavalleria and then Cala Pregonda, both of them beautiful, so... don't miss the opportunity to visit them!
What to do
Water sports
The town has a fantastic bay for you to practice water sports such as sailing, kayaking, water skiing or scuba diving. Particularly, the tramontana wind blowing here and its slight strength, makes of windsurfing the ideal sport to be enjoyed in Fornells.  
Marine excursions
Boat trips are organized from Fornells's harbour and will take us to the northern beaches; there, we will be able to discover the hidden corners on the coast.
We can also engage ourselves in other sports activities, such as cycling, golf, trail hiking or horseback riding.
Events
The festivities of Sant Antoni, the municipality saint patron, are held at the end of the month of July. The so-called jaleo is an exceptional and remarkable peculiarity in this event, where horses dance to the rhythm of the music, commanded by skilful riders.
Where to eat
Along its seafront promenade, we find a wide assortment of restaurants, where fresh fish and seafood is abundant.
As already mentioned, make sure you do try the scrumptious Lobster Stew in one of the many restaurants.
Where to lodge
Fornells is a good place to stay in northern Menorca. You will find 2 and 3 star hotels, hostels, aparthotels, luxury hotels or a beach resort in Fornells beach. Many of these hotels have a swimming pool.
Check Available Accommodations
Surroundings
Come to Cala Pregonda, a beautiful cove with a very atypical landscape, 25 minutes by car from Fornells.
Mahon, the capital of the island, with interesting monuments and beaches to discover, is 20 minutes away from town.
And in a little more than a half-hour, you will be in Ciutadella, a city that you should not oversight when visiting Menorca.