Menorca is the paradisiacal island par excellence, with its crystalline waters known as the Spanish waters of the Caribbean. Like its neighbouring islands, Menorca possesses the charisma of hippie culture, as well as idyllic beaches. However, those who know it well say it is quieter than Ibiza and Mallorca, but still maintaining the evident contrast between urbanized areas and pristine beaches.
There are numerous beaches to explore and get lost in all across this beautiful island, but one of the most famous is Son Bou. Defined for being one of the longest beaches in the area with its 3 kilometres of long and fine white sand and transparent waters. It is one of the best beaches to go to with children because of its size and easy car access. In addition, its shallow waters make it a very safe and pleasant cove to spend your day.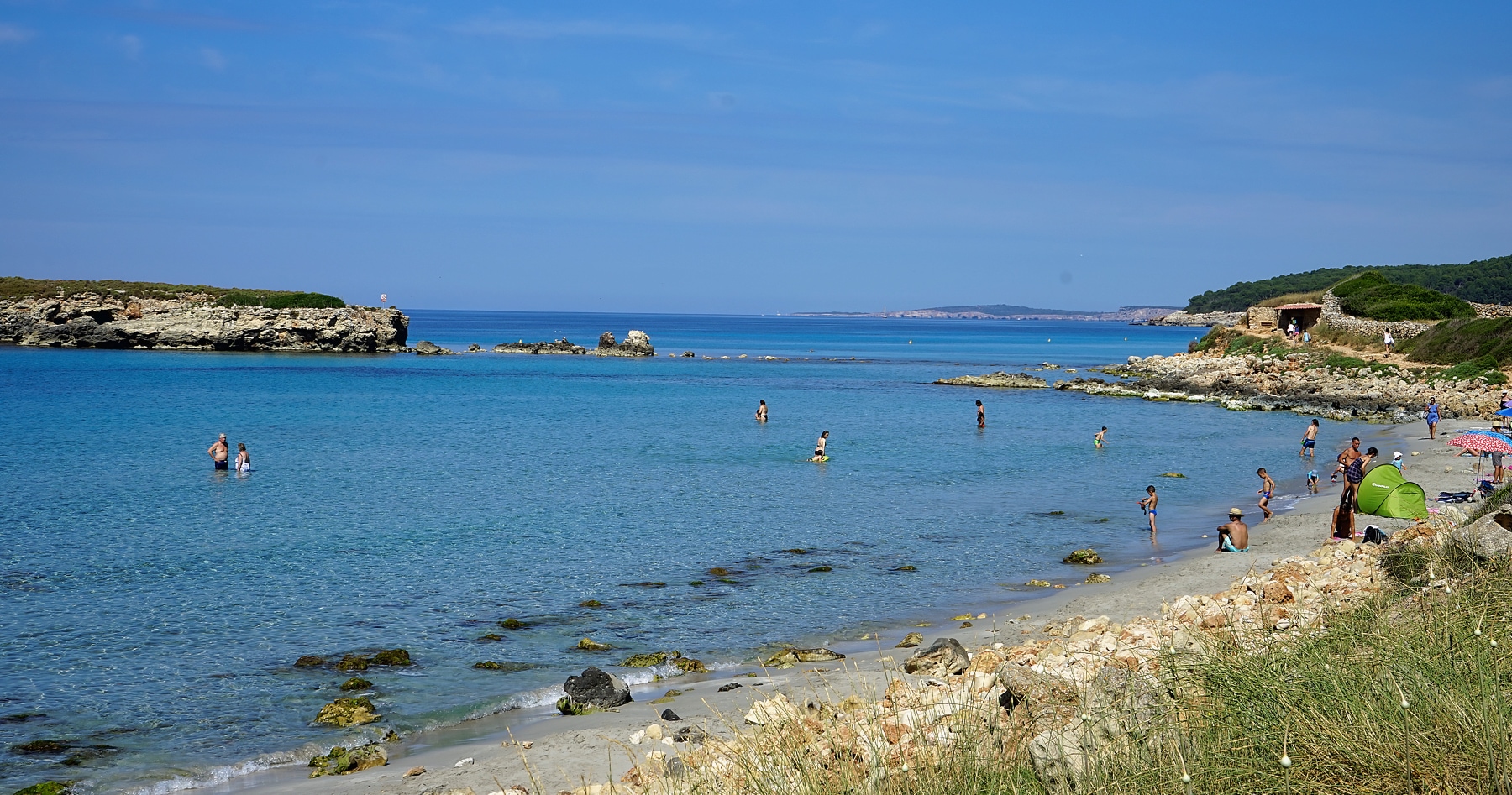 How to get there
Son Bou is located south of the island and belongs to the city of Alayor. From Menorca airport we arrive by car in about 20 minutes. From here we take the Sant Climent road to the north. Once you have passed three roundabouts, merge an avenue that will take you to the road Camí de Torre de Gaumés. This road will connect you directly to Son Bou, 8 kilometres south of Alayor.
The best option is to rent a car or motorbike and follow your own route, this way you will not depend on public transportation and schedules. Moreover, the use of your own vehicle allows you to combine different routes and areas to visit in just 25 minutes.
What to see
There is an urbanized area next to the beach in Son Bou, which does not lack of numerous services such as hotels, restaurants, supermarkets, pharmacies, car rentals and several stores to shop at.
Its beach is one of the most touristic and overcrowded during the summer season. If you move away from this busy area and walk a bit to the west, you will find a stretch of beach that is more virgin and also, more peaceful. It is a perfect spot for nudism.
One of the most special sights in Menorca, and specifically in Son Bou, is the sunset over this cove. Just like the other islands, it allows you to watch the beautiful sunset thanks to the clear sky of the Balearics and the calm waters surrounding the coves. This spectacle is a once in a lifetime opportunity.
Paleo-Christian Basilica
On the road that leads to the residential area called Son Bou, we find access to the ruins of this basilica, in which a large baptismal font known as Es Morter de son Bou is preserved. Outside, there is a necropolis carved into the rock.
Ses Canessies coastal lagoon
These wetlands are behind the beach, where you can discover nature and observe different bird species.
Torre d'en Galmés
It is the largest Talayotic village on the island. It is worthwhile investing some of your vacation time in a visit here.
What to do
Son Bou offers many activities to make your holidays more fun, such as bicycle rental, hiking, horseback riding or water sports.
Hiking on Camí de Cavalls
Son Bou is the beginning and also the end of the route called Camí de Cavalls (Horse Trail). This is a long-distance footpath in Menorca that links Son Bou, Sant Tomás and Cala En Porter beaches and goes around the island passing through the cities of Mahón and Ciutadella. This route allows us to see the archaeological, ethnological and landscape heritage of the island, witnessing the contrast between urbanized and virgin areas.
San Jaime Club
It is a club near the beach, where you can relax and enjoy as a family. Children will specially have a great time, as it has a water park with large swimming pools and slides.
In summertime, you can enjoy pleasant music performances while you dine at their restaurant.
Where to eat
We will find many restaurants and beach bars on the beach in Son Bou, also distributed around the residential areas. However, if I may share with you a tip to save during the holidays, make sure you eat plenty at breakfast and keep some fruit, yogurt or bread with sausage with you. With this and some additional food you can buy during the day, and if you travel with your partner, it will be more than enough. At night, you can indulge yourself with a dinner under the stars.
If you are travelling as a family, Ses Garces is a highly recommended option for you. It has a beach bar that offers good quality service and brings you closer to the different activities available on the island.
Where to lodge
There is an excellent hotel offer for tourists in Son Bou, with hotels and apartment complexes that have all the necessary services nearby. If you prefer to stay away from the hustle and bustle, you have the option of staying in a hotel located further from the beach epicentre. Consequently, prices will drop considerably and as hotels have smaller capacity, customer service is warmer and friendlier.
If you are interested in a more modest accommodation, Son Bou Camping Site is just 3 kilometres from the beach and a good option. It has easy car access and is very well equipped.
Check Available Accommodations
Surroundings
If you wish to escape from this crowded beach during summer months, you can go to Cala de Llucalcari, but also to the beaches of Atalís and Binigaus.
Cala en Porter, also within the municipality of Alaior, is another of the touristic areas and here you will find the famous Cova d'en Xoroi, a place with exceptional views that you do not want to miss out on.
Es Mercadal, a few kilometres away, is an ideal town for you to get lost in. Stroll the streets and include in your to-do list trying some delicious pastries in one of the many bakeries and patisseries here. We recommend the scrumptious carquinyols.
But above all, do not forget to visit the cities of Mahón and Ciutadella!