Do not leave Mallorca before visiting
Leaving Mallorca before visiting Sóller is like losing something along the way, so be sure to include this town in your stay in Mallorca. We are confident that time spent here will be very meaningful for you.
It is a very picturesque village located in a valley full of orange trees that thrived thanks to this abundant citrus crop. This product was partly exported to France through the Port de Sóller.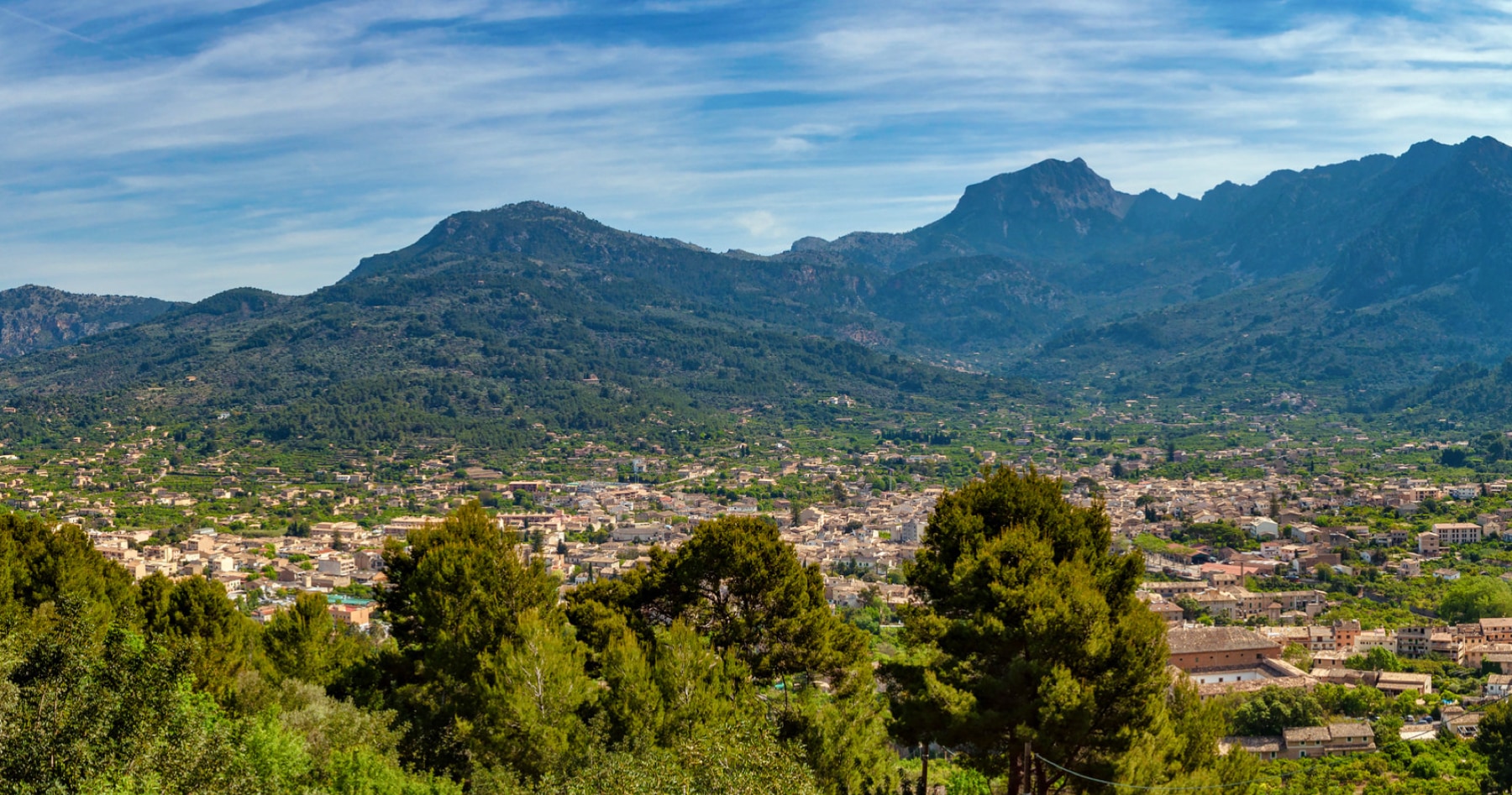 Getting to Soller
From Palma, there are several routes to access this town.
If we go by car, we can use Sóller tunnel, which offers a more comfortable route as it avoids the significant curves of the mountain road; the cost was €5 until recently. As of December 29, 2017, it is free of charge.
If we have enough time and we some cash to spare, the journey from Spain Square in Palma to Sóller is undoubtedly worthwhile, as you can take the old wooden train and enjoy the ride as well as the amazing scenery on the way. This is a 28-kilometre /1-hour long tour and it goes through 13 tunnels.
What to see
Plaza de la Constitución
Plaza de la Constitución is the main square in town and it is guarded by the spectacular San Bartolomeu Church.
Here is also where the tourist office is located and where you can go to get a map and information about the points of interest in town.
Tram
The tram connects Sóller to the port and crosses this square. Although the cost of the tram is somewhat pricey, around €7 per adult person, it is a pleasant ride to all passengers.
Museums and Botanical Gardens
The Balearic Museum of Natural Sciences and the Botanical Gardens are located on the road that goes to the port, very close to the centre of town.
Mercadillo
Mercadillo de Sóller, on Saturday, is a street market that receives a large influx of people. On 13 Plaza Couture, we can find unique designer fashion stalls, local art, hand-painted furniture and other decorative pieces.
Port de Sóller
A few kilometres from town, we can visit Port Sóller. We highly recommend a walk around it and if we are hungry, here we can have nice paella and enjoy some extraordinary (but not cheap) prawns. You are sure to take home with you, a lovely memory of the beautiful views from the port.
Things to do
Trekking
If you love hiking or Nordic Walking, the Pedra en Sec Route (long-distance trail GR221) goes through Sóller town and crosses the Sierra de Tramontana mountain range.
Cycling
Coll de Sóller is a closed tunnel aimed to cyclists, where you can come and take on this great challenge. There are many other routes here, more or less hilly, where cyclists may also enjoy the area.
You can hire guides for hiking tours or hire a bike from the companies Tramuntana Tours or Mallorca Hiking.
Moors and Christians Festival
This festival is celebrated the first Monday after the second Sunday in May and it is so in memory of the 1561 battle when Turkish troops tried to seize, unsuccessfully, Port de Sóller.
It is very popular on the island and locally known as Es Firó.
Its theatrical performance makes it a unique event. The majority of participants, who are usually local youths in costumes of the time, form 2 groups, Moors and Christians, and represent such battle surrounded by lights and flares. If you have the chance to be here, you will be certainly impressed.
Gastronomy
You must not put an end to your visit in this town before tasting a freshly squeezed orange juice or an Angel d'Or liqueur, created by Miguel Capó, a local citrus grower.
Sóller is well known for its ice-cream makers. You can try a wide variety of delicious ice-creams in Sa Fabrica de Gelats (in Plaça des Mercat) made of more than 40 different flavours.
Other outstanding products in this area are the extra virgin olive oil from Olis Sóller or Ca'n Det, diverse delicatessen products, jams and marmalades, pâtés, preserves, chutney (aromatic sweet and sour sauce native to India) or balsamic vinegar with orange. All of them are local gourmet products that we will be sure to find in some stores such as Fet-a-Sóller, La Lluna and Ca'n Matarino.
Where to eat
There is a wide range of restaurants and bars in Sóller where to have a very nice meal at a moderate price. On the other hand, there are also more elegant restaurants for those interested in more exclusive places where the price is much higher. Check out our selection of restaurants and find out where to eat in Sóller.
Where to lodge
Sóller is a perfect place to stay and you can find charming hotels that will grasp your attention. There are many 5-star hotels, but also cheaper options are such as hostels or less-pricey hotels.
Check Available Accommodations
Sóller surroundings
You will easily reach Port de Sóller from town and both are usually visited the same day due to their closeness.
Valldemossa and Deià are just over 30 minutes away by car and it is worth visiting them if you have the time.
Going to visit Sa Calobra or Cala Tuent is also interesting during your holidays in this area.