No matter how you look at Valldemossa, it is still one of the most charming places in Mallorca
Valldemossa is 17 kilometres from Palma. This town, with its beautiful surroundings of pine forests and the Tramuntana high mountains will, with no doubt, captivate the visitor. Full of flowers, the cobbled narrow streets help the town keep its natural charm.   
This place has attracted the attention of many artists and painters. At present, several renowned painters call this village their home.
There are 2 large outdoor metered parking spaces available for your car, since driving through the streets of the town is quite a challenge due to the town narrowness and lack of free parking about.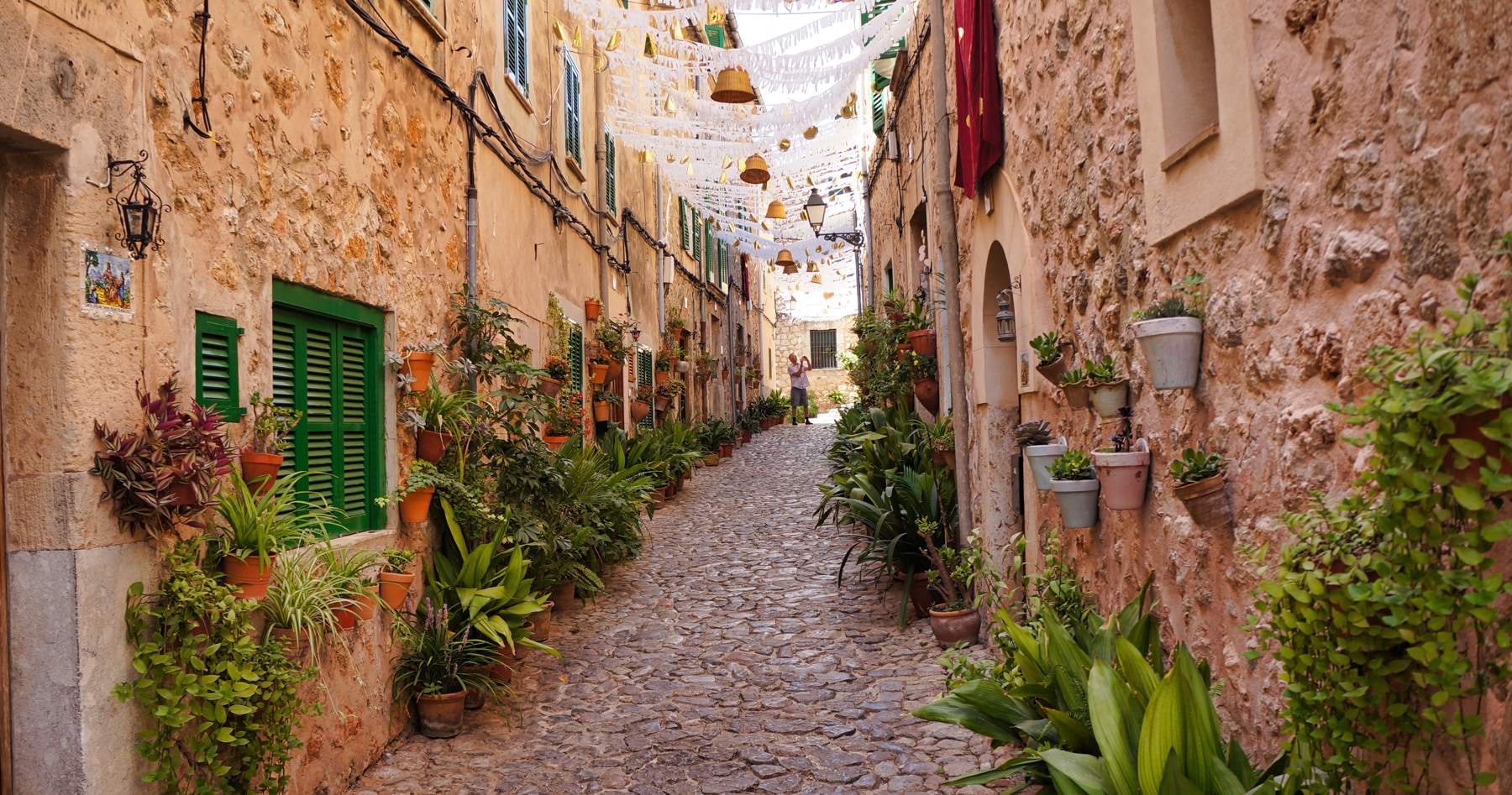 How to get there
What to see
Blanquerna Road is the main street in this town and it is where the majority of tourists concentrate. However, if you wander off this road and walk about the rest of the streets in town, you will notice that they are less crowded.
Walking on, you will reach the old town. Its modest dimensions will allow you to visit it in less than 2 hours. You will see doorways full of plants and flowers, as well as the church square and the Miranda des Lledoners viewpoint.
Miranda des Lledoners Viewpoint
At the end of a street called Calle Jovellanos, we can find a small street with access to this point. From there, we can enjoy the beautiful mountains view, the valley and the town. It is undoubtedly the best viewpoint in Valldemossa.
La Cartuja de Valldemossa
La Cartuja de Valldemossa is one of the main monuments in town. It is a palace and formerly the residence of King Sancho I of Mallorca. It was later on ceded to Carthusian friars.
During the winter of 1838-1839, the romantic couple formed by the composer Chopin and the writer George Sand, stayed in this palace. Here Chopin composed his Preludes Op.28 and Sand wrote "A Winter in Mallorca". Apart from Chopin, some of those who at some point lodged at La Cartuja for some time are Rubén Darío, Santiago Rusiñol, Jorge Luis Borges and Jovellanos.
La Cartuja complex offers a visit to the church and its old cloister, the Carthusians' pharmacy, a garden and the Prioral Cell rooms, all this to learn how the monks used to live. A very interesting municipal museum is also part of it.
The adult admission fee is € 9.50.
If we do not wish to pay the entrance fee, we can take a stroll around the free access gardens.
It is usual and especially in summer, for La Cartuja to host symphonic music concerts.
Santa Catalina Tomás Birth house
Known as the Beateta, Santa Catalina Tomás was considered the most venerated saint in Mallorca. People are welcome to visit her house.
After a stroll, you can stop at one of the bakeries in town and recharge your energy with local products such as coca de patata and almond horchata. You will love it!
For those wanting to do some local shopping, there are many shops, big and small, where to browse and look for a souvenir.
The Valldemossa Port
Port de Valldemossa is a small fishing harbour that is located about 6 kilometers from town after a narrow and winding road. There, we will find Sa Marina beach, a beautiful pebble beach with low occupancy and rocks of all sizes.
Where to eat
Here you will find several restaurants where to savour the traditional Mallorcan cuisine, but also pizzerias, seafood restaurants and homemade food restaurants among others.
Where to lodge
The possibility of staying in this town and waking up contemplating its views and the calmness reigning here is quite an experience.
Hostels, 4 and 5-star hotels or agrotourism are some of the options to lodge in Valldemossa.
Check Available Accommodations
Valldemossa Surroundings
Come to discover Deià, Esporles, and if you can spare some more time, visit the particular town of Sóller and its port called Port de Sóller. You will be amazed.