Rural life and Luxury as one
Located in a valley in the Serra de Tramuntana, in the south west of Mallorca and 30 km from Palma, Andratx is one of the oldest municipalities on the island.
It is well known for its production of oranges, grapes, almonds and olives, and for its art galleries. Andratx is a mixture of tradition and rural life, swirled with luxury shops and houses, all surrounded by the Sierra de Tramuntana landscape, delighting us with mountains, forests, valleys and the coast in the background.
It should not be confused with the Port of Andratx, which although bearing the same name, is located on the coast, about 10 minutes by car from the town of Andratx. This is another place we recommend that you visit.
This town is well worth a visit. You can walk its narrow streets and discover all that the town has to offer the visitor.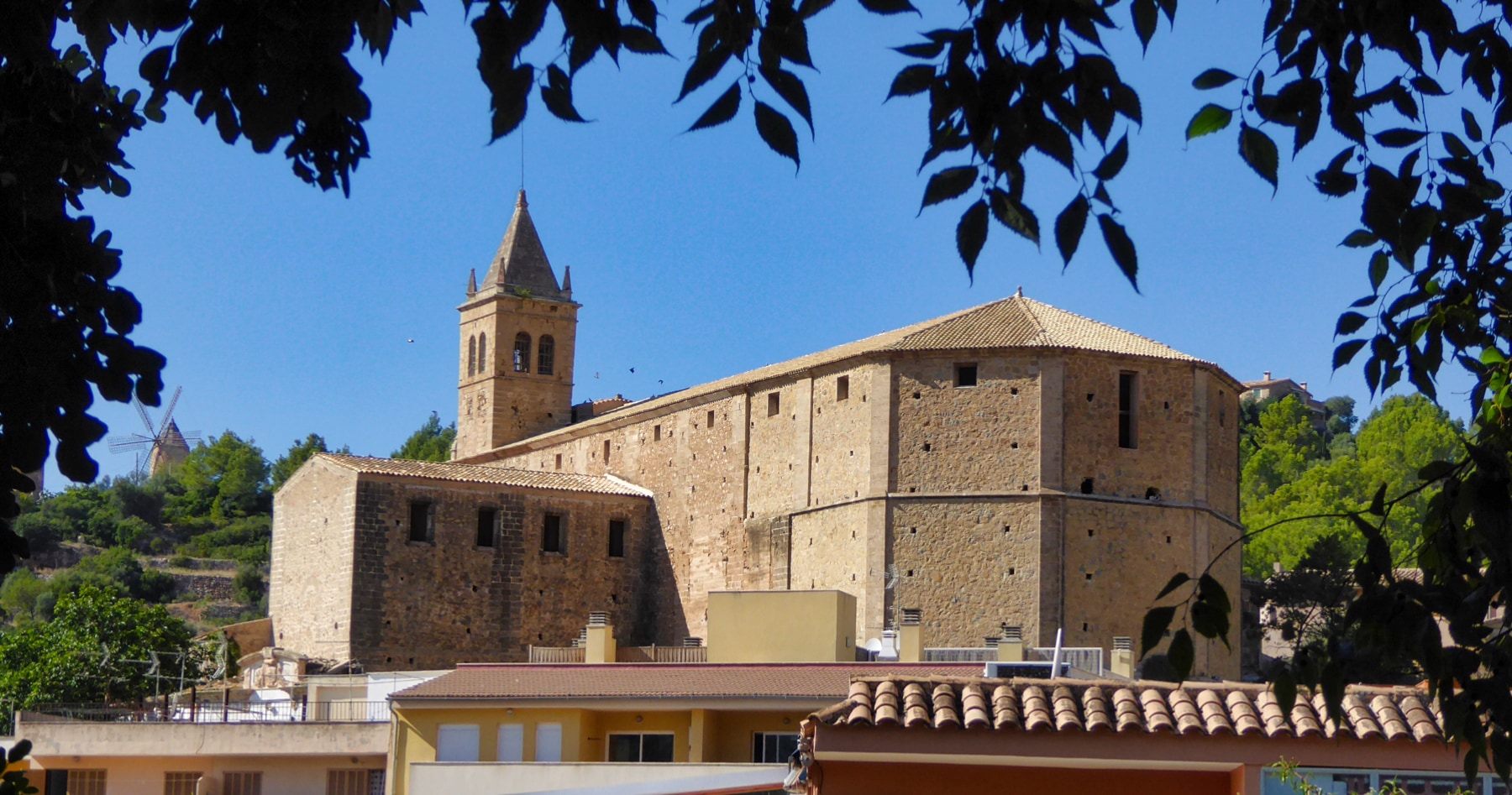 How to get there
Andratx is located 37 km from Palma airport, so in less than 40 minutes you can reach your holiday destination.
What to see 
Here are some of the most important tourist attractions in this town:
Andratx Cultural Center (CCA)
This 4,000-square metre building is home to the best works of contemporary art on the island, which makes it the ideal visit for art and culture lovers. Besides enjoying the art, you can take a stroll through its beautiful gardens or have a drink on its exterior terrace with mountain views. In summer, jazz and classical music concerts are held in its central courtyard, among other activities. Other events such as weddings, conferences, parties or presentations of new products are also held at this place.
Church of Santa María d'Andratx
It is an old building from the 14th century, with a fortified structure and a bell tower added later to its construction. We recommend visiting this impressive building and observing the beautiful arches and stained glass windows that contain its interior.  
Son Mas Castle
This ancient estate was transformed into a castle in the 19th century. At present, it is home to Andratx Town Council headquarters.
Local Market
This quite lively market takes place on Wednesday mornings.
Ruins of La Trappa Monastery, a Trappist monastery
What are preserved of La Trappa monastery are the ruins and can be seen while ascending from Sant Elm. It is an amazing place to get pleasure from the views of La Dragonera and the village of Sant Elm.
Santa Catarina Winery
To be found at kilometre 4 of the road to Es Capdellá. On Sunday mornings, the winery offers an interesting and informal wine tasting, and live music.
There is also the possibility of a romantic picnic in a vineyard, along with a basket of bread, a selection of sausages and a bottle of wine that cannot be missed.
Go shopping in Andratx
You can find all sorts of fresh local products.
You will also find boutiques and luxury shops in Port d' Andratx.
What to do 
La Dragonera
Discover this small islet near Andratx, which is considered to be a Natural Park and therefore, a protected natural environment. La Dragonera can be reached by sea with one of the boats departing daily from Sant Elm and Port d'Andratx.
From La Dragonera pier, you can go on a hike and explore the island.
Cycling and hiking
Andratx is the ideal setting for cycling and hiking.
There are several hiking routes. Here is the description of 5 of them:
Puig de Garrafa
The excursion starts in the town of Andratx. Length: 3 hours and 15 minutes, moderate level. It is a circular route, with challenging climbs and dirt paths. We can enjoy the mountain and the beautiful views of Port d' Andratx, since we will reach a 461-meters high point during the route.
Puig de So na Vidala
A little-known excursion in a beautiful setting. Length: 4 hours and 30 minutes and moderate difficulty. It is a circular route with the possibility of shortening the return.
Andratx - Port d'Andratx - Sant Elm
Can be done on foot or by bicycle. It starts in Andratx to finish in Sant Elm and the level of difficulty is easy due to paved roads. Length: 5 hours and 27 minutes. The tour offers beautiful views of Sa Dragonera island.
Sa Trapa
It is one of the best outings we can go on and be rewarded with spectacular views. Length: 2 hours and 30 minutes and moderate difficulty. It starts and ends in Sant Elm and can reach 365 meters high during the journey. We can hike up to the tower in Cala en Basset, if we decide to extend the tour a little.
Sa Coma Ca Calenta and Sa Coma Freda
With paved roads that do not erase the charm of the route. It is a circular excursion of easy difficulty and 2 hours and 39 minutes long. Houses and villas are predominant in Sa Coma Freda, while estates in a rural atmosphere can be found in Sa Coma Calenta.
Golf
There are several golf courses near Andratx, and they are very popular among the celebrities in the island. The course Golf de Andratx, in Camp de Mar town, is a golf course for experienced golfers since it is considered to be one of the most difficult in the Mediterranean. Michael Douglas, Catherine Zeta-Jones, Boris Becker or Claudia Schiffer are some of the celebrities who have played on this golf course during their stay on the island.
Where to eat 
The list of restaurants in Andratx is wide and diverse. We can find restaurants offering the typical Mallorcan cuisine, but also Italian restaurants, seafood restaurants, Indian restaurants, tapas bars, vegetarian restaurants or grills.
Price per person is usually slightly high, but we can always find a less pricey option.
Oliu offers good contemporary and innovative Mallorcan cuisine and produces very good reviews.
Where to lodge 
Andratx is a nice town to stay, quiet and with wonderful views.
Hotels with spa, rural villas, hostels, luxury hotels or apartments, everything is possible in Andratx. It will only depend on your budget.
Check Available Accommodations
Andratx surroundings
If you stay over or visit Andratx, do not forget to come by Port d' Andratx, a beautiful fishing town, bursting with shops, exterior terraces and restaurants, and full of life!
Sant Elm is worth visiting and stop at its viewpoint in order to have a few minutes of peace and calmness.
Camp de Mar is considered to be a luxurious beach area, where you will find shops, spas and golf courses among other facilities. Come and find out.