There aren't many towns that can transport you to the medieval times and allow the tourist to visit the walls that have preserved many secrets during all these years. This is Alcudia, a town with a medieval style much visited and appreciated by its culture. Allocated in the north of the island, between the bays of Alcudia and Pollensa and with its Port at only 1 kilometer from the Old Town.
After the Phoenicians , Greeks and Romans lived here, the old town was finally conquered by the catholic catalans, which left a mark of their cultural patrimony on the streets of this town.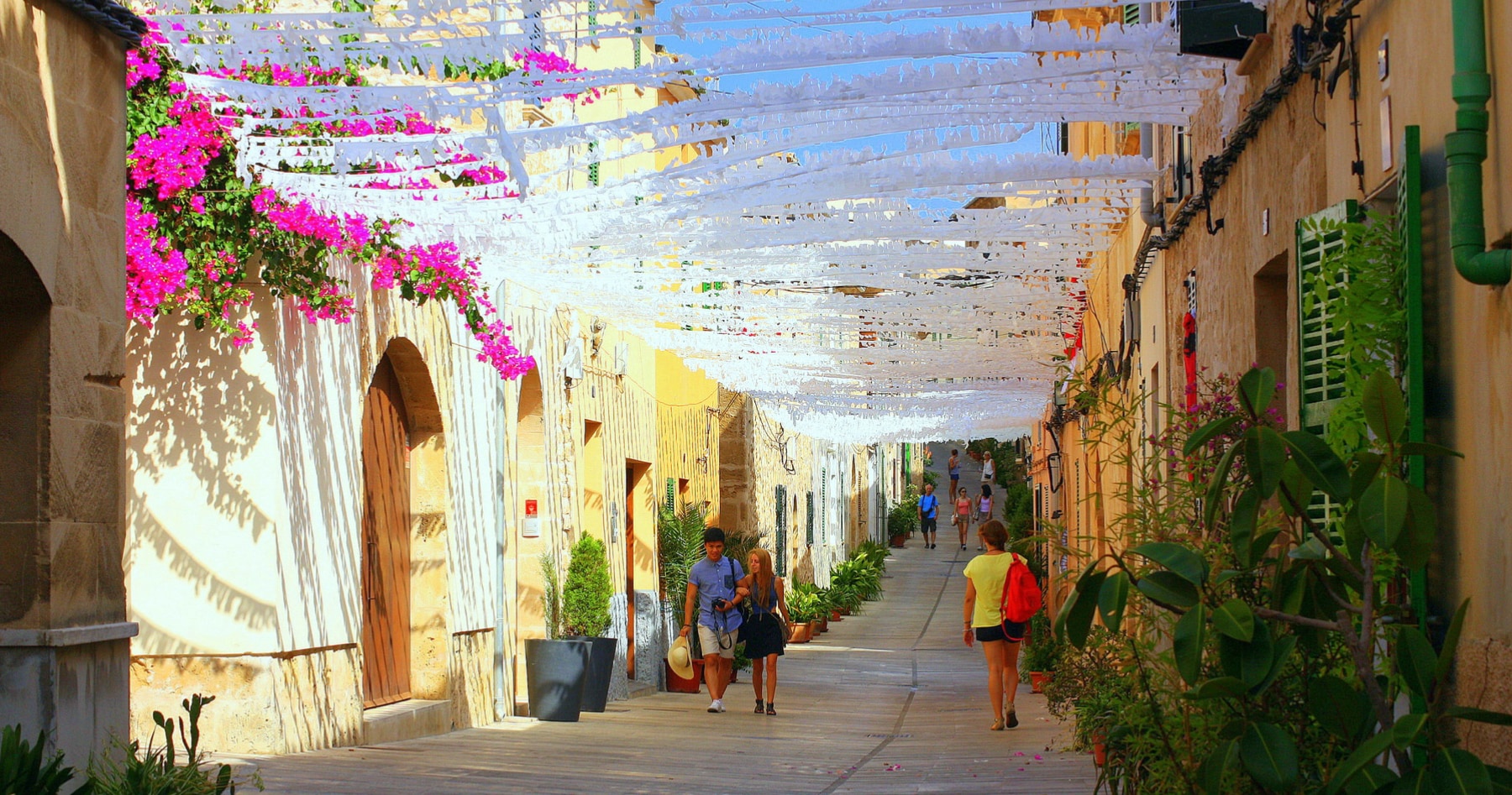 How to get there
What to see
Old Town Center
The Old Town Center is a pedestrian area which invites you to get lost amongst its little streets full of character. It has been fully restored but it still preserves all its charm. The wall that surrounds the historic center of the old town is the only wall in all Mallorca that is completely conserved alongside with two of its three entrance doors.
You will enjoy the sightseeing of the town houses and their yards, you'll be able to walk along part of the wall and discover a great variety of shops with majorcan specialities, typical handcrafts, boutiques, cafeterias and restaurants in the area.
Every Wednesday the old town offers a two hour free guided tour starting from the church at 10am, around the historic Center.
The Roman ruins
10 minutes away from the Old Town Center you will find the Roman city of Pollentia (not to be confused with the town of Pollensa), this was a Roman settlement  in Alcudia of which we can still find a few ruins to visit. Amongst the ruins you can find the Forum, the Theater and the Residential area where you can explore all the  archaeological excavations. You can also visit the museum allocated next to the church in the old town.
Roman Theater
If you head south, 1 km away from the Roman ruins you'll be able to visit this wonderful theater, which is said to be one of the smallest in Spain. You can also find remains of the tombs which indicate that it was once used as a Roman necropolis.
Local Open Air Market
It takes place every Tuesday and Sunday morning and it offers a great variety of local products, such as food, souvenirs, clothes or  jewelry. 
Theater performances and open air concerts
These are organized during the summer months and are all free access. These activities turn the town into a big scenario and entertain all their spectators. At the tourist office you will find the program with all the activities.
S'Albufera natural park
It's the biggest wetland in the Balearic Islands which you can visit for free after obtaining a special permit at the entrance. Walking along its paths you can enjoy its rivers, lagoons and its richness in Flora and Fauna. Visiting hours are from 9 a.m. to 6 p.m., (from October to March it closes at 5 p.m.)
A winter in Mallorca
A series of events take place in Alcudia Old Town during the low season, such as local fiestas, concerts,  an Alcudia Jazz festival in September, a local Artisan and Agricultural Fair at the beginning of October and also guided tours.
Sa Bassa Blanca Museum or a.k.a  Yannick & Ben Jacober Fundation
Allocated in a natural environment, this Museum receives the visit of well known artists and has various expositions, it also offers loads of activities. It has wonderful Gardens which has a Zoo made of animal stone sculptures. You'll find more information about it on the Foundation's website
What to do
In Alcudia and its surroundings you can practice various outdoor activities such as rock climbing, cycling, horse riding or water sports (in the Port of Alcudia you will find a large variety of them, such as snorkeling, sailing, kayaking, paddle surf or kitesurf)
Alcanada Golf Club is amongst one of the best golf courses in Europe where you will be able to enjoy spectacular views while you practice your favourite sport.
Beaches
Alcudia Beach is a long extension of sand with very shallow and crystal waters, ideal for spending the day with your family.
Near Alcúdia you will find others beaches such as Muro beach, Can Picafort or Cala Sant Vicenç.
Where to eat
At Balearity we supply you with a list of the best restaurants in Alcudia and where to find a large variety of options that include typical Majorcan food, Italian, Asian, Tapas, the best Paella or fresh seafood platter, amongst other options.
Where to sleep
There is a wide selection of places to stay at, it includes old refurbished farms, hotel resorts, luxury villas & hotels with 2 to 5 star ranking, a lot of them offer all inclusive. You can also find apartments and hostels at a very good price, so search the option that's suits you best.
Check Available Accommodations
Alcudia surroundings
During your stay in Alcudia, we recommend you to visit Port of Alcudia, Pollensa, Port of Pollensa and Cala San Vicente. All of them are very close towns.