If you come to the southeast of Mallorca in the Balearic Islands, you will find Camp de Mar. This town flourished as an exclusive touristic complex. Located in Andratx municipality, it offers privacy, endless tranquillity and Mallorcan warmth. It is common to see celebrities around during summertime.
The combination of ideal weather, beautiful landscapes and an amazing coastline makes it the perfect place to enjoy and relax throughout the year.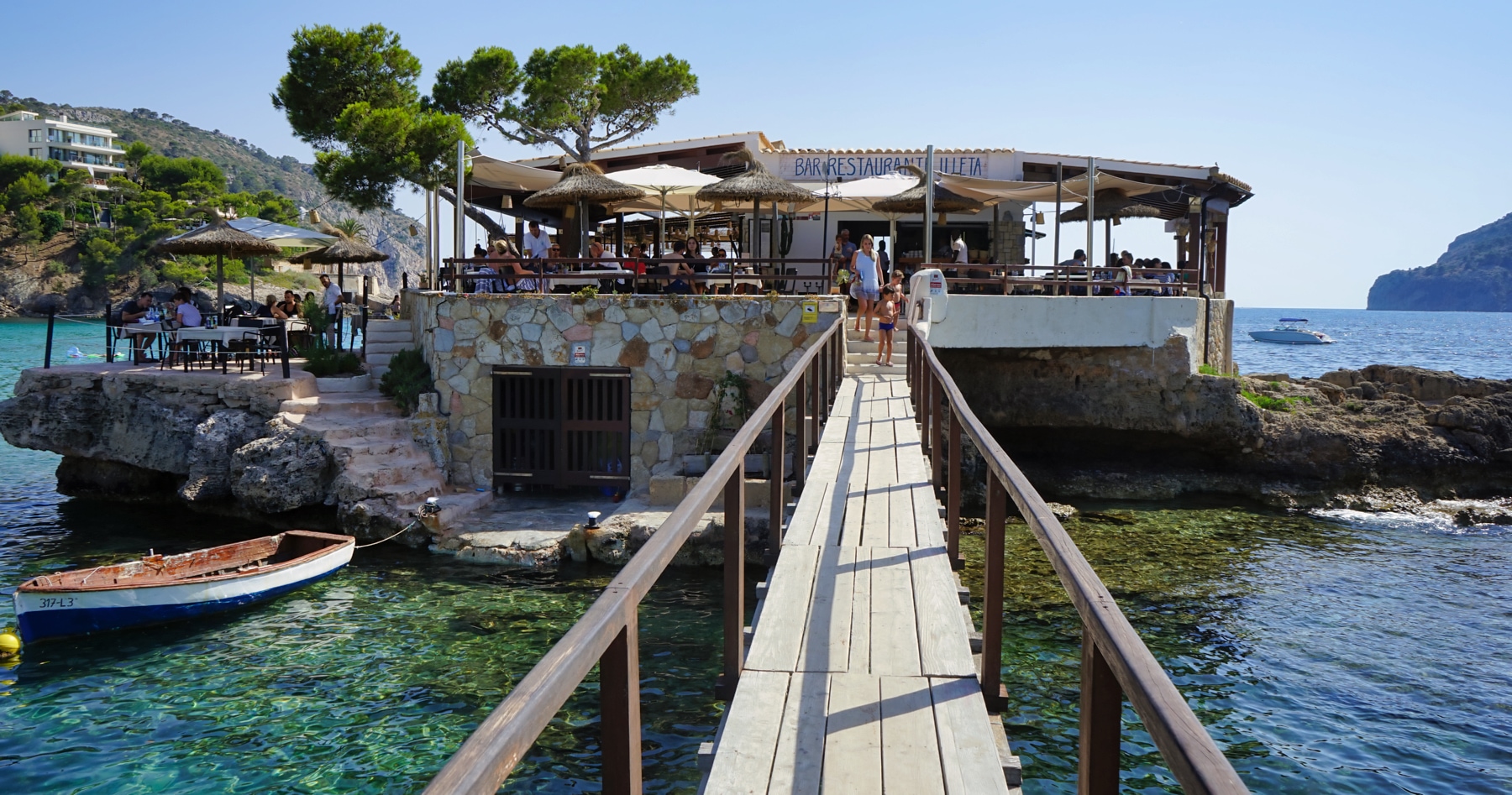 How to get there
Camp de Mar is 30 minutes from the airport by car and only 28 kilometres away from Palma de Mallorca. If travelling by taxi or car, you will need about 20 minutes to get there.
Bus line 102 departs from the intermodal station in Palma city centre, specifically from the square called Plaza España; this is a 30-minute journey. Visit the Mallorca public transportation website and check all the schedules.
Beaches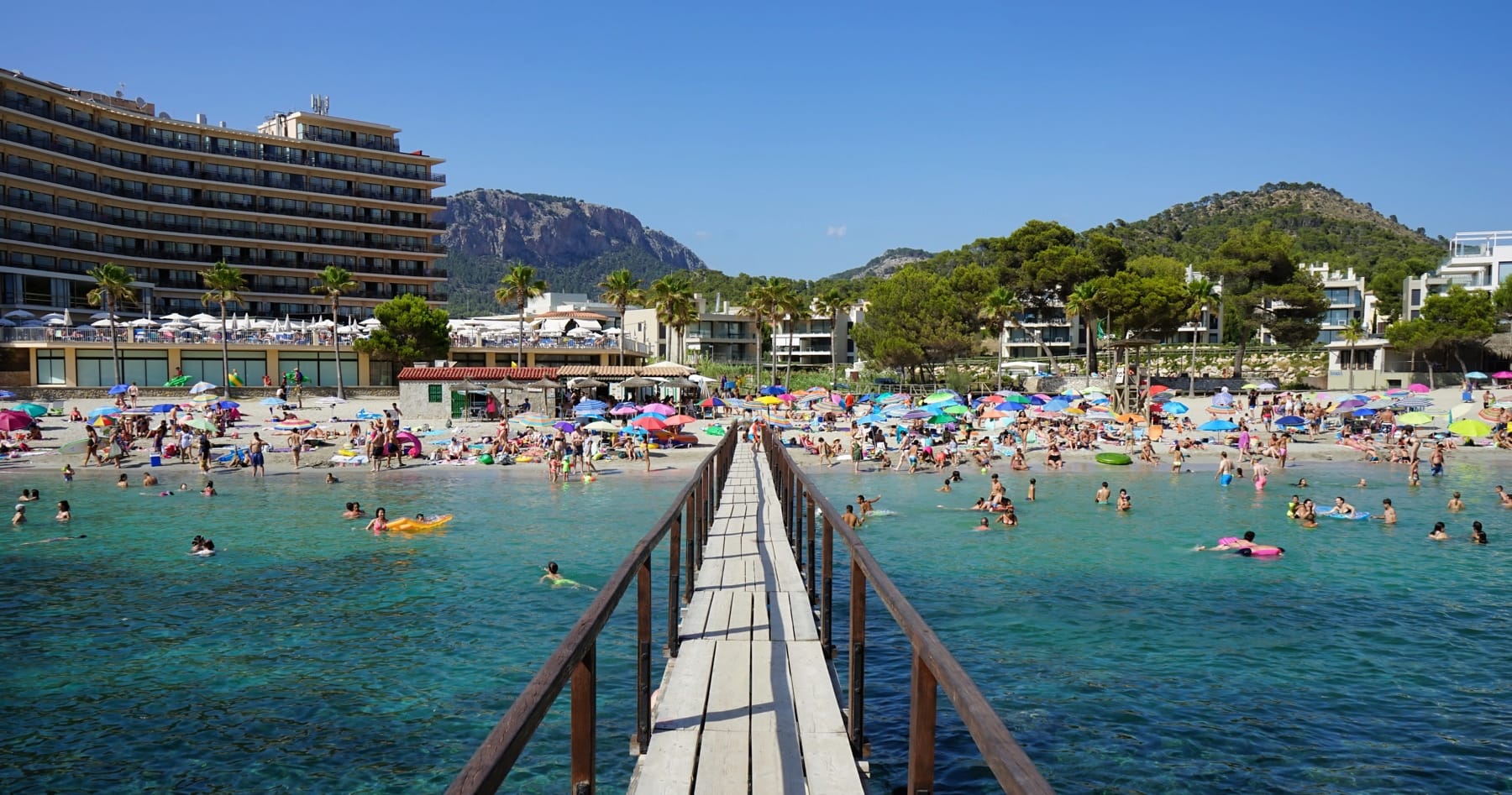 This town has stunning beaches for you to spend a wonderful day swimming and relaxing. Some of these beaches have been awarded the Blue Flag by the European Union, a prize for the quality of its waters and the excellent service offered to tourists. The main one is Camp de Mar beach, known for having a natural islet that can be accessed through a beautiful wooden bridge.
Close to the mentioned beach, we find Racó de Camp de Mar, also known as Ses Dones beach. This is a cove of rocks and stones where we can also find two concrete walkways that will allow us to enjoy the water. There is also an area used as viewpoint.
Another nearby beach is Cala Blanca, a small and unspoilt beach 2 kilometres from Camp del Mar and with the striking Sa Talaia mountain in the background.
What to do
Its impressive terrain invites us to explore it through alluring paths surrounded by unforgettable natural landscapes. Hiking and cycling are ideal activities for visitors, but you can also visit the island of Dragonera by boat, an additional highlight.
Trekking
The outing to the Defence Tower is a comprehensive route where you can enjoy the beach, the mountains and the charming landscapes that will bring you closer to the rich history behind this ancient surveillance, once a point against constant pirate raids.
Water activities
Camp del Mar offers you the perfect bay for practicing different water sports such as canoeing, diving or paddle surfing.
Here, you can also hire boat trips on board a catamaran, but if you prefer, you can rent a boat without a license and travel the coast.
Outing to La Dragonera
The excursion to Sa Dragonera Natural Park is the perfect experience for lovers of the sea. It is one of the islets of the Balearic Archipelago and the crystal clear waters around make it the ideal spot for snorkelling.
Golf
Andratx's golf course is one of the best-known attractions in town. With 18 holes, it is considered to be one of the most difficult courses in the Mediterranean. Favourite among famous golfers and celebrities, it has 7 ponds, beautiful coast views, traditional Mallorcan infrastructure and charming lush trees to delight all visitors.
Art Galleries
The Andratx Cultural Centre, located a few minutes from Camp del Mar, is perfect for enjoying contemporary art. Its gardens and large terrace make it the ideal place to have an appetizer, but if you wish, you can just contemplate the dazzling landscape. Its elegant courtyard brings a nice variety of concerts during summertime.
Where to eat
Camp del Mar has numerous restaurants where you can relish a varied international cuisine, featuring Mediterranean, Italian and Mallorcan food.
They stand out for their exclusivity, pleasant atmosphere and exquisite wine. You can also find different bars and cafés to have the best tapas and pizzas, but you can also have vegetarian food and fantastic mixed platters that will make your day.
Where to lodge
Camp del Mar has a wide range of places to stay. There are rental apartments near the beach available during the months of summer; they offer comfort and excellent services.
You can also enjoy a wide variety of quality hotels, resorts and aparthotels, which offer services such as swimming pool, spa and exceptional restaurants. The luxury holiday resorts with the most exclusive services are located in beautiful mountainous areas near the sea.
For more affordable lodging, there are different hostels where you can still have the best service in order to enjoy with the family.