With a large promenade, long sandy beaches and low buildings, with no large hotels that alter its beauty, the Port of Alcudia or "Port d'Alcudia" is a tourist area during the summer months and very much appreciated for its tranquile beaches, whilst on the other hand, its quite deserted during the Winter season. It is situated on the north of the island, in the bay of Alcudia.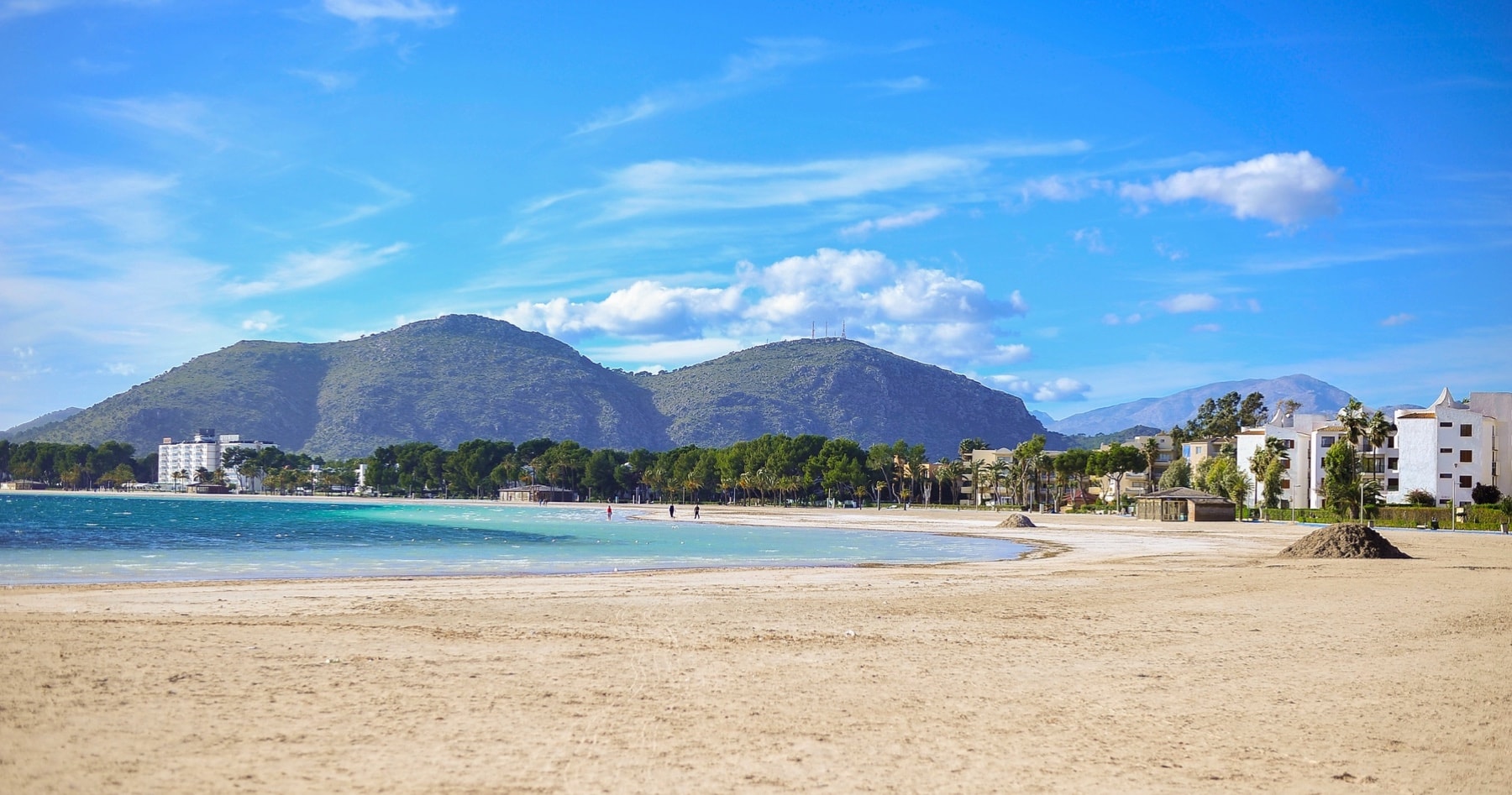 How to get there
There are Ferries which arrive directly to the Port of Alcudia:
Menorca (Ciutadella): Balearia and Transmediterranea are the companies that carry it out.   
Barcelona: Balearia, Iscomar and Transmediterranea
What to do
Port d'Alcudia is the second most large commercial port in Mallorca. Its commercial port and leisure/tourist port, known as "Alcudiamar", are well differentiated. At the leisure port there are a wide range of bars and restaurants, shops, accommodation and the chance to practice several water sports.
At the end of the port you'll be able to enjoy the beautiful views of the Alcudia Bay and relax at one of their lounge bars with chillout music.
Natural Reserve of s'Albufera
It's the natural park with the largest wetlands on the Balearic Islands. You can visit it for free and view all its flora and fauna, alongside its wetlands and lakes.
You'll be able to park your car, either on the main road near the entrance or at the designated parking, to then walk or cycle around the parc.
Water Sports
At the Bay and Port of Alcudia you'll be able to practice various water sports, such as Kite surf, diving, kayaking, sailing or paddle surfing.
The company "Sports and Nature Alcudiamar" has a wide range of activities to offer.
Boat Tour around the Bay
A great experience , a pleasant way to enjoy the sea and get to those caves and hidden corners, that are not accessible by land, and be able to take stunning pictures.
Guided Tours
"No-Frills Excursions" is a company based in the North, with offices in Alcudia and Port of Alcudia, which offers a wide range of guided tours around the island.
Hydropark
It's a leisure Waterpark, not very large, but perfect to spend a family fun day with children.
Beaches
Alcudia Beach
It's one of the largest sandy beaches on the island, with white fine sand and shallow waters that hardly have any waves. It's has loads of facilities with various water and entertainment activities for adults and children.
Aucanada Beach
Allocated in the urbanization of Alcanada (or Aucanada), it's a rocky beach at about 3 kms away from the Port of Alcudia. It has beautiful views and from it you can see the small island of the Aucanada Lighthouse. It has shallow waters and it's not usually overcrowded. Local families normally go and spend the whole day and enjoy a picnic under the pine tree shades.
Muro Beach (Playa de Muro)
A lengthy  beach you cannot miss out on, situated in the Alcudia Bay although it belongs to the town of Muro.  Despite being very touristic and the amount of people that visit it on a daily basis, it's always very clean and well looked after.
Because of its shallow waters, it's ideal for families with children, spending a relaxing day in their mostly calm waters and appreciate the beautiful range of colours. A watercourse from the Albufera divides this beach into two sections, that's also where you'll find the main entrance to the Albufera.
Ca'n Picafort Beach
A sandy beach with shallow waters, but also very exposed to the north winds. It's in an area with loads of establishments, hotels and apartments dedicated to international tourists.
Cala Ponset
With its moored fisherman boats it has a sailor's charm to it. This cove is a tranquile place where you'll be able to avoid the crowds of the other beaches of the area. You'll find it at 2.5kms from the Port of Alcudia and  before you get to Aucanada Beach.
Where to eat
In Puerto de Alcudia there are plenty of places to taste a good meal. You will find restaurants for all tastes, such as pizzerias, Italian restaurants, seafood restaurants, Mediterranean cuisine, typical Mallorcan cuisine, Indian restaurants or tapas bars, among others.
Where to stay
The Port of Alcudia is considered a great destination to stay at due to it's large holiday complex with a large amount of hotels to choose from: all inclusive hotels, spa hotels, hotels with swimming pools, apartments, 5 star hotels and resorts.
Check Available Accommodations
Surroundings
If you visit the area, don't forget to stop in Alcudia town and discover its medieval treasures.
Other close and interesting areas are Pollensa, the Port of Pollensa and Cala San Vicente.