Very close to the airport and Palma City lies El Arenal, locally known as s'Arenal. This coastal area has become a very famous holiday resort.
A hefty number of German and British young people come to this destination every year, a place that seems tailor-made for them, looking for the absolute combination of nightlife, fun and beach, and all, at an affordable price.
A quick tip: if you are coming to Mallorca with ​​a quiet holiday or a family trip in mind, maybe this is not the right place for you.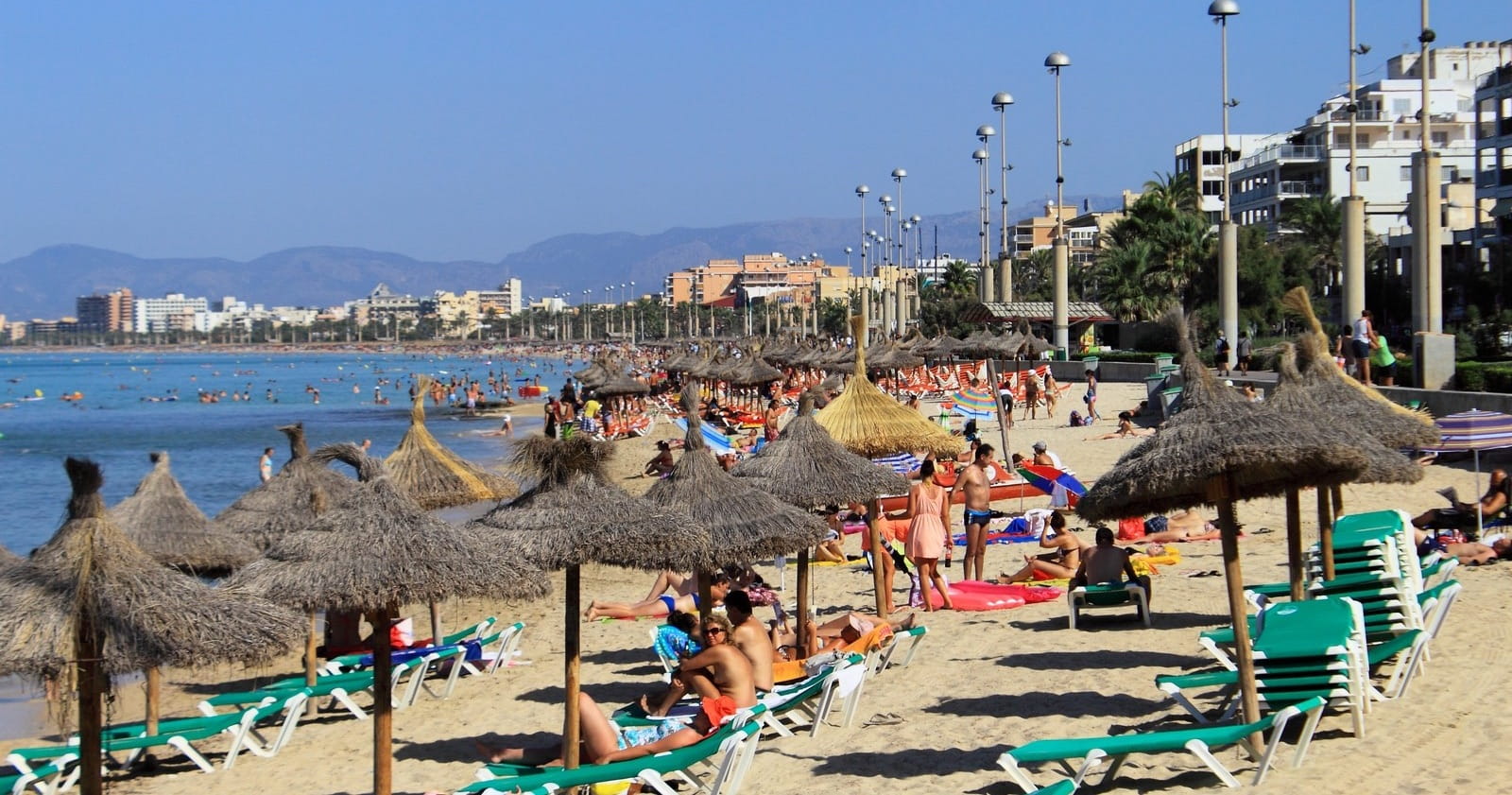 How to get there
What to see
Find El Arenal between Palma de Mallorca and Llucmajor. El Torrente de los Judíos (the Jews' torrent), which is normally dry, marks the boundary between El Arenal beach to the south (within Llucmajor) and a portion of Playa de Palma to the north (within Palma de Mallorca).
Besides the beach, there are other points of touristic interest mentioned below:
Weekly market
In the main square called Plaza Mayor and every Thursday morning, the weekly market offers a myriad of stalls where to buy fruit, vegetables, fashion and accessories, flowers and souvenirs among other products. Tuesdays and Wednesdays are the days when the market is mainly focused on fruits and vegetables.
Seaside Promenade
A beautiful and long seaside promenade runs through the entire El Arenal with large spaces for you to skate on, bike along or just walk around gazing at the beach and the coast.
In the late afternoon, the atmosphere becomes more evident due to the entertainment venues and nightclubs that with open doors capture the attention of tourists as many young people begin to actively party.
Yacht Club
It is located in the marina of this area and known for its sailing school and restaurant, as well as for the many celebrities coming here.
What to do
Water activities
El Arenal beach is the perfect place to have a great time doing activities such as paddle surfing, water skiing, diving, kayaking or sailing on board of different boats. Do not miss out on the fun!
Water park
Aqualand El Arenal is the water park in this area. Here you can trade a day at the beach for an endless number of slides and swimming pools while experiencing a day of fun and entertainment.
Nightlife
Along the seaside promenade are the main bars, pubs and entertainment venues that lift the spirit of the nights in El Arenal. It is very common to see flamenco or folklore shows enlivening many establishments.
Spas
What a misleading name this is! Spas are in fact a series of outdoor bars numbered 1 to 15 on the seafront. Drinks and snacks are served and they are the starting point in a night full of partying. Number 6 is called Ballermann and is very popular among Germans.
Palma Aquarium
Located in Can Pastilla and near El Arenal, it is an interesting aquarium with a great diversity of fish, reptiles and other species. It is the ideal place to come with the family, as surely the little ones will be thrilled to see the dreaded sharks from up close!
Beach
El Arenal beach is long and has enough space for everyone, although it might be too busy during the months of July and August. Of shallow waters, this beach stands out for the palm trees spread out in several points of the sandy area.
It is very common to see young people sleep on the beach while lying out in the sun after a long night of partying.
The northern part of Playa del Arena is known as Playa de Palma and its limit is the so-called Torrente de los Judíos or the Jews' torrent.
Where to eat
There are plenty of bars and restaurants in s'Arenal, so you just need to pick one. There is a bit of everything and the prices are also assorted, but for the most part, it is not difficult to find something cheap to eat.
Pizza and burger places, seafood restaurants, tapas bars, restaurants serving traditional Mallorcan cuisine, Italian or Japanese food are some of the options available.
You will find many establishments on the seafront promenade, but they also abound in the streets in the inner side of town. So do not stay on the beach and give yourself the chance to discover something new; take a stroll while you look for your ideal restaurant.
Where to lodge
El Arenal is the area in Mallorca with the largest number of hotels on the island, predominantly hostels, apartments and 2 and 3 star hotels. Most have a swimming pool and some will include breakfast. All-inclusive hotels are also a popular choice for tourists who come here wishing little travelling around the island.
Lately, adults-only hotels have become very popular. For instance, you can find some near the yacht club.
If you are interested in a more luxurious accommodation, you will find it in the area bordering Palma beach. There, finding 4 and 5 star hotels that are kept away from the busy nightlife area will be much easier.