Ariany is one of the least known corners of the island of Mallorca, in the Spanish Balearic Archipelago. It is though an ideal place for a rural getaway, with beautiful windmills captivating the imagination of all visitors.
In order to enjoy this magical town heir to Mallorcan nobility, we have gathered in this tourist guide all the different places of interest so you can live an unforgettable experience.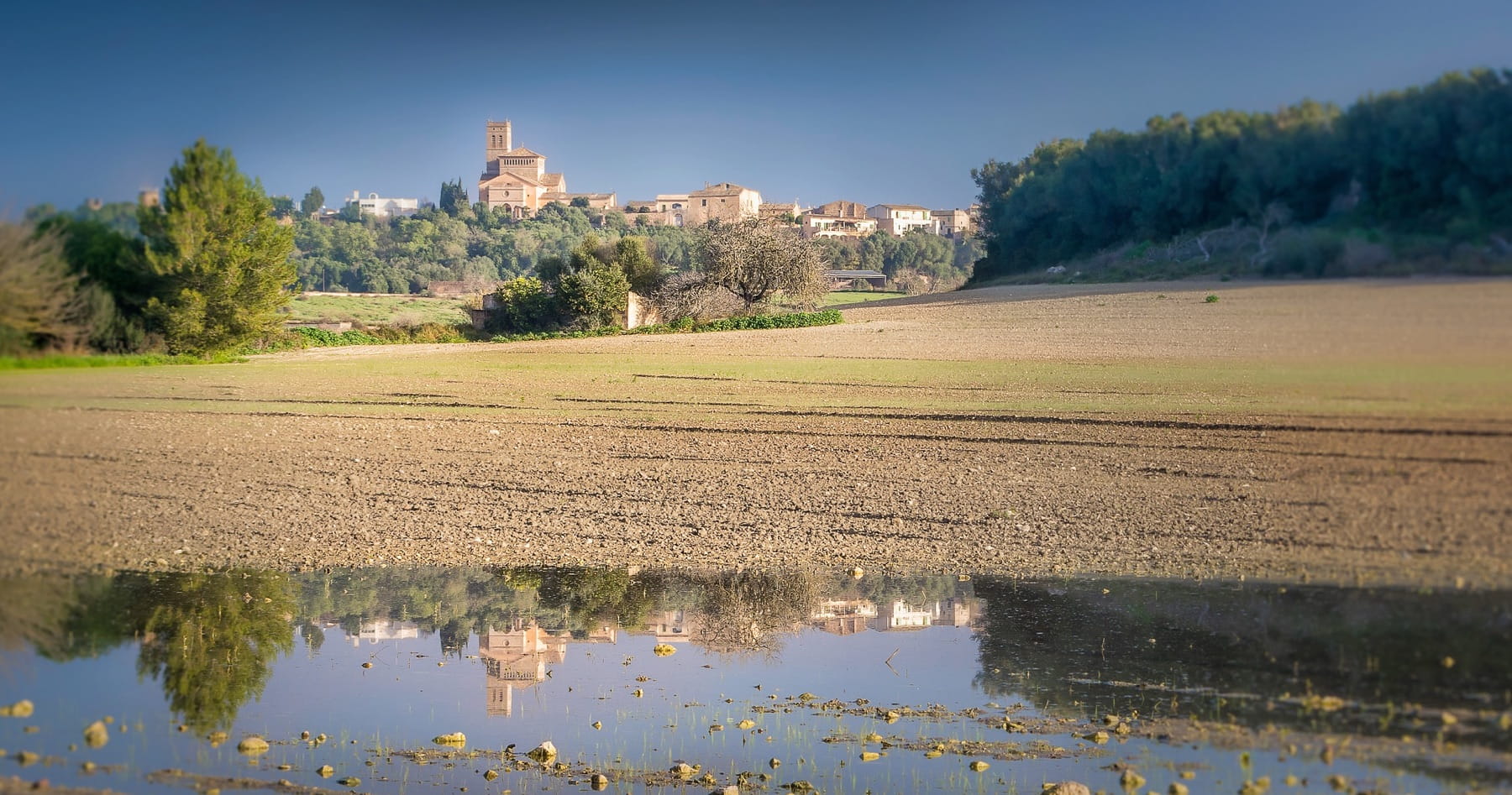 How to get there
Ariany is 49 kilometres from Palma Airport and the drive to this town of barely 800 inhabitants can take around 45 minutes.
What to see
If you come to visit Ariany, you can discover the different historical and architectural local jewels, while engaging yourself in a pleasant walk through town.
The parish church
This building delights all visitors with its ancestral structure and it has been remodelled by kings and marquises since 1570. It is worth taking some time to contemplate its beautiful facade and the three pointed arches along an impressive balcony with balusters.
De la creu viewpoint
This is a wonderful landscaped space that serves as a starting point on the quest to be delighted by the majestic scenery offered by the Pla de Mallorca region and the mountains Puig de Bonany and Puig de Randa.
Weekly market
You will find the weekly market in the centre of the square called Plaza Mayor and this 'ceremony' takes place every Thursday. Typical and colourful, for sale you will see fresh fruits and legumes, different types of flowers, clothing and also comfortable and fashionable footwear.
Pou Bo, Juró and Aljibe
Popular engineering manifests itself through very interesting structures in Ariany such as the Aljibe, a construction from the 19th century built in order to collect water, with a capacity of 800,000 litres.
We also have Pou Bo, one of the many old wells that can be visited on the way to Petra. It used to be a water trough; its exquisite shape covered by ancient stones certainly paints an oasis in the landscape. Next to it and a public washing place in the past, you will find Juró.
Windmills
Seven tower mills still stand today across this land of legends. From the end of the 18th century, Molí d'en Marinero is the most popular of all and can be visited on the road to María. Another one among the most legendary is Molí d'en Rigo. Inside, there is a niche showing the figure of San Antonio.
Beyond the town centre, you will find the slender Molí d'en Guillem Gener. To continue with this amazing walk, Molí de ses Comunes awaits to be discovered. Following the path to Campo, you will run into the ruins of Molí d'en Piuló and as the last stop, we will see the interesting Molí de sa Cabaneta.
Sauberg
This emblematic house is next to the church and is considered to have been responsible for the rise of Ariany urban nucleus, and it offers today the amazing sight of an imposing portal crowned by an arch with voussoirs.
A beautiful cobbled path called the Camí de la Marquesa is the trace of the route left by history and connected the houses of S'Auberg and Son Sureda in Manacor.
Creus de término o Término crosses
Three crosses stand out as the spiritual legacy of this village. Sa Creu is the most colourful and of artistic interest with its neoclassical style. This Latin symbol of straight crossbars is celebrated with the festivity of El Encuentro on Easter day.
On the road to María, la Creu de les Voltes in Son Bonany stands with a more modern design. Its creation pays tribute to rector Martí Truyols. The most recent cross is the one in Plaça de l'Església square called Creu de la Plaça de l'Església, a gift from Daniel Mateo in 1970.
What to do
Hiking enthusiasts can get their backpacks ready and start enjoying their holidays with the fresh air and magnificent attractions available in this town.
The routes are circular, the terrain offers little challenge and it is perfect for letting go and being carried away by the stunning landscape.
Some of the favourite destinations for outings are Cami vell Arta torrent Borges, Son de Serra de Marina, Volta or Petra.
Where to eat
Ariany welcomes all guests with exquisite Mallorcan cuisine. It has a varied offer of picturesque establishments and original restaurants where to enjoy an atmosphere that will take you back in time.
With family and authentic aromas, their menus, prepared with the most exquisite seasonal products, offer a wide range of dishes. Here you will be able to savour from succulent barbecue, fish and seafood, along a blend of Mediterranean and Italian flavours to go mad about, to very special meals such as oxtail croquettes or roasted suckling pig.
Where to lodge
There are different options for accommodation if you wish to sleep in this haven of peace.
There are modern hotels protected by the walls of a 19th century convent, with swimming pool and equipped suites with all the amenities.
There is an elegant country hotel in the outskirts of town, ideal for couples. It is equipped with Wifi connection, heating, a beautiful outdoor swimming pool and multiple benefits for maximum comfort.
For those visitors with simpler tastes, there are apartments and villas offering Internet connection, air conditioning, fully-equipped kitchen and gorgeous views.