Wine and tradition
Felanitx is a south-eastern town in Mallorca, with buzzing activity throughout the year in shops and restaurants. This area is well-known for its winemaking, highly appreciated and the second on the island in terms of importance.
Caper crops are also very important in this area, as they are widely used in the island's gastronomy.
Even though the town is not geared to the tourist economy and is poorly communicated for those lacking private transportation, it is still the perfect town for you if you wish to dive right into the spirit of the Mallorcan culture and be part of it.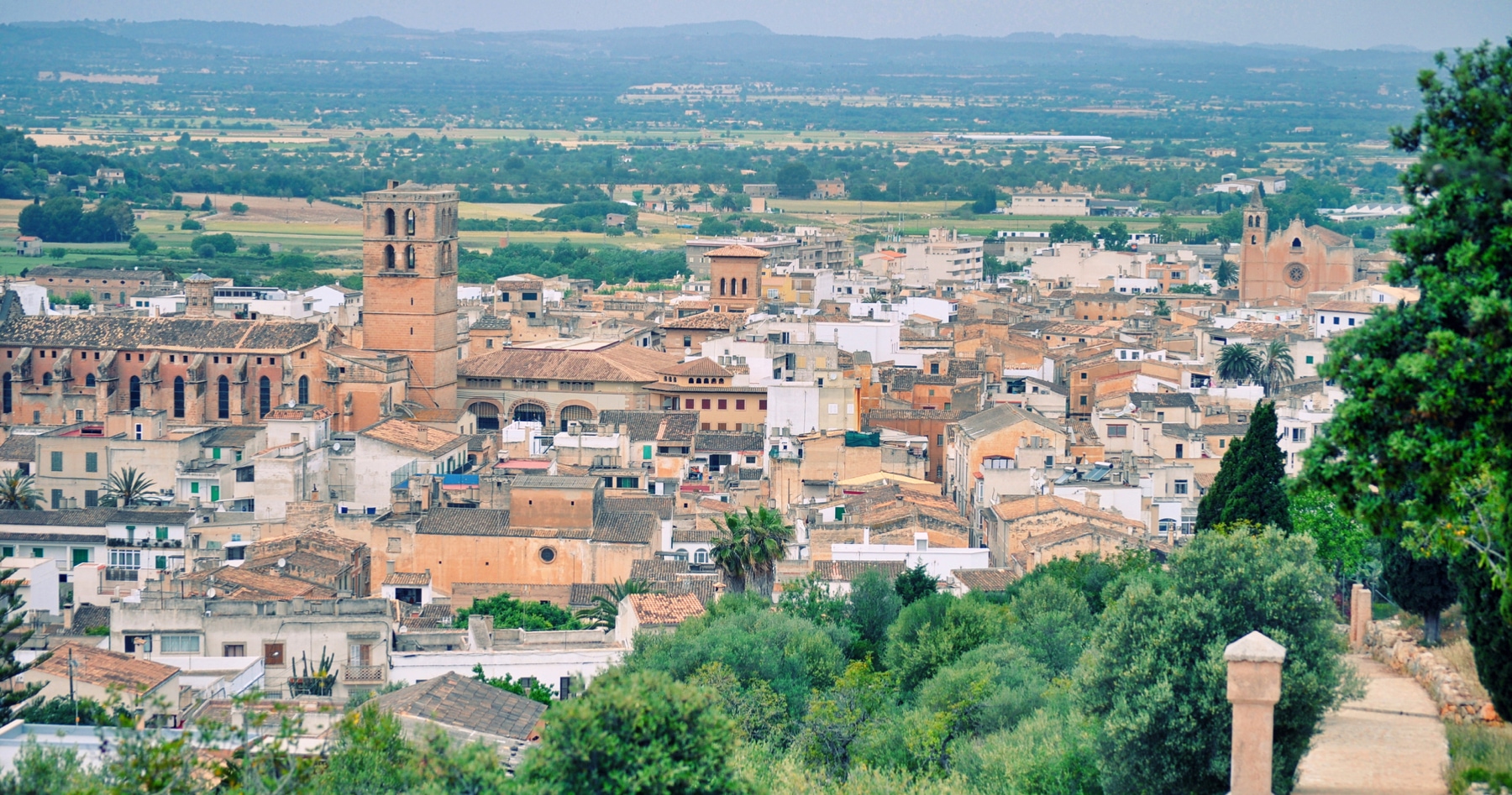 How to get there
It is 50 kilometres from Palma and near Campos and Santanyí.
What to see
Weekly market
Every Sunday morning, the weekly market brings to town a wide variety of stalls where you can find almost everything you need.
In Sa Plaça, you will also find market stalls where to buy food and flowers every morning from Tuesday to Sunday.
Santueri Castle
It is a pretty well preserved castle, built on Arab ruins on a hilltop over cliffs. From the top, you can relish magnificent sea views but also panoramic views of the town, and if on a clear day, you can also see Cabrera.
Although the building is being restored, it can be visited from 10 a.m. to 6 p.m.
From Felanitx, follow the road to Santanyí and you will reach this interesting place.
San Salvador Monastery
It is also on top of a high mountain, and therefore, the Mallorcan views are second to none, getting to see the island of Cabrera and Cap de Formentor. Find the statue of Christ on one side and you will be able to see Santueri Castle.
The monastery is a place for pilgrimage, so simple rooms to spend the night are available.
San Miguel Church
This church is home to a monument marking a major collapse of the structure that took the lives of 414 people in 1844.
Vineyards
An interesting activity to engage your time in Felanitx is to visit a vineyard, as many of them are open to the public. If you want to taste the local wine or go on a guided tour, you must book in advance.
What to do
If you are thinking about exercising a bit while surrounding yourself by nature, there are several routes for hiking and cycling, from simple to more difficult, that will allow you to explore the landscape bordering this town.
If you are interested in water sports or want to sail, you can go to places like Cala d'Or or Portocolom as they are near the sea.
Trekking
Route from Felanitx to San Salvador: it is the most famous of all. Easy level of difficulty. Duration: 3.5 hours or slightly over 9 kilometres. Upon reaching a 500-metre height, you will have before you beautiful views of the Llevant coast.
Route from Sant Salvador Monastery to Santueri Castle: Moderate difficulty level. It runs on stone paths that make it difficult for young children to participate. Duration: 5 hours or approximately 10 kilometres.
7 coves route: follow this route and you will see the 7 virgin coves of Felanitx municipality: Cala Ferrera, Cala Serena, Cala Sa Nau, Cala Estreta, Cala Mitjana, Cala Marçal and Cala Brafi. Medium level of difficulty. Some sections of road are over rock. Duration: 2 hours or almost 8 kilometres.
Grau Mitja Route: ideal to do it as a family since the level of difficulty is easy and passes near the town and Puig de Sant Salvador. It is a circular route. Duration: 2.5 hours or 8.6 kilometres.
Where to eat
Although Felanitx is not very large town, there are several restaurants where you can taste typical Mallorcan food, Mediterranean and also international food. If you visit San Salvador Monastery, you can also choose to eat in one of its two restaurants.
Where to lodge
Felanitx has several hotels to stay and villas for rent, with the charm of a village house in the town centre and outskirts. Most have a swimming pool.
We can find several rural hotels with beautiful views in the vicinity and if you are looking for a more austere type of accommodation, remember that the monastery offers the possibility of lodging.
Check Available Accommodations
Festivities
Several festivities are held throughout the year in Felanitx. The most important are the Feria de Mayo in May, the Sant Agustí fair in August, the Sant Miquel fair in September, and the famous Fira del Pebre bord (paprika) in October.
Surroundings
Campos and Colónia de Sant Jordi are near Felanitx. If you long for a day at a near beach, this plan is for you.
Come to Cala d'Or, the island's tourist destination par excellence, and discover its striking beaches and the bustling experience brought by the nightlife here.