At the Mount Randa foothills, Llucmajor is a prosperous municipality that lives on tourism and agriculture, producing first-class apricots and almonds.
In southern ​​Mallorca, it is the largest municipality on the island, with a population of around 35,000 inhabitants. Llucmajor is an excellent option for all types of tourists eager to enjoy a holiday in Mallorca. Family tourism is especially drawn to this point.
It includes different towns, beaches and tourist centres, standing out the town of Llucmajor, Cala Blava, Cala Pi, S'Estanyol, a certain area of the Arenal, Sa Torre and Bahía Blava.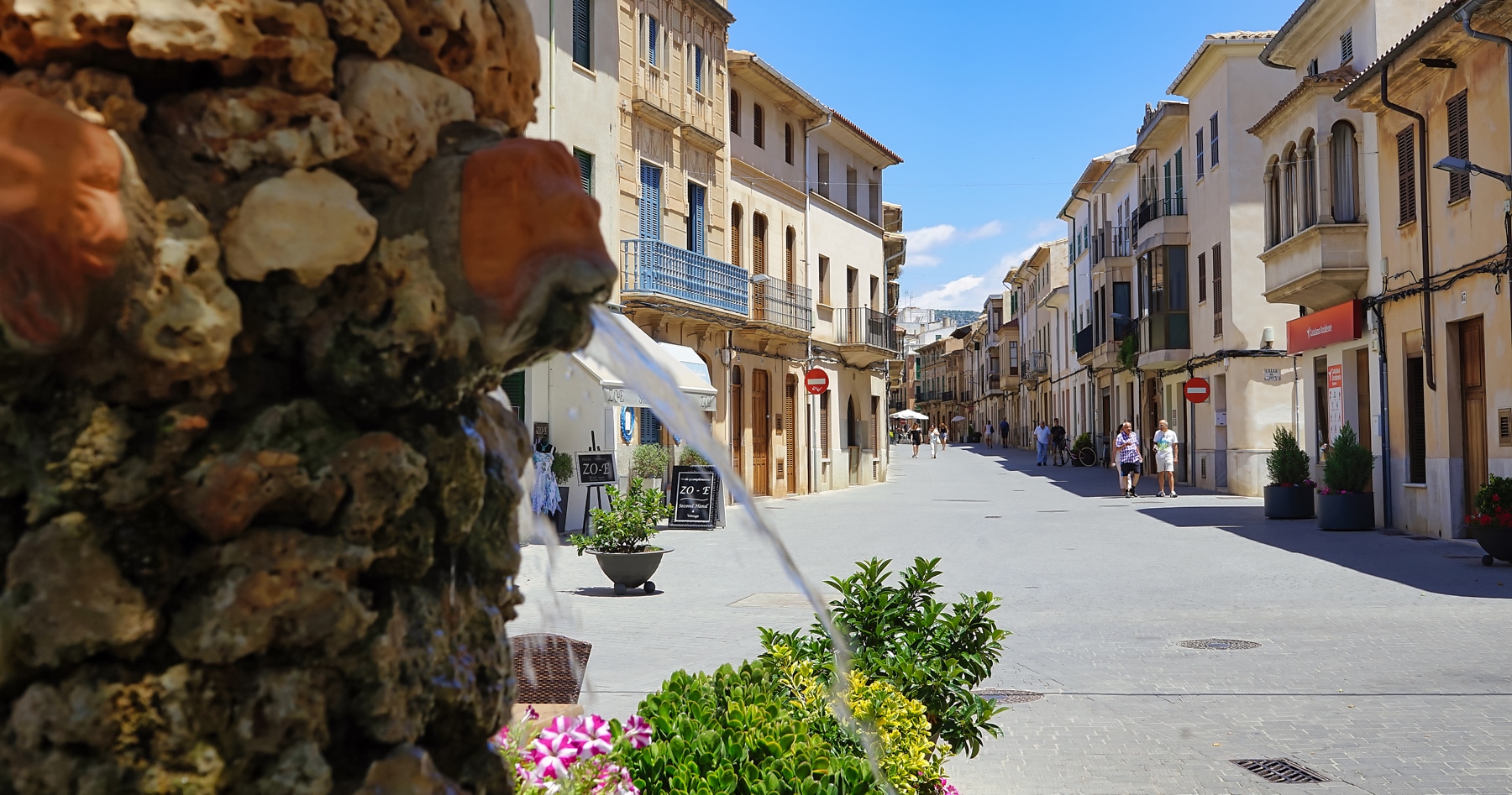 How to get there
The town of Llucmajor is home to most of the municipality's inhabitants. It is 30 kilometres away from the city of Palma via the MA-19 motorway and just over 20 kilometres from the airport (Son Sant Joan).
What to see
Being a municipality of considerable size, there are many and diverse places of tourist interest to visit in Llucmajor or Lluchmajor. Some of the most important are the following:
Weekly Market
Llucmajor's weekly market is one of the largest on the island of Mallorca. We can find all kinds of products on the merchants' stalls. It opens every Sunday morning and it is active throughout the year. This is a market that is worth visiting during your stay in this town.
Plaza de España
Without a doubt, the square called Plaza de España is the hub of community life in Llucmajor. It is a very busy place with plenty of places to check out such as cafés, bars, restaurants and ice-cream shops, as well as clothing and souvenir shops.
Feel free to sit down for a break and a drink in one of the coffee shops around and watch attentively the beauty in motion in this place. If you are here with children, they can play in a small playground protected by trees at the back of the square.
Plaza del Zapatero or Cobbler's Square
The square Plaza del Zapatero or Plaça des Sabaters is one of those most emblematic places and for such had to be included in this guide. Until the 1970s, an important part of the population made a living from the footwear industry, so being a cobbler was a very common profession among residents.
In order to honour this professional tradition, a monument was built in the middle of the square in 1963, representing different scenes of the trade.
Baroque convent of Sant Bonaventura
The baroque convent of Sant Bonaventura is one of the most charming historical monuments in Llucmajor. Built in the second half of the 17th century, this baroque convent has been home to Franciscan monks over the course of centuries.
The Bethlehem chapel and the baroque main altarpiece from late 17th century stand out in particular, making it a place of great artistic and architectural value with corners full of history.
Capocorb Vell Talayotic site
This prehistoric archaeological site arouses great interest due to its conservational good health.  A Historical-Artistic Monument since 1931, it is today one of the main tourist attractions in the municipality.
It is among the most visited places of interest and opens from Monday to Sunday (closed on Thursdays) from 10 a.m. to 5 p.m. Entrance fee is €3. You will find it along the road connecting Llucmajor and Cala Pi.
Cura Sanctuary
Within the municipality of Algaida and on the Puig de Randa summit, this 13th century monastery enjoys a privileged location from where visitors can savour stunning views of Llucmajor. According to legend, this is the place where beatified priest Ramon Llull retired and received enlightenment.
Cap Blanc Lighthouse
It is one of the most mysterious and isolated corners in Llucmajor. This lighthouse, inaugurated in 1863, is involved in a legend, which tells the story of a lighthouse keeper who committed suicide upon being notified of a job transfer. Even though uninhabited since 1994 and closed to the public and vehicles, it can be approached on foot through a path.
Defence towers and cliffs
The municipality of Llucmajor displays along the coastline several defence towers built in the 16th century. They have become fantastic natural viewpoints. The coastal cliffs deliver breathtaking views of the southern part of the island.
Viewpoints
There is an interesting route that connects the different hidden viewpoints on the coast of Llucmajor, highly recommended if you want to enjoy startling views of the area. Access is free of charge and you can get there by car, on your bike or by walking part of the route since the way is long.
This route includes 6 viewpoints: in Son Verí Nou, Maioris, Sa Torre, Badia Blava and Badia Gran, and Cala Pi. You will find a notice board in each one of them.
Beaches
Llucmajor has very nice beaches but we would like to highlight Cala Pi, a coquettish beach flaunting an amazing landscape full of pine trees. Or Cala Blava, a rocky beach with an intense blue colour that makes its waters shine.
S'Arenal beach is quite long and has several entertainment venues and nightclubs around. This Mallorcan area concentrates the partying scene for young people, especially British and German.
What to do
You will not lack things to have a good time with during your holiday in Llucmajor and you may choose between sea and mountain-related activities. The most outstanding are diving, sailing, golf and cycling.
Golf
Son Antem golf course is just 5 kilometres from Llucmajor and offers high-quality facilities for golf fans.
Cyclist routes
In addition to golf, you can explore some of the rural roads in the area on a bike, as there is a wide network of cyclist routes in place so that you may enjoy nature and the beauty reigning throughout inland ​​Mallorca.
Water sports
If you wish to practice water sports, you can access the nearest beaches such as Cala Blava, S'Arenal, S'Estanyol or Cala Pi.
Vineyards
If you are a wine lover, you can pay a visit to one of the wineries in the area for a wine taste or for a picnic in a vineyard. Vi Rei Wineries offer several options to live a different experience.
Where to eat
Finding a place to eat in Llucmajor will be simple, since there is a wide range of restaurants for all types of budgets. There are picturesque restaurants with stunning views by the sea for you to discover, restaurants with pure Mallorcan recipes made with local products, and a wide range of restaurants with an international flare such as Italian or American.
In addition, there are more family-oriented restaurants and establishments perfect for a romantic evening.
Where to lodge
You will easily find a variety of hotels where to stay in Llucmajor. Most of them are scattered around town. You can choose from the most affordable ones to others of higher quality and price. However, in order to enjoy the real luxury and quality experience, visitors may be eager to stay in one of the beautiful boutique hotels or rural hotels near town.
These types of hotels propose a different experience in a privileged environment of great beauty and a gastronomic offer that will satisfy the most exquisite palates.