Do you feel like getting away from stress and routine and make your own way through the spectacular Mallorcan mountain range known as Sierra de Tramontana? Congratulations, you are in the right place!
Far from the coast, coves and crowds you will find Orient, a small town with unmatched charm. It is difficult to convey such beauty, but worry not, because you will immediately feel it as soon as you arrive.
This small paradise is nestled in the mountains and it is just 30 minutes away from Palma centre.
Pack your bags because here, you will enjoy a fantastic rural experience, with pure silence and calmness as your sole companion. If you like natural waterfalls, you can't miss out on the excursion to Salt des Freu.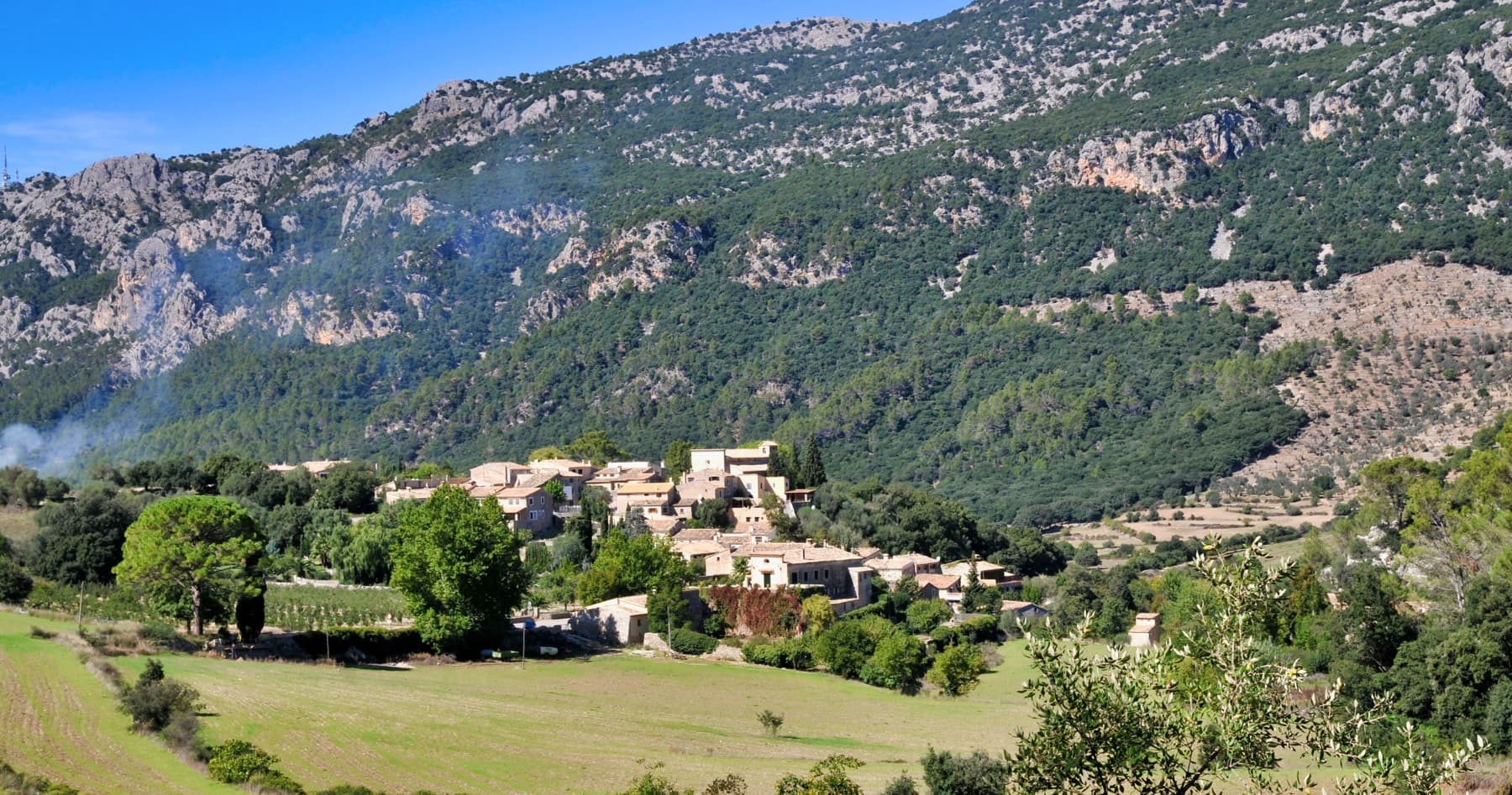 How to get there
Orient is within the municipality of Bunyola. It is located 40 minutes from Mallorca airport by car, right after the pretty village of Alaró.
What to see
This is the ideal place for travellers looking for uncrowded destinations, places where nature is King. Here, agriculture is predominant and the landscape shows how fertile this part of the island is.
The village
Visiting Orient is like taking a trip back in time. The combination of stepped streets and traditional houses build with marés stone and whitewashed walls creates an image that seems to come right out of a postcard. There are 30 houses perfectly placed on the hillside, topped off by the presence of Sant Jordi Church.
Sant Jordi Church
This construction is dedicated to the town's patron and was built in the 18th century. Located about 450 metres above sea level, it was built onto the remains of an old oratory that dated back to the 13th century.
Old wash houses
At the foothills and almost towards the exit of Orient, we find the well-preserved public old wash houses. Stone-built, these wash houses are one of the main tourist attractions in the village.
What to do
Agrotourism and related activities are popular here and the main touristic magnetism. There are many forest routes to explore and some to discover around this beautiful little town.
Cycle tourism
Cycling is one of the activities whose popularity has increased in recent years. Countryside tours allow you to enjoy the beautiful views this valley has to offer. There is no doubt that biking is a wonderful way to visit nearby places such as Alaró Castle or Alfabia Gardens and a great way to leave your car behind.
Trekking
Hiking is also very popular in this area, being Salt des Freu the most hiked route. This route follows an old charcoal road to the largest waterfall in Mallorca, which goes by the same name. There are different starting points and ways to descend to the base and even cross the river with no risk for hikers.
There are also other routes such as the one climbing the mountain called Alfabia, which is 1,100 metres high. You can also choose to enjoy the route through the stream of Coanegra or the route that will take you to the peak of the 750 metres high mountain called Puig d'es Moix.
Where to eat
Orient offers Mallorcan food throughout its many restaurants, so this visit will translate into the perfect occasion to savour the gastronomy of the island and relish Mallorcan soups, roasted suckling pig, frit mallorquí, sobrasada or butifarrones.
Near the road to Palma you will find some alternatives with international menus, especially French food. Orient even offers peculiar places where to taste the fantastic fusion of Spanish, French and Asian cuisines.
Where to lodge
Orient is a great place to unwind and escape the hustle and bustle of the Mallorcan coast. In any case, if you decide to stay here and wish to go to the beach, you can easily drive to it.
You can choose from a wide range of agrotourism places, luxury hotels located in rustic farms or in an old monastery, as well as rural hotels, all of them granting travellers incredible views.
You will find them in the town centre or on the outskirts, some with a swimming pool and some others with a wonderful restaurant open.