Porreres is a typical Mallorcan village that boasts about an excellent gastronomy, cooked with abundant fresh products.
This sleepy town is known for its agriculture, symbolized by windmills standing in some of the harvested fields. In addition, the charisma of this place lies heavily in its pedestrian streets, squares full of bars and coffee shops where locals gather wrapped in a pleasant atmosphere and surrounded by rustic stone buildings.
Inland and bordering Campos, Llucmajor and Felanitx, Porreres is waiting for you come and visit.
Discover in our tour guide everything that awaits here.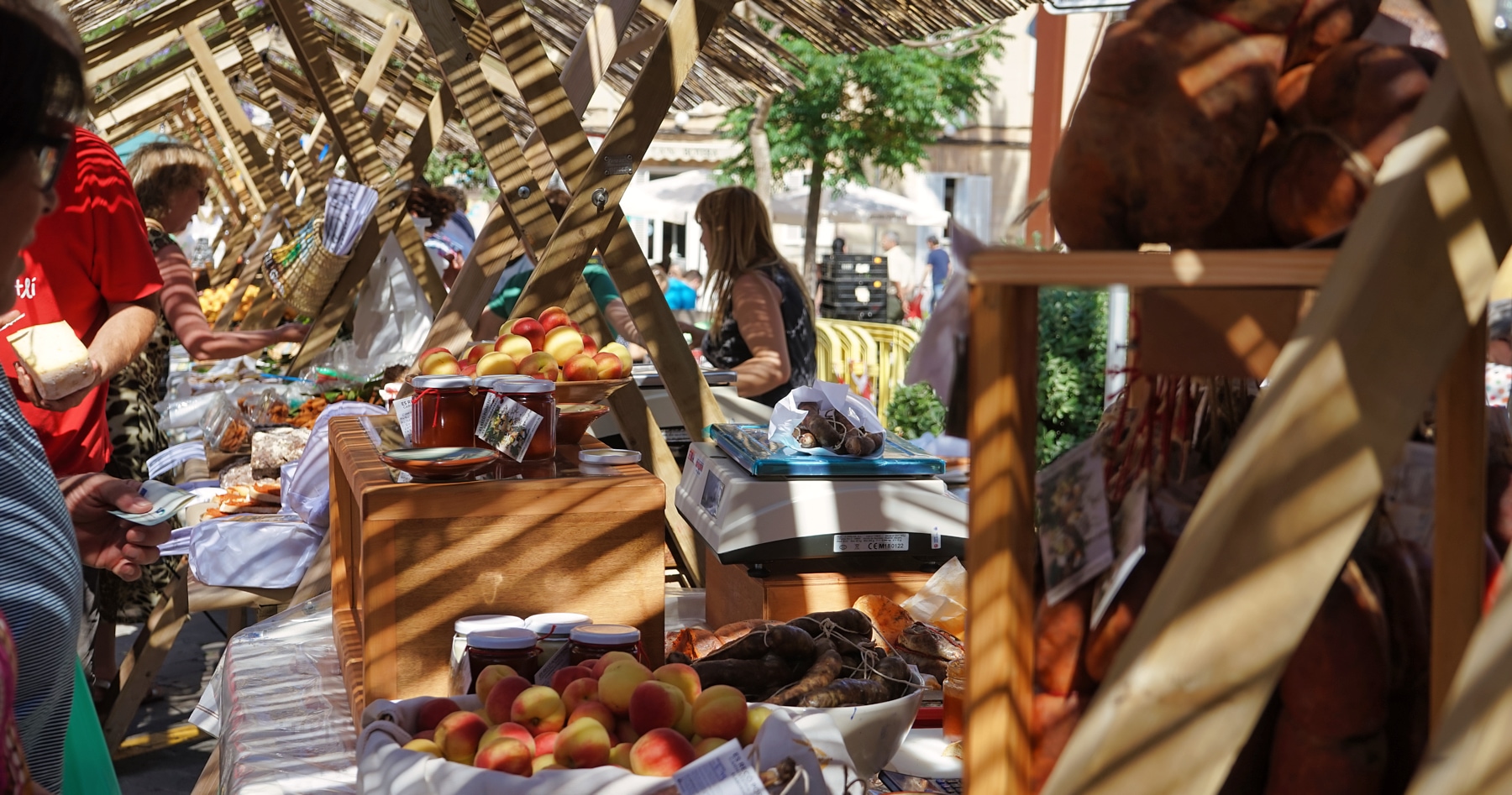 How to get there
Campos is 34 Km away from Palma airport.
What to see
Walking through the streets, we can feel the calmness and harmony reigning in this small town. There is only a pedestrian zone, on Bisbe Campins Avenue, where you can sit down in one of the cafés in order to hurriedly plan your next stop on the island. At one end of this avenue is Nostra Senyora de la Consolació Church and town hall on the other, a distinctive building home to some of Dali's works of art.
Weekly market
Open every Tuesday morning in the town hall square and surroundings. Here, you will find a wide variety of products, including local fruits and vegetables, clothing and footwear, handicrafts and plants.
Monti-Sion Sanctuary
It is an old monastery built on top of a hill, a privileged location in order to enjoy amazing views of the fields around it.
It is well signposted, 2 kilometres from Porreres town, and you can reach the entrance by car.
Outside, look for a large staircase to access the sanctuary. Inside, find the small chapel and the bar, but also a nice patio from where to observe the architecture of this building.
What to do
Porreres is a perfect place for cycling, so it is common to see a large number of cyclists on the roads connecting this town to Campos and Montuiri, especially when the weather is nice.
Hiking can also be practiced without a problem, since you can access several routes and simple paths to explore. You can get to Monti-Sion Sanctuary on foot and although it is sort of a hard climb, the route allows you to capture the landscape much better, unnoticed when driving up.
Vineyard tours
There are vineyards of very good quality in Porreres. As result of this, there is a great variety of wines to be found in the Jaume Mesquida Winery, founded in 1945 and well known in the area. Also here is the Son Artigues Winery, a very simple but elegant winery offering the possibility of a guided tour and a tasting of excellent wine. Check the winery website for more information or to make a reservation.
Apricot Fair
The Apricot Fair is held in June, a traditional fair that brings the production of this delicious fruit to the public. They do so through numerous stalls where apricots and other products made of apricot are sold: jam, sponge cake, cookies, sorbet or ice cream.
Where to eat
As we mentioned above, Porreres cuisine is of the highest quality, based on fresh and local products. In town, sure to find several restaurants, most of them gathered around Bisbe Campins Avenue, where you can taste typical Mallorcan dishes. Go ahead and try them, you will be gladly surprised!
Where to lodge
Porreres is not a very touristy place but it is indeed an ideal place to stay, especially if you wish to get away from big hotel complexes or other areas prone to high tourist influx. In an ideal setting on the island, it allows you to easily move about by car and reach smoothly the main areas of interest in Mallorca.
Standing out here are the boutique hotels and rural hotels or agrotourism establishments, which provide a relaxing experience in direct contact with nature.
Check Available Accommodations
Surroundings
Campos and its famous Es Trenc beach are very close to Porreres. Don't miss this beach!