Beautiful natural corners
Santa María del Camí is a small Mallorcan village, also popularly known by locals as 'Santa María'. This Mallorcan natural treasure has been granted with privileged location, on a central plain overlooking the Sierra de Tramuntana mountain range.
Different wine or oil routes can be enjoyed here, while relishing the beautiful landscape that surrounds the town and discovering all the amazing Coanegra Valley's corners. This valley is much cherished by hikers as it has so much to offer. Sprinkled with exceptional charm, a route allows the discovery of ravines, watercourses and forests, amazing paths or spectacular large cavities created by nature.
It is usual to see a large number of cyclists passing through the streets or making a stop in any of the bars and coffee shops in order to regain strength, since Santa María is a popular transit point for the thousands of cyclists covering the different sections of the island each year.
The town is 30 minutes from the capital Palma de Mallorca by car. It has numerous services and a large shopping centre on the outskirts. It is a small town with all its potential currently in use.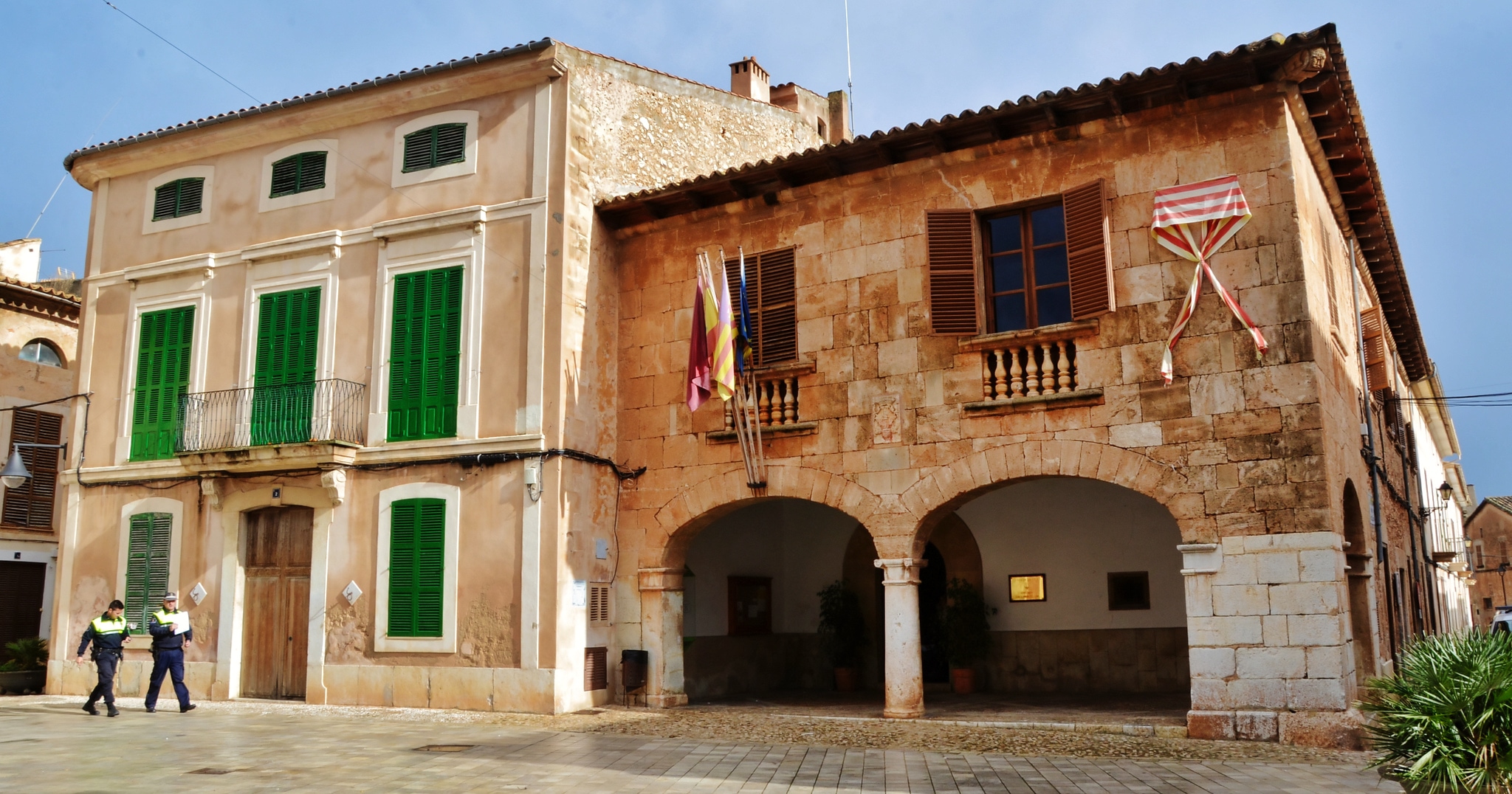 How to get there
You can get to Santa María del Camí from Palma by car, following the main highway to Alcúdia. Exit when you see the name of the town. No way to get lost.
If you do not have a vehicle, you can get there by train as Santa María has a train station. It is directly connected to Plaza España square in Palma city centre. So, touring the capital of Mallorca can be done easily and free of parking hassle. This train station also connects travellers to Inca, Manacor and Sa Pobla.
What to see
Among other reasons, you will be moved by the stunning Renaissance heritage in this Mallorcan town. Impressed you will be by its beautiful civil architecture from the 17th century. Strolling through the different corners in Santa María del Camí, you will unearth different Renaissance facades and traditional buildings of the town's significant culture.
Nostra Senyora de la Soledat Convent
Los Mínimos Convent is in the town centre. Also known as Can Conrado or Nostra Senyora de la Soledat, this convent is very famous and renowned for its long tradition in Mallorca. It used to be a friary, then a school, and it is now used as a museum and a restaurant. History can be tracked from room to room, capturing the art of the amazing 17th century. The most special room in the convent is without doubt the cloister, of Renaissance style, rich in striking details like the window pattern or the sundial.
Son Llaüt Inn
It is a manor house, located in the Plaça de la Vila square and owned by the City of Santa María. The property is from 1882 and now renovated, respecting its structure and traditional design. It takes up a 277-square metre plot while divided into a ground floor, basement, first floor, attic and a pigeon loft on top.
Son Seguí Vell site
It is an ancient archaeological site, one of the most exceptional on the island. Dating from the Bronze Age, it is a settlement of beautiful houses that portrays the modest life of farmers and stockbreeders in the 17th and 18th centuries. You will also see a small hermitage nearby.
You will get to this town following the road that goes to Santa Eugenia and by taking a detour as you follow the signs.
Weekly market
One of Santa María del Camí's main attractions is the markets, which are open Sunday every week, spreading through the hidden corners of this beautiful town. However and due to the multitude that comes to town for the markets, you will have no trouble finding them. Another very famous market, where you can find new and second-hand items, is also held weekly in Consell, a town only five minutes away from Santa María by car.
Town hall
The emblematic town hall has become very aware of the importance tourism has in this beautiful town and makes available to visitors all that is needed in order to move around and really get to know the town.
Wine cellars
For wine lovers, Santa María del Camí has ​​different wineries to visit and taste their products. For example, Macià Batle is a winery seeking excellence in wine production since 1856 and is now very famous and recognized throughout the island. Visiting the winery and the vines from where the raw material is extracted becomes a certainly great plan in a landscape that is second to none.
What to do
This central area of ​​Mallorca offers tourists and residents numerous activities to choose from. The Coanegra Valley is an unmatched prize for those going to northern Santa María, with many beautiful routes and corners to be discovered by the most adventurous. Protected by the powerful Sierra de Tramuntana's shadow and surrounded by abundant pines and almond trees, these routes can be pursued on foot by hikers or by bicycle.
Hiking in Coanegra Valley
There are different routes with different degrees of difficulty. For example, following the itinerary of Torrente des Freu ravine towards the Coanegra irrigation channel, you will discover different water fountains such as Son Pou and also the Coanegra stream, which runs through the valley. During the journey through the forest, you will run into beautiful ancient rural farms called possesions.
Avenc de Son Pou is another hidden treasure ready to be found. It is a huge natural cavity formed in the rocks, leaving everyone awed upon sighting.
Son Torrella is indeed one of the hardest routes for hikers, for its cliffs and rock paths. But still, it remains an adventure and a challenge for the bravest of all.
Cycling around Coanegra Valley
With so many routes and beautiful places to explore in this valley and as stated previously, it is not surprising to see so many cyclists enjoying the roads around Santa Maria.
Mallorca Fashion Outlet
Mallorca Fashion Outlet is a shopping centre in the Santa María del Camí area. It is one of the most visited places in Mallorca since its opening in 2002. It has many shops (many outlet with amazing discount prices) and among others, you can shop at Desigual, Vans, Lacoste, Levi's, Nike, Mustang, Munich, Pieles de Mallorca or Reebok. It also includes several movie theatres and several restaurants, coffee shops and leisure facilities for both adults and children.
Where to eat
Santa María is a very lively town where you are sure to be able to enjoy a wide variety of restaurants. There, you can relish this town's typical dishes, all known to be full of flavour and style, uniqueness in the making. Furthermore, there are different tapas bars preparing varied fresh menu options. These energetic establishments are to be found along the main avenue crossing the town, a street called Carrer Bernat de Santa Eugenia and its surroundings. Nearby, open to the public are several pizza places, restaurants serving typical Mallorcan cuisine and others specialized in Asian food.
We would like to highlight some of the most scrumptious local dishes from Santa María del Camí: sobrasada, almond sorbet, ensaimada, pa amb oli, tumbet, Mallorcan soup, frit or the apricot pastry called coca de albaricoque, which you can also find with trempó, a tasty local salad.
Where to lodge
When it is time for you to choose where to sleep, you have different options, both in the city and surroundings. The accommodation offer is wide and includes hotels, hostels, agritourism establishments or villas in the mountains.
You will be able to choose according to your needs and preferences, and compare prices and availability among the different establishments. For you to discover are fantastic luxury hotels with an alluring spa experience. However, if you prefer, you can also relax in a rural and more traditional atmosphere in mountain hotels.