Rural essence and spectacular beaches
Santanyí is a town in Mallorca. It is located in the southeast of the island, about 50 minutes from Palma de Mallorca by car. This town has an approximate 48-kilometre coastline, which results in the privilege of having spectacular coves and beaches. Here, year after year, locals and also visitors, enjoy the tranquillity latent throughout the municipality, as they actively seek to escape the tumult of people who usually crowd in Palma de Mallorca.
This is a town that has maintained the original rural essence of Mallorca prior to the massive touristic development. Santanyí grants all visitors an authentic Mallorcan cultural experience, as well as firsthand chance to enjoy nature. This comes about thanks to its extensive coastline and beautiful coves, and due to the fact that here, you can find the Mondragó Natural Park, the second largest natural park in the Balearic Islands.
Let's take a look at everything we should consider before visiting Santanyí if we want to make the most of our time in the area.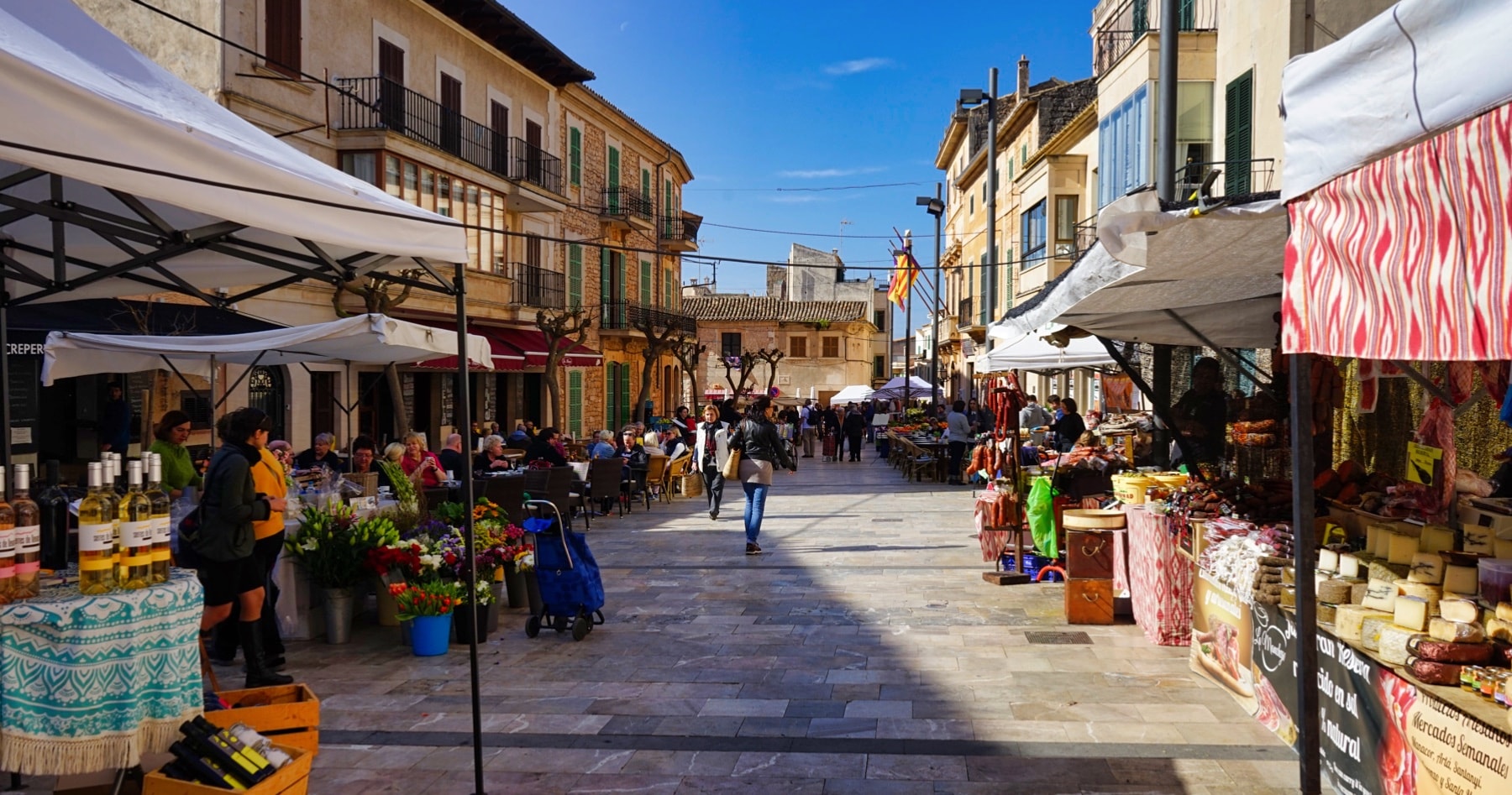 How to get there
We can reach Santanyí from Palma de Mallorca by car; this trip will take about 50 minutes. We can also drive from Palma Airport to Santanyí in just over 40 minutes. Also from Palma, you can use bus lines 501 and 502, which take approximately 2 hours to get to this area.
What to see
Santanyí has ​​several points of interest to enjoy. Here are some details:
The market
Visiting the market is quite an experience and highly recommended. Santanyí local market opens on Saturdays. In summertime, when the influx of tourism is high, you will find a lot of people around and consequently, a nice atmosphere. If you are driving, it is advisable to go early in order to be able to find a parking spot.
Cafés in Santanyí are ideal for breakfast near the market, but you can also try some of the products sold by bakery stalls in the market, having this way a truly local experience. This is a market that offers a great diversity of stalls, which you can dive into and surround yourself of colour and an authentic atmosphere.
The old town
Part of the interesting history in this town is directly linked to the presence of pirates, something common throughout the island towns in Mediterranean area, systematically looted over the years in the past. For this reason, the town has a fortified wall and a doorway to access the town called Porta Murdada. This was part of the effort to defend themselves against such thieves.
Mondragó Natural Park
It is another great attraction of the area. This 750.25- hectare natural park presents a wide range of landscapes, making it ideal for hiking and nature lovers. You can venture on the different itineraries on your own or if you prefer, you can take a self-guided route. For instance, you can tour the Font de n'Alis viewpoint, sa Guàrdia d'en Garrot, sa punta de ses Gatoves and also s'Amador. There are guided tours on Saturdays as well, but advance notice at the Information Centre is a required. You will find this centre on the road to Cala Mondragó. It has access enabled for people with reduced mobility.
Cala Figuera
You can visit places in Santanyí municipality as spectacular as Cala Figuera, a beautiful fishing harbour that embodies the Mediterranean way of life and local architecture.
Beaches
The coves in this municipality are very beautiful and you can still see part of the past associated with pirates in several of them. There are ruins built in the 18th century still in the area along several defensive towers.
Cala Santanyí
This is a must-see in the area and located only 6 kilometres from town. There, in Cala Santanyí,  we can relax and unwind surrounded by crystal clear waters, palm trees and pine trees, creating an exquisite natural environment.
Cala Llombards
This beach sits cosy between cliffs while picturesque fishermen's cottages lie on one side of the rocks. In the afternoon, the cliffs will mitigate the heat of the sun by providing shade over much of the sand. It is 6 kilometres from Santanyí and ideal for couples and families with kids.
S'Amarador
This beach is within the Mondragó Natural Park. There is a short-distance walk to the shore, but the natural environment that awaits is worthwhile each step you take. There is an access fee to the parking area.
Ses Fonts de n'Alis beach
We find this beach in the direction of Mondragó Natural Park. Its popularity is due to the fact that it is great for families, is surrounded by a beautiful landscape and has free parking nearby.
Where to eat
Food is surely one of Santanyí's strong points. Here we will find extraordinary restaurants where to savour typical regional dishes such as Es Cantonet, one of the restaurants offering the best of the Mediterranean with Asian influence.
There are others showing international influence such as Sa Botiga, which has managed to combine spectacular buffet breakfasts with German influence together with art exhibitions, delivering a different way to enjoy delicious food and great activities. Another restaurant that follows this trend in combining food and art is L'Art de Vivre, of French influence, and is magnificent to delight ourselves with the paintings that embellish the walls.
There are other restaurants such as Bacco. This restaurant has a superb patio where the most exquisite Italian food in a pleasant atmosphere is served. And if you are interested in a more informal place, stop by the Sa Cova bar and enjoy great tapas.
Where to lodge
You will find numerous hotels and all sort of accommodations in this municipality. Among them, you can stay at S'Hotelet de Santanyí, a beautiful hotel in town, very cosy and decorated with different works of art.
For those seeking to get away from town and favour a more rural environment, you will find your match in the town of Ses Salines, where Es Turo Rural Hotel is located.  This estate was transformed into a hotel and it is close to town. Another option is C'an Bonico, a beautiful old mansion that is now a hotel.
Check Available Accommodations
The weather
Santanyí has ​​a typical Mediterranean climate. Its privileged location in the southeast of the island of Mallorca delivers pleasant temperatures throughout the year. This climate is fantastic for outdoor activities, especially from spring to mid-autumn, but continues to be pleasant during the winter months.