Stunning cliffs
If you are seeking a place in Menorca where to enjoy the sand and the sun, beautiful natural scenery and have nearby entertaining tourist attractions such as the spectacular cave d'en Xoroi, Cala en Porter is one of your ideal holiday destinations.
Here you will find Cala en Porter beach, a wonderful natural cove surrounded by two enchanting cliffs. These cliffs produce a beautiful image as construction is present only in one of the sides of the cliff, a residential area responding to the same name. There you will find all kinds of services such as bars, restaurants, playgrounds, shops and pharmacies.
Cala en Porter is located on the southern coast of the island and is part of Alaior municipality. If you are eager to discover everything that awaits you in your next trip to this area, keep reading our tour guide and take note.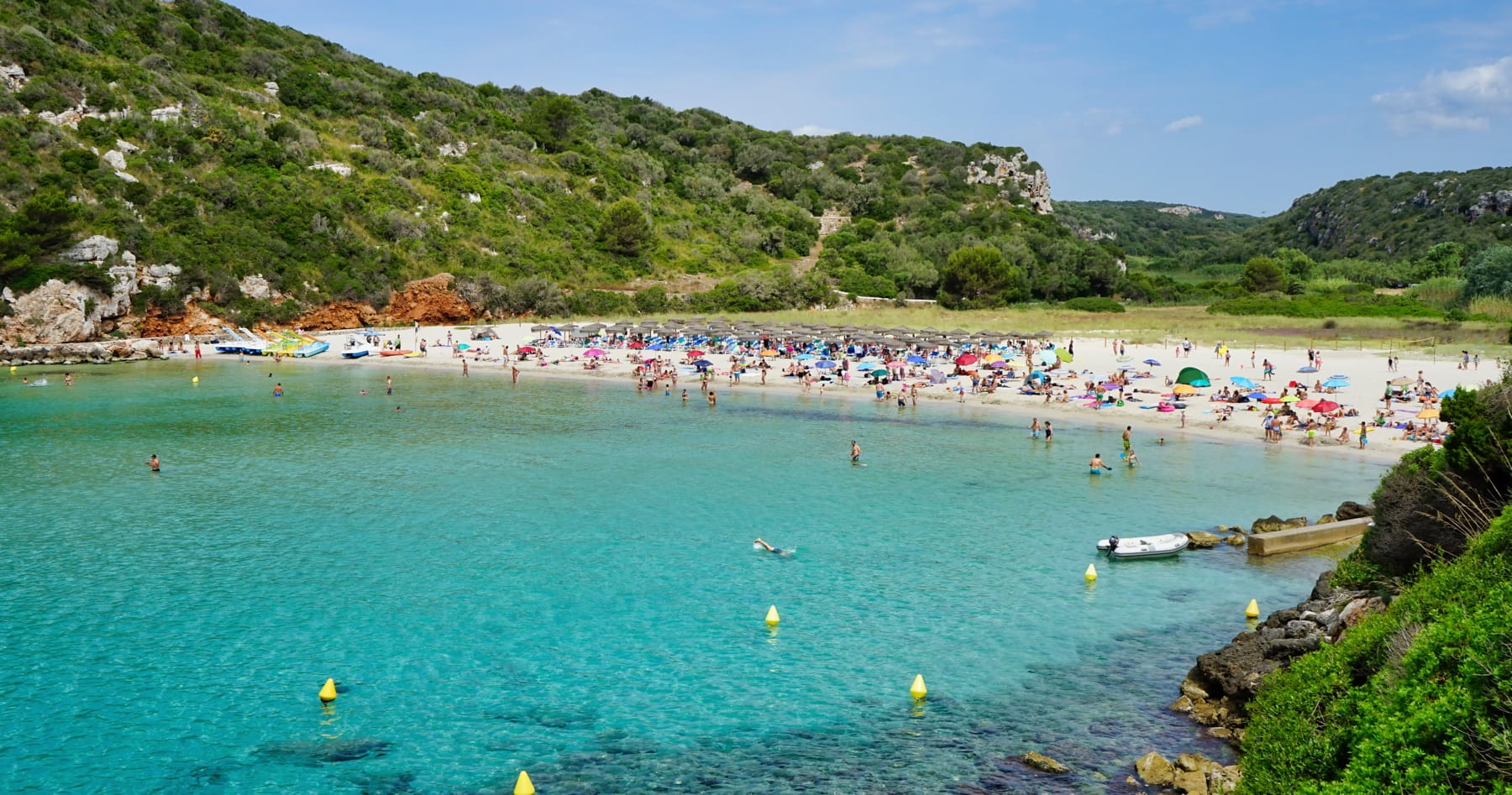 How to get there
Maó airport is about 12 minutes from this destination. To get there, you must take San Climent's detour and drive until you are awed by the shiny blue colour of the Mediterranean Sea over the beach line.
What to see
Cala en Porter attracts a diverse tourist audience, from young people eager to party, to families looking for a place to relax.
The points of tourist interest available are those that position this area as one of the best to visit. The following stand out:
Cova d'en Xoroi (cave)
This is the place you should not miss out on. This natural cave owes its name to the Turkish pirate Xoroi and is nowadays, the most emblematic place in Cala en Porter. The cave is to be found at the urbanised cliff and during the day, it offers magnificent views to everyone visiting. If you are here around sunset, you will not be disappointed by the visual spectacle. At night, Cova d'en Xoroi becomes the most popular disco in Menorca and the meeting point for young and single people.
Adult entry is €10-12 and children €5, depending on the season and time of day of your visit.
Torralba d'en Salord
It is a Talayotic prehistoric settlement, which was inhabited from 1,000 BC to medieval times. Several places of interest are worthwhile visiting here such as the Taula de Torralba, as well as a couple of silos, quarries, walls, houses and tombs. Allow this step back in time to embrace you, while enriching your experience with a cultural touch.
It is located 7 kilometers from the beach. Admission fee is €4 for adults and €2 for children.
Cala en Porter viewpoint
Crowning the beach, you will find this viewpoint by going up the stairs and turning left. From here, you can relish the extraordinary beauty of the cliffs, the endless coast and the outstanding performance nature has delivered here. Highly recommended during sunset and with your camera handy.
The Beach
Being granted with shallow waters, it is ideal to visit with children. It is also very well-liked by couples. It has several services such as sunbeds, showers, first-aid posts and lifeguard. It also has parking and an eye-catching playground nearby.
What to do
In this area and especially on the beach, you will find many things to do, both day and night, that will match the most varied and exquisite tastes. Recommended in this part of the island are the hiking routes available, which can be done both guided and independently by only following the signs defining them.
The average duration of these routes is 4 to 5 hours. Most of them come out onto the beach, so you can end the tour with a nice swim.
Water sports
The offer of water activities on the beach is well assorted.
Snorkelling, paddle surfing or renting a pedal boat are some of the options waiting for you. If you want to go on a kayak trip, you will see that the beach has its own slipway to easily access the water. It is an ideal activity to really get to know the coast and appreciate the greatness of the cliffs.
Where to eat
Every trip would be incomplete without having a selection of varied restaurants that offer exquisite and quality food. The great thing about Cala en Porter is that all the places to eat are a few metres from the beach. You can choose among pizza places (with vegan specialties), Mediterranean or British restaurants, seafood restaurants and Italian restaurants.
If you want to go out at night and have a few drinks, Cala en Porter has several pubs where you can have a good time with your partner or friends.
Where to lodge
Cala en Porter has a dozen hotels, apartments, budget hostels and hostels, with different prices and amenities, ranging from basic to luxury. The closer your accommodation is to the beach, the higher the cost will most likely be.
Check Available Accommodations
Surroundings
Alaior, 11 kilometres from Cala en Porter, brings you a fantastic touristic route to explore the city. This includes a visit to Santa Eulalia Church, a Spanish Civil War refuge, its historic centre, Santa María Church, the hill known as Monte Toro and the fish market.
Son Bou is one of the most touristic areas in Menorca. Come to discover the beautiful and long beach and visit the Paleochristian Basilica nearby.