You will find that the Mallorcan town of Bunyola, within the Serra de Tramuntana mountain range, is a very popular destination on the island, as it is considered to be a haven of peace at only 24 kilometres away from Palma.
This is a town that has managed to develop and offer all kinds all tourist services while maintaining its local magnetism. Currently, it has a population of 6,000, which makes it one of the largest municipal areas in Mallorca. Still, it stands out for its natural spaces, its large forests and a fantastic traditional architecture.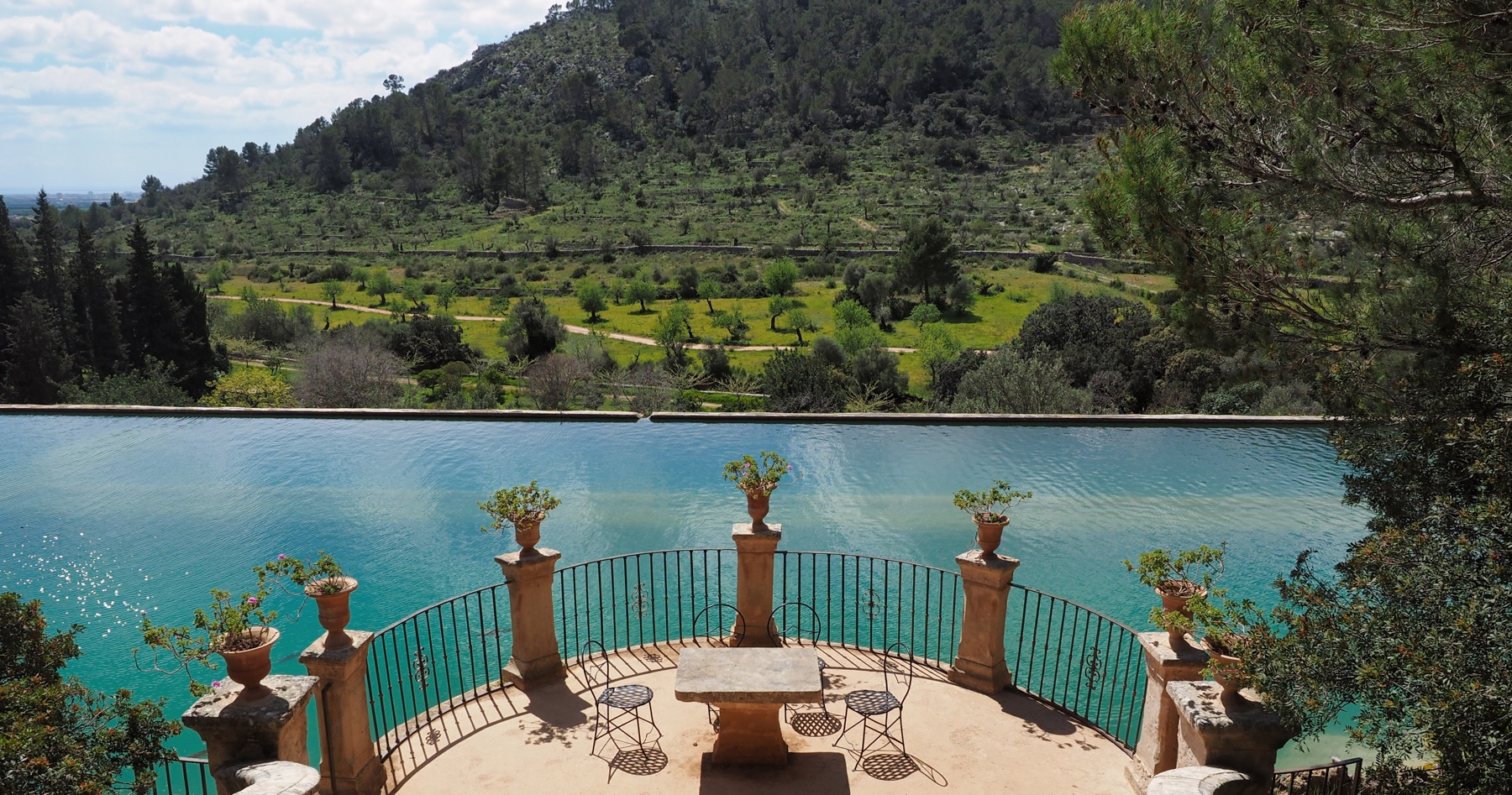 How to get there
What to see
The main tourist attractions in Bunyola are the following:
The village
Strolling through the streets of Bunyola is perhaps one of the main attractions for tourists visiting the municipality. As you do so, pay attention to the traditional stone houses, the perfection of the construction built in such a way that now, delivers a stunning atmosphere filled with flowers grown by neighbours living in these alluring narrow streets. Do not forget your camera. This image you will want to take home.
As we advance, we will be able to see the image of Santa Catalina Tomás occupying a special place on the walls of many houses in town. This saint is genuinely worshiped here and in many other towns around Mallorca. Another aspect that is worthwhile paying attention to in Bunyola are the commemorative plaques shown in several houses. They remind everyone that illustrious people lived in them, making their presence and time lived in town remarkable.
San Mateo Church
It is the main centre for Catholic worship in the municipality. It is in the heart of the municipality and in its main square. It is a church built to the image of baroque architecture from the 18th century and is now home to the gothic image of Nuestra Señora de las Nieves, the town's patron saint.
Raixa Pond
It is a complex of Muslim origin to be found at the Sierra de Tramuntana foothills. From the Estany de Raixa, you can relish the wonderful views of Bunyola. It is a magical place, surrounded by priceless gardens flaunting lush beauty and a powerful history behind. It has been declared an Asset of Cultural Interest and the Centro de Interpretación del Paraje Natural de la Serra de Tramuntana is also here.
Sa Comuna
It is one of the largest Mallorcan forests, owned by the municipality. It is in a mountainous area ideal for hiking, whose paths culminate in the Peñón de Honor, also de name of one of the peaks. It is an area where you are sure to enjoy a dreamlike landscape and be in direct contact with nature in its pure state. Without doubt, a place of great environmental value.
Son Amar and Son Termes
They are two Bunyola 'posesiones' turned into entertainment venues for tourists. They are spacious and elegant mansions that offer dinner-shows and music, although they can also organize private events. These are two ideal places to visit during a holiday in Bunyola.
Alfabia Gardens
This is a gothic house surrounded by large and spectacular gardens that seem to fuse with the mountains in the background. The visit allows you to enjoy a house tour, exploring all the rooms in order to learn about its history and walking through the gardens while observing the many wonderful corners and the indigenous fauna.
Visit the Jardines de Alfabia Website for more information.
Things to do in Bunyola
Trekking
There is no shortage of activities to engage yourself in here in Bunyola, as this is a municipality of large dimensions. Being a mountain town, hiking, climbing and trekking are some of the main activities to be enjoyed, mainly in Sa Comuna. Its massive forests and mountainous areas of easy access make it the perfect place for lovers of outdoor activities.
Ride a bicycle
You can also ride a bicycle as there are many routes to explore. You may follow the most charming rural roads on your bike and stop from time to time to take pictures of the scenery.
Train to Sóller
You will find the train station in Sóller town. This is a tour on a centennial train that runs the distance between Palma City and Sóller, stopping in Bunyola. As it covers the route, the train passes near the mountains, delivering beautiful landscapes to travellers. It is one of the most popular tourist activities in Bunyola because it is a pleasant journey full of charisma.
Where to eat
Finding places to eat in Bunyola will not be complicated. We will find most of the gastronomic options in the streets around Sa Plaça and among them, pizza places, grills or traditional bars where you can taste a wide variety of tapas.
Where to lodge
There are different options for tourist accommodation in Bunyola town, from small hotels where to spend some days surrounded by calmness and relaxation, to more affordable hostels.
Undoubtedly, the establishments prevailing in the environs are rural hotels and agrotourism establishments, in which you can have a unique experience surrounded by nature and the Sierra de Tramuntana mountain range. Both families and couples have options in Bunyola, so spending a holiday in this village can be a great choice.