Cala San Vicente or Cala Sant Vicenç is a small fishing village in the northwest of the island, located 7 kilometres from Pollensa. Although the presence of apartment buildings, resorts and holiday homes is indeed prominent here, this place has managed to keep its charm in great extend thanks to the environment, and the gift of beautiful coves and beaches.
Stop by and enjoy the landscape.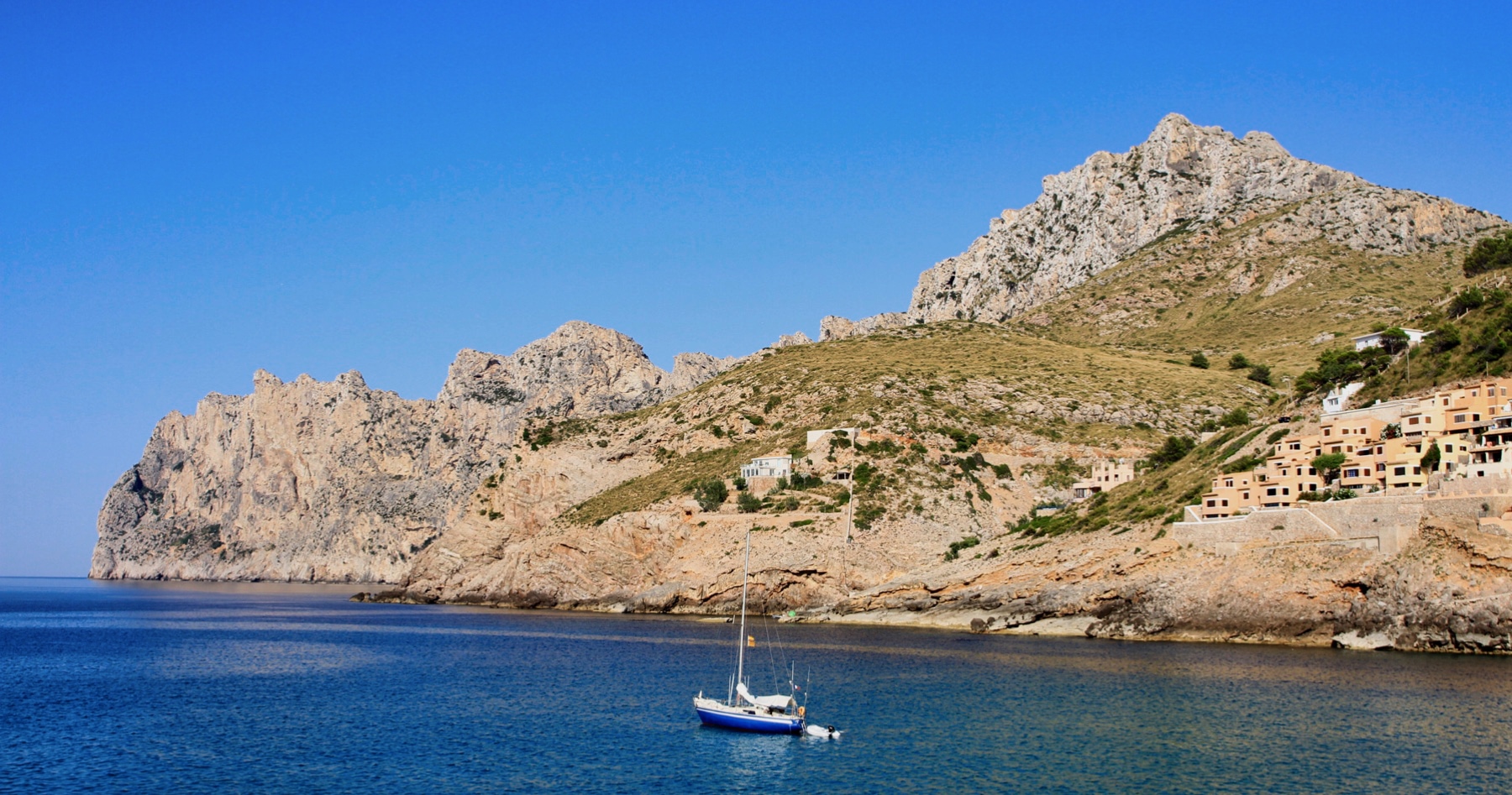 How to get there
Beaches
There are four small beaches drawing up Cala San Vicente: Cala Barques, Cala Clara, Cala Molins and Cala Carbó.
In the background and giving the area a majestic flare, we can see the Serra de Tramuntana mountain range.
If the day is calm and sunny, be sure that you will have a great experience at these beaches. On the other hand, on those days when the powerful Tramontana wind is present, it will probe too difficult to enjoy a swim. Therefore, if you find yourself here on such unfortunate day, we recommend that you use the day to walk around in the beautiful town of Pollensa. If you still wish to spend your day at the beach, you can move to the beaches of Puerto de Pollensa, where the sea will be less turbulent and you will be able to take that swim.
Cala Barques
It is the first sandy beach on Cala Sant Vicenç. It has a jetty that is kept in memory of the past fishing activity. This beach also offers restaurants and umbrellas and hammocks rental service. There is a free small parking lot right outside and if we walk a bit to the right-side of the beach, we are to find Cala Clara.
Cala Clara
This sandy beach with pebbles is the smallest of all and shares space with the main hotel here. On a windless day, you may be witness to the turquoise colour of its waters and the sandy bottom. Although the concrete used in construction here has altered greatly what this enclave must have been back in the day, the Serra de Tramuntana mountain range is sure to compensate for it.
Cala Molins
It is a very quiet beach away from the Tramuntana sea. It hides behind large cliffs that keep it apart from Cala Clara. It is about 50 metres long, has fine white sand and parking space. We can reach it by taking a street called Carrer del Temporal and until we can see the beach.
Cala Carbó
We will find it after Cala Molins. This beach has the peculiarity of having boats piled up against the rocks, far from the shore, in order to seek shelter from the strong winds.
It is the most remote and in the wildest state of all, with abundant remains of posidonia. You can get here by following the road as you leave Cala Molins. You can access this beach through a path from the main road once you have parked your car on the side of the road, as there is no formal parking area near this beach.
Where to eat
In spite of Cala San Vicente size, there are many options here for you to choose from. Most restaurants serve international food along with Mediterranean cuisine.
Where to lodge
There are several hotels and apartment buildings for you to spend your holidays in Cala San Vicente. Note that some of the hotels are for adults only, so make sure you check first if you are travelling with kids.
Another option also recommended for accommodation is to look for a hotel in Alcudia or Puerto de Pollença, both of which are close to this area.