The preferred summer resting place of the British
This port inspired one of Agatha Christie's novels, Trouble in Pollensa. This port continues to attract year after year, a large number of tourists and residents, many of them British, leaving a great aftertaste in their mouth, longing to return.
Puerto de Pollensa or Port de Pollença offers a completely different destination to Pollensa town, with its promenade that seems to have no end, the quiet beaches and a long list of restaurants where to stop and eat while enjoying the scenery.
It is common to see seaplanes passing through the area, since the port's lighthouse is located within a Spanish air military base.
It is located in bay, 6 kilometres from Pollensa and north of the island, and the ideal place to enjoy long walks and spend your holidays in Mallorca.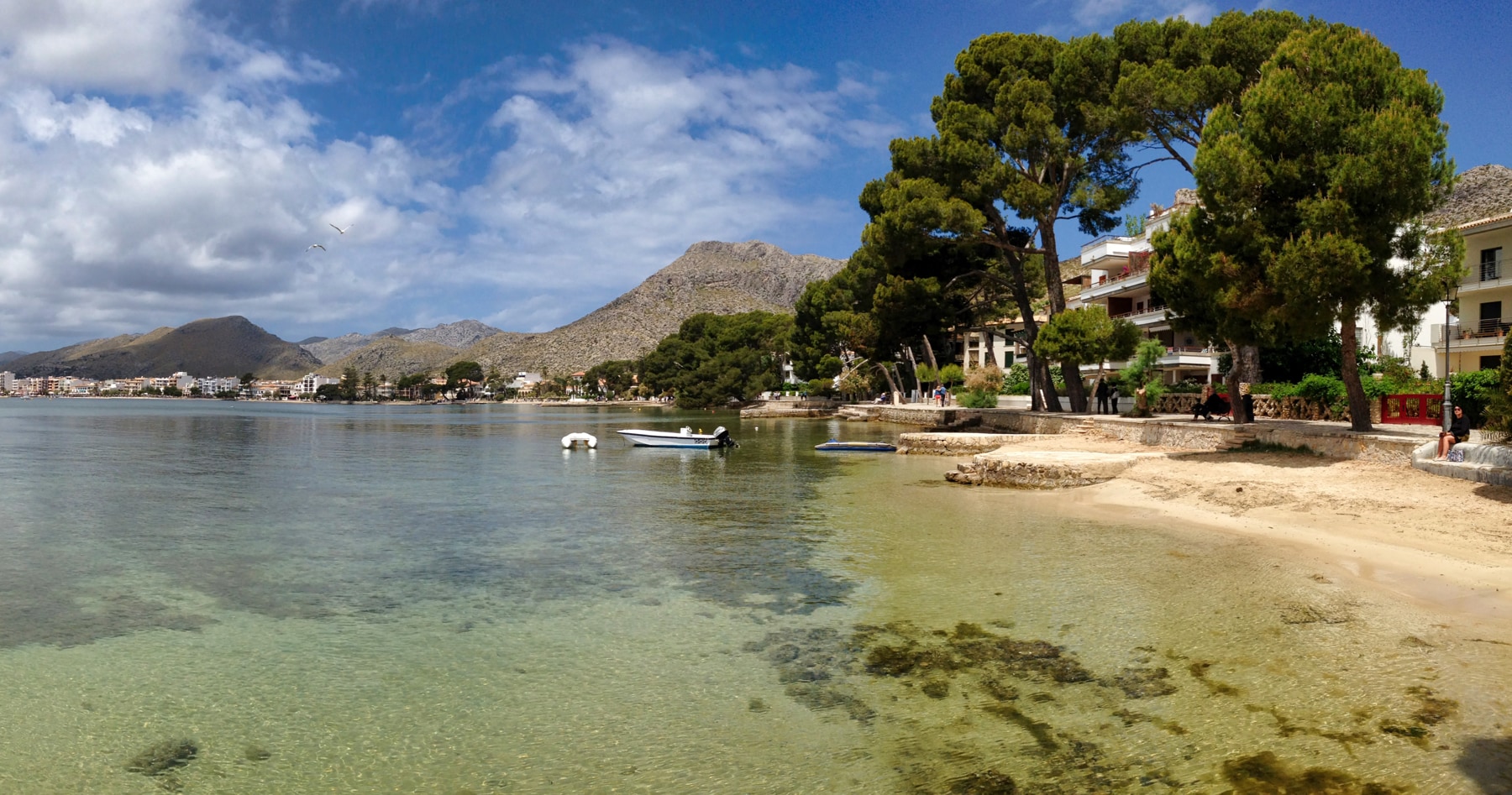 How to get there
From Palma de Mallorca airport there are a number of options for getting to Puerto Pollensa:
Taxi
Note this is expensive - around 90 EUR per single journey at the time of writing.
Bus
This costs about 15 EUR although you need to go to Palma first then change for another bus.
Hire car
The most popular option. Beware of hire car companies that are based outside of the airport terminal.
What to see
It is very pleasant to engage in a pine walk in an area locally known as Paseo de los Pinos, but also along its promenade, while enjoying the view of Pollensa Bay. This area is indeed ideal for cycling or skating.
If you want to go shopping, there are several shops, both on the seafront and in the streets behind the port, some of them clearly intended for tourists. Allen Graham Charity 4 Kids is a store with an abundant collection of second-hand books in English and German. Find it on Méndez Núñez Street.
What to do
Water sports
Paddle Surf: if you like this sport, you must know that the calmness of the harbour waters is perfect to practice it here.
Kite Surfing: this is another sport with increasing popularity. Kite Mallorca and Water Sports Mallorca are two of the companies organizing and offering the necessary gear to practice it.
Rent a boat
Renting a boat and sailing along the coast is a unique and unforgettable experience, which allows you to discover places that have little or no accessibility on foot.
North Mallorca Charters is one of the companies in the area offering this service.
Boat trip to Cala St Vincent departing from Puerto Pollensa - see the coast of Mallorca from the sea.
Hiking in Bóquer Valley
You will have access to stunning landscapes when walking around this area. There is a somewhat hidden cave here to explore and hopefully, you will spot rare species of birds such as Eleonora hawks or black vultures. Leave the port behind and walk towards the north coast to find this beautiful valley. It is prudent to wear good shoes!
Cycling
Port de Pollensa is one of the main points for cyclists who want to explore the north of the island. Every year, the roads in the area are filled with bikes and it is common to see many cyclists training here.
Golf
Pollensa Golf is on the main road to Palma. You can also golf in Alcanada Golf Course, near Alcudia.
Beaches
Llenaire beach
It is the most famous beach in the port and with artificially regenerated sand. This is a man-made beach since there was no beach here years ago, and it is now perfect for relaxing and engaging in different water sports.
Can Cullerassa beach
This beach is located to the south, 3 kilometres from the port. It is common to see families unfold their beach tables and bring their portable coolers in this area, a fantastic place protected by the shade of some pine trees, ideal for a pine walk. Due to the presence of gravel and abundant remains of Posidonia, this is not the ideal beach to take a swim but we can still rest and enjoy the view.
Albercutx Beach
Also known as Albercuix and located towards the north of the port, it is a chain of small fine sand beaches along the promenade, near small houses and covered by the shadow of pine trees. They are shallow beaches that seemed to be decorated with some boats moored near the shore. In order to get here, you must go down Formentor Street and turn right, parking in the streets since the beach is just a few steps away.
Formentor beach
Follow the road to Formentor 9 kilometres from the Port of Pollensa and you will find this beautiful beach. It is perhaps the most beautiful of all as a pine forests gently touches the beach, in addition to the soft sand and the dreamy landscape, with the final touch of a mountain in the background.
Cala Murta, El Caló beach, Cala en Gossalba and Cala en Feliu are small, less accessible coves, which are also worth seeing if we still have some time to spend in the area.
Where to eat
If there is anything in abundance in the port, it's restaurants. They crowd along the promenade and its surroundings. There are many restaurants offering delicious paellas and seafood, but there are also pizza places, Italian restaurants, restaurants where Mallorcan cuisine is available and several cafés near the sea.
If you are going to eat in this area, do not forget to check the list of restaurants in Port de Pollença.
Where to lodge
Hostels, low-priced hotels, villas, 5 star hotels, apartments, etc. Discover the great selection in accommodation in Port de Pollença.
Check Available Accommodations
Surroundings
You can combine your visit to the port of Pollensa by passing through the beautiful beach of Formentor, going up the Cape Formentor Lighthouse, discovering Cala San Vicente, Alcudia and its port, and of course, not missing a stroll around Pollensa and the Es Colomer viewpoint.