Mallorca is one of the most popular destinations on many people's agenda around the world because of its famous beaches, fine food and astounding atmosphere.
Although Mallorcan cities and festivals are notorious, many towns and villages full of personality and charm are waiting for you, and even though they are not as famous and large as others, they are empowered by the essence of this Balearic island. The town of Calvià is one of them.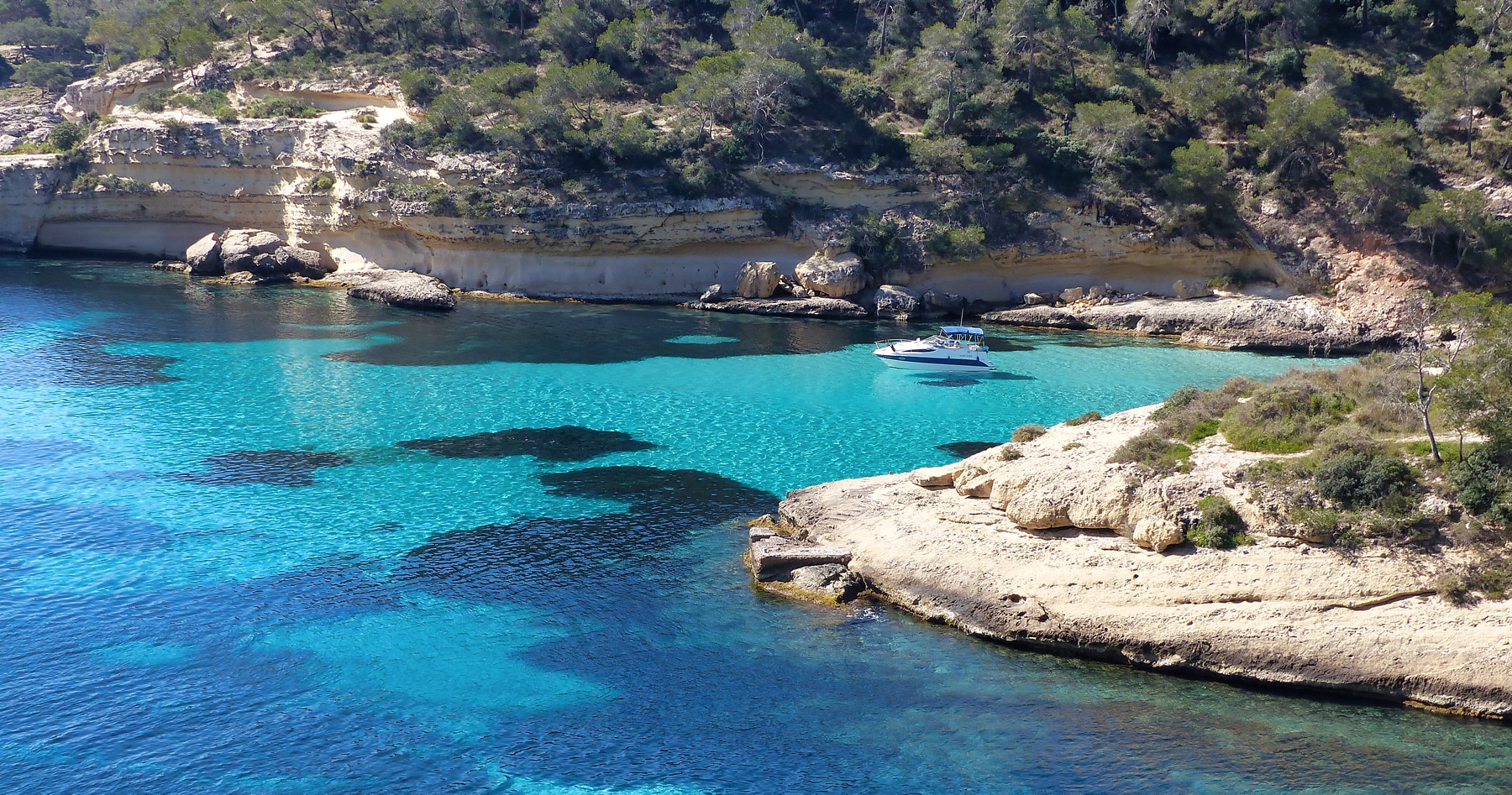 How to get there
Its geographical location is superb, in the southwest of the island and at the foot of the Serra de Tramuntana mountain range. This area is especially regarded as a tranquillity hub with calm bays, gentle breeze of pure clean air and tourist complexes for unforgettable vacations.
This wonderful municipality, just 20 kilometres away from Palma and with almost 50,000 inhabitants, is waiting for you to come and uncover all its charisma. Continue reading to find out about your new favourite destination.
What to see
The municipality of Calvià gathers different areas and urban centres for tourism: the town called Calvià Vila, Portals Nous, Santa Ponsa, Magaluf, Palmanova and Illetes.
Below, we describe some of the points of interest in Calvià:
San Juan Bautista Church
A visit will be fundamental for anyone interested in history and religious architecture. The old San Juan Bautista church was built over the ruins of another earlier 13th century temple. Today, the church is perfectly restored and is one of the most imposing and beautiful buildings in town, an essential tourist spot that brings unparalleled magic to its surroundings.
The Roman Villa
It is one of the main attractions in Calvià, a compound of houses and buildings from Roman times. This villa is considered to be the first example of a Roman villa ever excavated in Mallorca. There used to be a ceramic workshop that provided the town with all kinds of elements.
The site is in Santa Ponça's bay, whose construction unearthed a large part of the ruins hidden until 1984. If you are interested in history, ruins and the Roman era, this is undoubtedly your place.
The weekly market
Famous throughout the municipality and also across the neighbouring villages, Calvià has a large weekly market featuring local products. Every Monday, several stalls are set up in the middle of Main Street or Calle Mayor, very close to San Juan Bautista Church. Local merchants use it to sell all kinds of food, clothing and even handicraft products. The market is the highlight on Monday morning, as it has the spirit to create a festive and joyful atmosphere that is well worth living.
Serra de Tramuntana
Calvià is located at the Serra de Tramuntana foothills, one of the most characteristic sites in Mallorca and now a UNESCO World Heritage Site. It is a mountain range with beautiful mountains and hills, rivers that run through the heart of the island and flow into the area wonderful beaches. This natural setting and its characteristic green colour have the power to move anyone. Undoubtedly, it is one of the most interesting spots in the area and we can say, throughout Mallorca.
Beaches
Of course, any Mallorcan municipality that is proud to be one must have a beach nearby, and Calvià is the case. The vicinity is full of breathtaking beaches and dream coves, but the most impressive fact is that the Foundation for Environmental Education has awarded up to 10 beaches in the area with the prestigious 'blue flag' for their high quality. This makes the town a star destination for any beach and nature enthusiast and surely, neither they nor you will be disappointed.
What to do
Apart from the attractions mentioned above, there is a lot to do in Calvià.
Serra de Tramuntana
In addition to being able to enjoy paradisiacal beaches, exquisite food and welcoming places, it is very common to see visitors hiking and mountain biking through the Serra de Tramuntana, as this place offers several routes that allow the exploration of this famous mountain range.
Cycling
Nevertheless, if you don't like the mountains so much and hiking routes are not your thing, there is a wide bike path that skirts Calvià, a quiet route with several easy and extensive detours. There is something for everyone.
Golf
In addition, there are several golf courses around the municipality where to practice this sport at different levels, whether you are a beginner or an experienced player, there is room for you. Clubs in the area gladly accept non-residents, so you will always have the chance to spend an afternoon playing golf with your loved ones.
Where to eat
There are several cafés, bars and restaurants in Calvià. Many of them serve typical Mallorcan food, so you will be in luck because you can try the classic Mallorcan frit, the tumbet or the delicious Mallorcan soups. But not only that, since Calvià is indeed a very tourist area, we are sure to have access to exquisite food and different cuisines, so we can choose among Italian, Turkish or Asian restaurants.
Where to lodge
Lodging options are also varied in the municipality. There are a few hotels in the city centre, very welcoming establishments but relatively few in number. In the surroundings, however, there are hotels and farmhouse apartments that offer the opportunity to rest while protected by nature.
You can enjoy a nice swimming pool and other modern comforts in a natural and rural setting.  In addition, several of the hotels in the area offer golf, hiking guide services and the recommendation of cycling routes if needed. If you would like to do any of these activities, there is nothing better than being guided by local workers, who are perfectly acquainted with Calvià.