Magaluf is a tourist area in ​​Mallorca to the southwest of the island and within the municipality of Calviá.
This place defines the word 'party' and consequently, drags a bad reputation with it, supported by the booze tourism and some misconduct at night. In spite of this, Magaluf has beautiful corners for you to discover during your holidays in Mallorca, as well as a 1,600-metre long sandy beach, and a wide offer of leisure and entertainment within the tourist's reach.
Most tourists staying in Magaluf are British, followed by Scandinavian and Irish, attracted all by the fun and nightlife, added to the presence of low-cost accommodation.
If you are young, single and what you are looking for is a party and have a blast, you are in the right place. But remember, there is no need to be part of the terrible scenes performed by some tourists in order to have fun, as we would be only contributing to perpetuate Magaluf's bad reputation.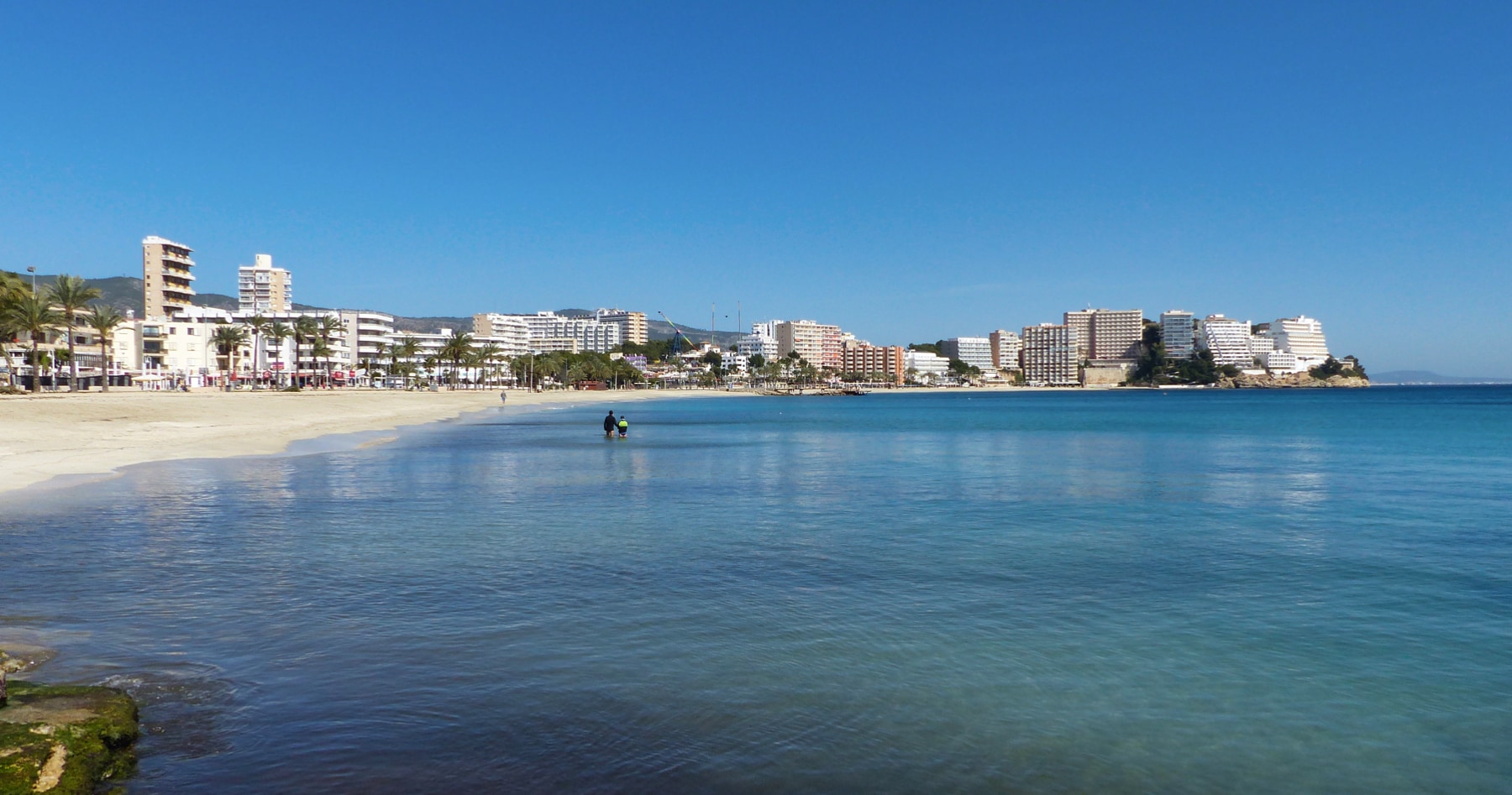 Beaches and coves
Here you will find the great beach of Magaluf, with many leisure places and a great hotel offer around it.
If you would like a more relaxed atmosphere to enjoy with your family, Palmanove beach offers many amenities and services and is not far from Magaluf's hubbub.
Bella Donna cove
It is located in the Sol de Mallorca residential area, with pebbles and sand, and granted with quite a hidden access you can find by walking through the streets.
Portals Vells beach
This is an easily accessible beach with 2 bathing areas. Moreover, there are some caves 5 minutes away from the beach. This is an interesting visit since you will be able to see some altars carved in the rock.
Find more nearby beaches in Calviá Beaches.
What to see
Pirates Adventure Show
It is an impressive pirate show, accompanied by a dinner you can enjoy with your family. It is usually open to the public from the end of March until October. There is also a late show for people over 18 called 'Pirates Reloaded'. Here, only drinks are included (no dinner) as it is on in the late evening.  
Check out more information about the show on their website.
Marineland
It is a theme park that combines wildlife and water. There is an animal area where to see exotic bird shows, dolphins and sea lions, while you will have a great time on the diverse slides and the swimming-pools in the water park.
Kathmandu House
This is a fun theme park and you will realize of the fact right away. Come and see the shocking look of a house facade built upside down and take with you this unique experience. Check the 4D adventure, do some climbing, get wet in the water park, and have fun with optical illusions and many more attractions.
Western Water Park
This is a western-themed water park.
What to do
Discos and pubs
Magaluf's most prominent feature is its nightlife and most of it is happening in Punta Ballena, Magaluf main street and also, the busiest of them all. Here you will find 6 discos and BCM Planet Dance among them, which is considered to be the second best disco in Europe, but also recreational lounges, pubs, bars, taverns, restaurants and topless bars.
Magaluf Karting
Experience the feeling of driving a kart and revel in with friends or family.
The Wave House
If you want to learn how to surf, this is the supreme leisure place for doing so, as you will be able to surf some waves in the wave pool. Worry not, you can also relax in the swimming-pool, have a meal while enjoying live music or stay at the hotel here.
Nikki Beach
If you are looking for something more glamorous to do on your vacation, Nikki Beach is a luxury beachfront club and well-known among the rich and famous. Besides the fantastic atmosphere, you can enjoy the swimming-pool, the beauty treatments, music and shows, along its gastronomic offer.
Golf
Golf lovers will enjoy at T Golf & Country Club Poniente in Magaluf, but also only a few kilometres away at Santa Ponsa Golf.
Where to eat
If Magaluf's accommodation offer is generous, the catering offer does not fall to far from it. Choose the best restaurant and your best meal from all the restaurants in Magaluf.
Where to lodge
Magaluf has a wide range of accommodation, such as hostels, low-price hotels, luxury hotels or hotels with a swimming-pool. If what you are looking for is an all-inclusive hotel to spend your holidays in Magaluf, you will also find it.
Check Available Accommodations
Surroundings
Whether you are staying in Magaluf or just visiting the area, there are other nearby places that may interest you. Portals Vells and its beautiful beach are among them, but also Palma Nova, optimal for travelling with kids.
If you have more time, you cannot miss out on the opportunity to visit Andratx and Port d'Andratx. These two towns are located about 15 and 20 minutes from Magaluf by car respectively. They will both leave a pleasant memory inside you.