Puigpunyent is located on the Balearic Island of Mallorca. It is a town with a Mediterranean climate, so summers are very hot. However, being its location higher than others, temperatures are somewhat milder in this town.
Puigpunyent attracts a large number of tourists every year eager to relish its natural reserve, its unrivalled art and views that are second to none.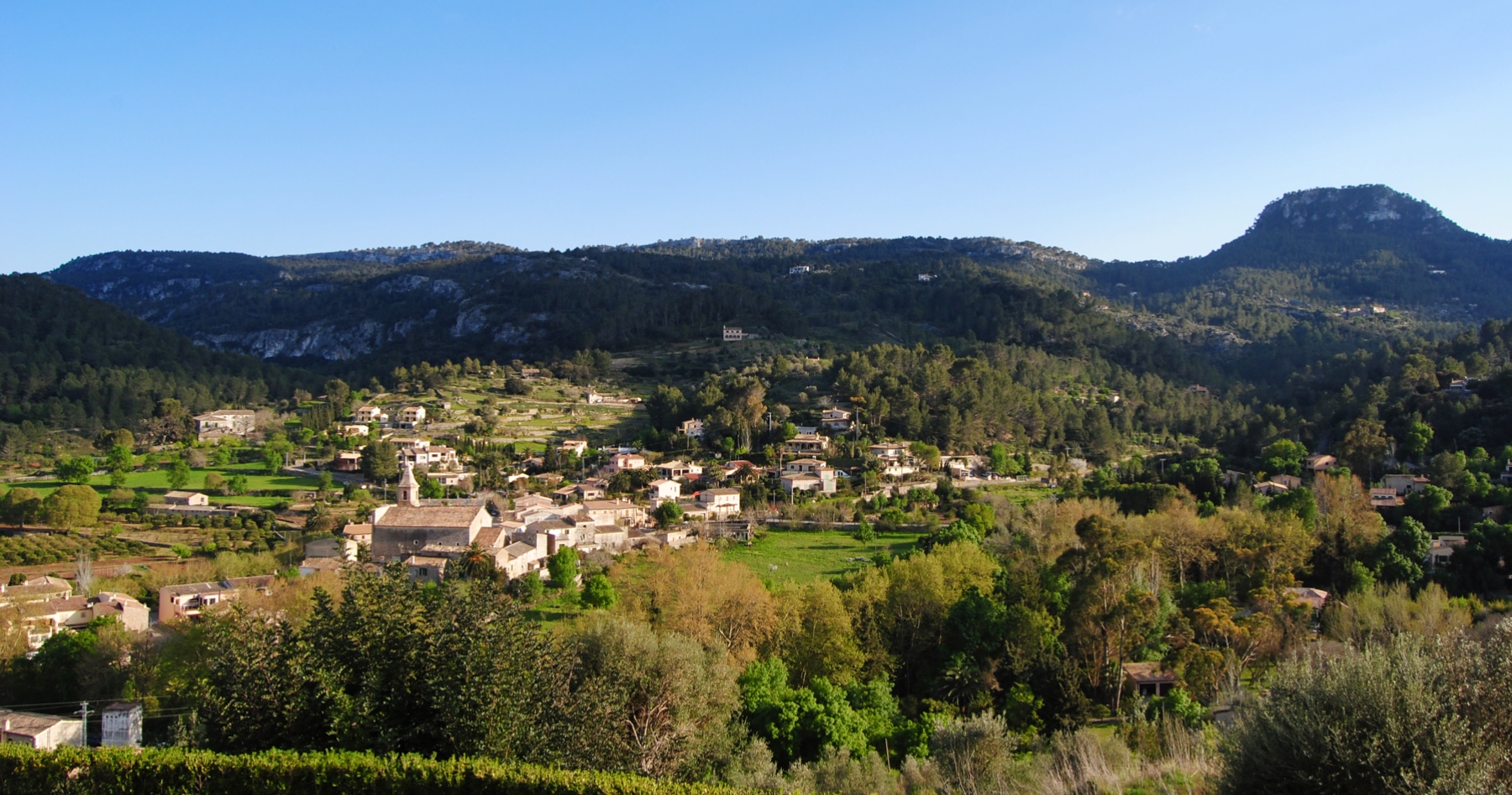 How to get there
You will find this municipality 16.4 kilometres from the city of Palma. If we go on this tour by car, it will not take more than 30 minutes if traffic is fast.
You can also get here by the many buses doing this same route and leave from different locations in the city of Palma. Time could be from 30 minutes to 70 minutes if taking the bus at the furthest point.
What to see
Due to its proximity to Palma and its stunning natural landscapes, this town is a recommended visit if we really want to discover everything the island has to offer. Walk its beautiful streets, observe the stone houses and unmask those perfect nooks from where you can observe the mountains and breathe the purest of airs.
Family vineyards
Thanks to some vineyards having been especially cared for many generations, we can find different local wines today. Standing out is the autochthonous Prensal grape, but also Chardonnay, Sauvignon Blanc, Merlot, Cabernet Sauvignon and Tempranillo.
Puig de Galatzó Reserve
This is one of the most beautiful places in the Sierra de Tramontana mountain range. It is a mountain natural reserve, where you can experience leisure and adventure while contemplating splendid landscapes. A large number of wild birds such as eagles, hawks and vultures fly over this reserve.
Do not miss the zip lines here and release all your adrenaline down the mountain. Moreover, you can walk in the gigantic forests and spend an unforgettable day with your family or friends.
You will also find several pools with natural waterfalls where to cool off and relax, as well as a picnic area.
Carrer des Serral
This is a street located in Puigpunyent centre. We can find a wide variety of services here such as restaurants, hotels and places for entertainment. In addition, it is the street where San Juan Bautista Parish is to be found.
Talayots
We can see a great variety of the prehistoric monuments called Talayots, both public and private, being an example of the former Talayot ​​de Son Serralta and the later Talayot ​​del Gegant.
According to the history of the island, these constructions were meant to defend the zone and be used as watchtowers.
They are built entirely of stone, placed together without the use of a unifying element such as cement or mortar.
Casat Nou Necropolis
It is probably one of the most enigmatic elements around and it is sure to make us think about what life was like centuries ago. These large cemeteries were widely used in the past and it was normal for bodies to be buried together. It is not so unthinkable to find weapons together with the skeletons put down to rest here.
What to do
Sports
Puigpunyent has several of the best routes on the island for excursions, hiking and biking. An example is the climb to Puig de Galatzó, where we will be physically challenged, but also rewarded when reaching the top and we can finally see the amazing views.
We can also go hiking in the Galatzó Natural Reserve.
Music Festival
The music festival is the most famous event in Puigpunyent and takes place in mid-August. All types of music are played throughout the day, including traditional and classical music. This festival also has room for other activities, such as sports, crafts or art exhibitions.
Where to eat
The gastronomic offer this town has is assorted. We can find both Mediterranean and Mallorcan food, but also other nationalities, such as Italian. This way, gastronomy lovers will have nothing to fear.
Where to lodge
If we want to spend our holidays in this touristic destination, we must know that we can find hotels of all kinds, including 5-star hotels. Some of these hotels have swimming-pools or spas. There are also rural and conventional hotels, so we only need to mind choosing the one that best suits our needs.
Check Available Accommodations
Surroundings
We recommend visiting the beautiful town of Andratx and Port of Andratx, about 45 minutes from Puigpunyent by car.
Esporles and Valldemossa are places not to be ignored in your touristic route if you decide to stay in this town.
And of course, you cannot finish your vacation before you visit the city of Palma, the capital of the island.