Welcome to this wonderful paradise, where you will find some of the most pristine beaches you could ever imagine.
If you like to walk, let yourself be carried away by the intense blue colour of the sea. Take your time to find some of the most precious jewels of the Mallorcan island on the coast of Ses Salines, among which is Es Caragol beach.
This municipality comprises the town of Ses Salines and the pleasant tourist centre of Colonia de Sant Jordi, on the coast. Several millenary saltworks decorate the beautiful landscapes of this area with a whitish mantle.
If you have the chance of discovering its spectacular coastline at the southernmost point of Mallorca Island, we can guarantee that it will be an unforgettable experience.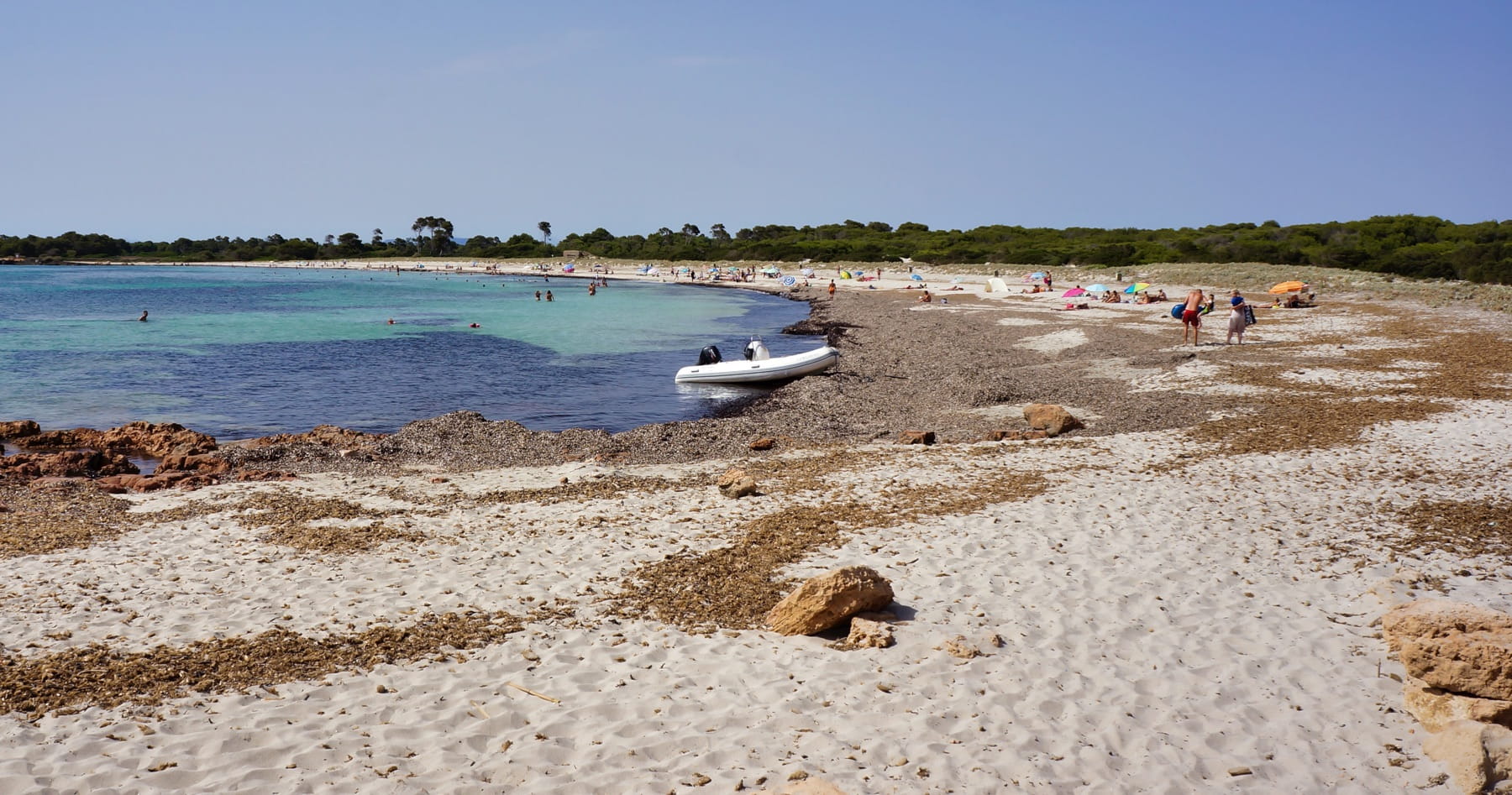 How to get there
What to see
Ancestral legacy and an imposing natural wealth make of Ses Salines the most important ecological territory in Mallorca. It was declared a 'Natural Area of ​​Special Landscape and Rural Interest' by the Balearic Government.
Town of Ses Salines
Popular for the salt and honey produced here, what it is most striking in this town is the tranquillity and wonderful ancient atmosphere present here. It is just the place to experience rural Mallorca, with all the necessary services for a perfect vacation.
The most representative building in Ses Salines is San Bartolomé Church in Sant Bartomeu Square.
Plaza Mayor or main square is the meeting point to roam the colourful weekly market every Thursday morning. Residents and tourists can enjoy fresh fruits and vegetables, assorted typical local products and buy souvenirs to take home. The town hall is also in this square.
Botanicactus
This unforgettable botanical garden is one of the largest in Europe. It is home to 1,600 different species of cactus and about 15,000 species of very peculiar plants.
With 150,000 square metres, this place is ideal for a family walk, breathe the toxin-free air, have some fun and relax surrounded by abundant and diverse vegetation.
Ses Salines Cape and lighthouse
Located in the closest point to Africa, this magnificent part of the coast delivers dream-like sunrises. The plain is bushy and full of junipers. However, this virgin territory is home to a colossal lighthouse, built between 1850 and 1870.
This masterful place offers an unmatched opportunity for excursions: to the east you can visit magnificent coves and cliffs such as Cala des Marmols, Cala S'Almonia or Sa Plana cave. On the route to the west, you can walk to Colonia de Sant Jordi. Platja d'es Caragol, one of the most beautiful beaches in Mallorca, is less than 30 minutes away on foot.
Drive to Ses Salines lighthouse and park on the side of the road. Summertime might complicate parking a bit and you may have to walk more than expected, so remember to bring plenty of water with you. Once you car is parked, go straight on and you will find the lighthouse, which will be the starting point of your journey. You only have to decide whether to go left or right. Either way, you will be mesmerized by what your eyes will see.
From here and if the day is clear, you can view the island of Formentera over the horizon.
What to do
Being bored is not an option on this idyllic riverbank. The natural resources of this Mallorcan gem provide endless options to make the most of every corner.
Trekking
For fans of this sport, Ses Salines is a universe whose wealth includes interesting trails to explore.
As mentioned above, the lighthouse of Ses Salines is one of the main starting points for hiking, with routes that stretch out and into different beaches. These routes run from 20 minutes to 1 hour, depending on how far you wish to go.
The path of Cala de Llombards is striking due to its splendid flora and fauna. The exuberant headlands and caves fill hikers with awe.
Leave Colonia de Sant Jordi behind and will appear once again the opportunity to enjoy the great archaeological wealth of the island. Here, looking at those sleepy and quiet islets, the memory of ancient generations is to the reach of your hand, families that settled here many years ago, placing those first rocks as the foundation for today's natural beauty that is so difficult to find somewhere else in the Mediterranean. Give yourself some time to get to know this nook before you resume your way.
Cycling 
For cyclists, a 16.2-kilometre ride between Sant Jordi and Cala Llombards creates a unique agricultural panorama: windmills, prehistoric remains, defence towers, almond trees, cereal crops and fig trees, all here for them to enjoy while riding through.
Water sports
Ses Salines deep and transparent beaches are the ideal setting for diving, renting canoes or pedal boats, but also sailing and kayaking.
Where to eat
There is a wide range of restaurants to satisfy the most demanding palates in the beautiful town of Ses Salines.
Surrounded by refined atmosphere and live music, diners will taste the elegance and exquisiteness of menus specialized in Mediterranean and European food.
In the town centre, with an original and cosy decoration, you can relish the best pizzas, paellas and local dishes. But if you are keen on seafood, moderate prices and good coffee, you will find several alternatives that will satisfy your expectations right in Plaza Bartolomeu.
Where to lodge
The hotel offer in Ses Salines is heterogeneous.
You will find parador hotels coated by the bombastic look of a mansion from the 13th century, heir to King Jaime I, with minimalistic rooms and a very peculiar library located in a tower that was formerly used as a prison.
There are also boutique hotels and 4 stars hotels in the heart of the busiest beaches. Traditionally stylish and with great swimming pools, they are powered by the romantic atmosphere reigning in their terraces, which contributes to an unforgettable stay.
Across salt lakes and palm tree and pine tree gardens, couples and families will discover a hostel with more than 400 varieties of wine, a heated swimming pool, massage and beauty treatment services and sports activities such as tennis.