Your destination before reaching the virgin island of Cabrera
Colonia de Sant Jordi was a fishing village in the past. Turned into a holiday resort today, its calm and uncrowded winters contrast sharply with lively summer seasons. Here, you can spend a pleasant holiday with your family or your partner, while enjoying the beautiful beaches and choosing among first-class restaurants.
We find this town in the southeast of the island, between the towns of Santanyí and Campos. It is part of Ses Salines municipality.
The main touristic attractions in the area are the famous beach of Es Trenc and the island of Cabrera. Learn more about them in our guide.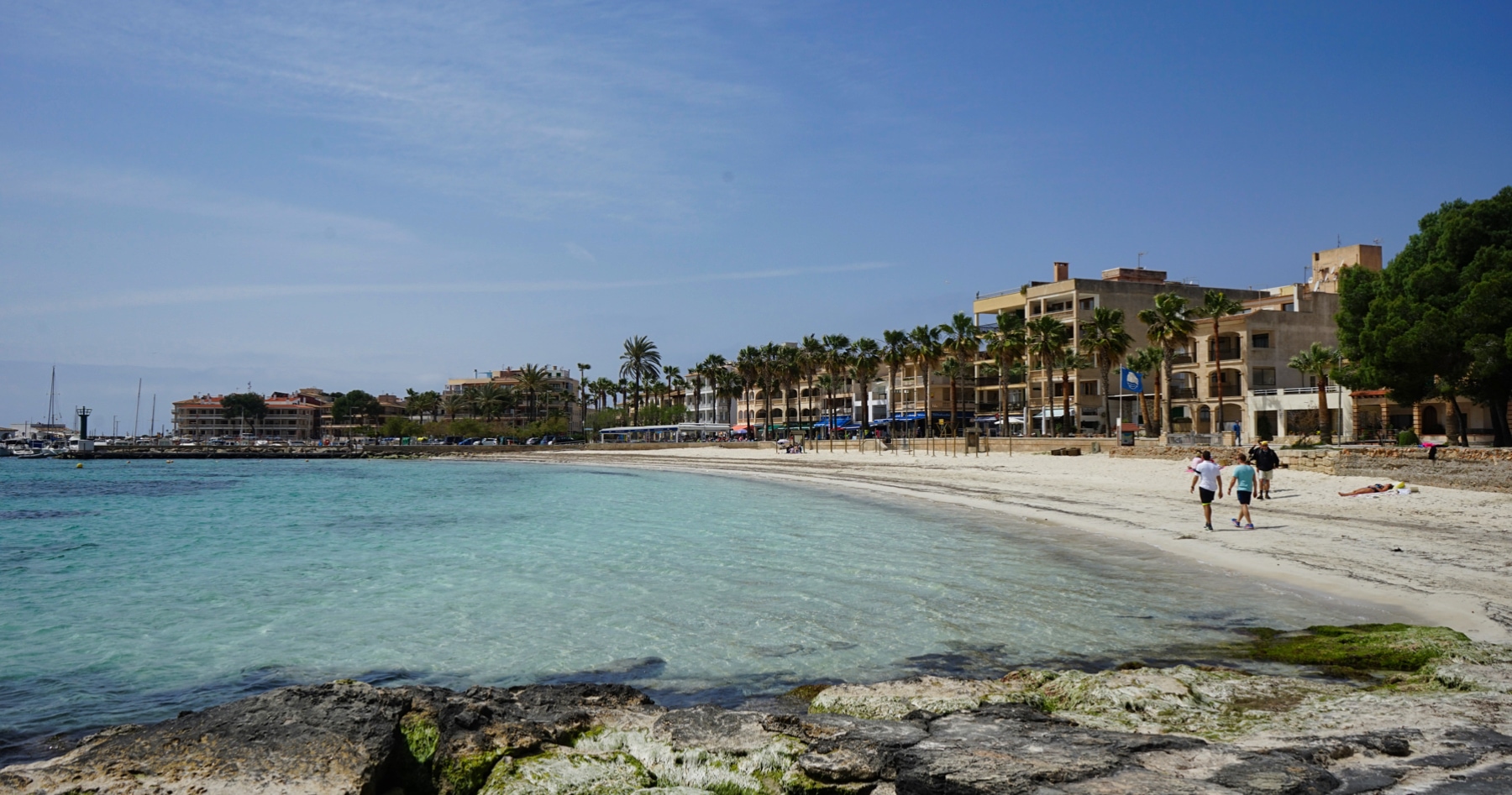 How to get there
What to see
Colonia de Sant Jordi has a fantastic promenade for us to walk along, which starts right at the foot of Es Port beach. If we continue straight ahead, we will find the harbour on our left. A little further on from the harbour begins the promenade that stretches along the entire coastline. This is a perfect place for walking at dusk but also, the spot from where to see the island of Cabrera.
The weekly market is set up on Avenida Primavera on Wednesday mornings. On this street, we will also find a variety of fashion, gift and fine food shops, as well as numerous restaurants.
Centro de Interpretación de Cabrera – Aquarium.
This is a building that brings visitors closer to the history of the island of Cabrera. There is also an aquarium within that is home to indigenous marine species. The visit to this centre is free of charge but you must pay to access the aquarium. In order to see stunning views of Cabrera, we must go up the spiral path to be found inside and reach the terrace. Enjoy the view!
The harbour
There is a marina and a fishing harbour, but passenger traffic to Cabrera is also run here.
Salinas
Towards the end side of Avenida Primavera and before reaching Estanys beach, we are sure to be mesmerized by the particular salt mountains found by the road. These are called Salinas de s'Avall, salt marshes among the oldest in the world and where the extraction of the salt is carried out by the traditional method during the month of August.
In the direction of Es Trenc beach, we find other saltworks, the Salines de Llevant. Here and also in the Salinas de s'Avall, there are two large wetlands called La Llacuna d 'es Tamarells and Estany de ses Gambes. They are both protected areas with important flora and fauna present. Flamingos inhabiting these wetlands can be spotted depending on the time of the year.
What to do
Bicycle rental
The promenade has a bike path. You can also bike along the promenade that skirts the entire Colonia de Sant Jordi's coastline and reach its beaches.
Excursion to Cabrera (Cabrera National Park)
Cabrera is an uninhabited island near Colonia de Sant Jordi. It was formerly used as a prison.
Boats going to this island set off from the harbour. All boats coming to the island must have a special permit.
There is an information booth on the seafront promenade where you can find information about all the different excursions. You can also get tickets here, but if you prefer, you can purchase them online and get a good deal.
Cabrera is a protected island with spectacular virgin beaches ideal for diving as it has crystal clear waters. If you are a professional diver or if you just have goggles and a snorkel, you will be amazed by the marine life waiting for you on the seabed.
If interested, you can hire a diving excursion in Cabrera's waters.
Route on a touristic train
A wooden train runs through Colonia's streets, from the harbour to an area known as Marqués, where most of the hotels are located. Round trips are €3,50 per person.
Rent a boat
We can rent a small boat in the marina in order to better explore the coast. This is a good way to know all the fantastic corners in depth and you can do so without the need of a boat skipper.
Water sports
This is an ideal area to go canoeing.
Ironman
Colonia is regarded as a meeting place for many athletes. It has a fantastic Olympic swimming-pool and therefore, it is visited by professional swimmers, cyclists and triathlon contenders participating in the Ironman competition.
Beaches
Colonia Sant Jordi has fantastic beaches such as Es Port, Es Dolç, Es Carbó or Es Marqués. Even though it is part of Campos, the paradisiacal beach of Es Trenc can be accessed from Colonia Sant Jordi.
Es Port
At the beginning of the promenade, we find Es Port, a beach with sleepy waters and white sand, easily accessible on foot and with free nearby parking. This beach is ideal for visitors with children as it is protected from the wind and its waters are shallow. Despite being in the harbour of Colonia de Sant Jordi, the waters are always clean. It is very much visited by tourists due to its central location.
It has umbrella and hammock service.
Es Trenc
It is a sandy beach of 2,640 metres long, with fine white sand, wavy dunes and wonderful pine trees. When the wind does not blow, you can witness the spectacle created by the shiny turquoise colour of its waters. Being this place a protected area, you will not see any buildings around. The combination of all these attributes makes it a paradisiacal beach.
Nudism is possible in an area at the end of the beach.
Come to this beach by car from Kilometre 8.8 off the road from Campos to Colonia Sant Jordi, taking a road there that will take you to a paid parking.
There is another access from Ses Covetes beach after walking a few metres, since the final stretch of Es Trenc borders this beach. Here, you must also pay for parking.
Es Dolç
It is a virgin beach, easily accessible, where you can enjoy on your own, in the company of your partner, but also if you are travelling with children. It has high influx of people, especially of residents from other urban areas near Colonia de Sant Jordi.
It has umbrella and hammock service, but also a snack bar where you can eat or have a refreshing drink. Its waters are shallow and waves are irrelevant.
You can access this beach on foot from Es Port beach, about 300 metres away and upon walking along the promenade along the coast.
Where to eat
Colonia de Sant Jordi has a wide range of bars, cafes and good restaurants. Most of them are concentrated on the promenade, the harbour and Avenida Primavera.
Come and enjoy Cassai Beach, a restaurant with a lovely décor, where you can eat but also have a drink while relaxing on the terrace overlooking the sea.
Sal de Cocó, with its tasting menu with remarkably elaborated dishes, and 5 Illes with Canarian specialties are other two recommended restaurants in this town.
Where to lodge
You can find 3, 4 and 5 star hotels with spa and swimming-pool here, but also apartments, a boutique hotel, agrotourism and aparthotels.
One of the hotels in this area offers thermal springs, which makes it unique on the island of Mallorca. This is a 5 star spa hotel and apart from accommodation, offers thermal and beauty treatments for guests.
Check Available Accommodations
Surroundings
Make of a visit to the stunning town of Santanyí the final touch to your stay in Colonia de Sant Jordi. Do not miss out on a stop by its local market.
Come and explore Cala Figuera as well, a lovely fishing village that will surprise you, surrounded by stunning landscapes and possessed by the charming look of the boats resting on the clear water.