Hop on the tram!
Sóller is that dazzling and picturesque town you cannot leave before seeing its streets and admiring its beauty. Port de Sóller, its port, is only a few kilometres away, which you can reach by car and by following a road lined with fruit trees, or even by tram from Plaza de la Constitución in Sóller.
The tram fare from Sóller town to the port is around €7. The route is 5 kilometres long and you can purchase tickets in Sóller or in Palma. If you are going to Sóller from Palma by train, you can buy the tram ticket then.
Port de Sóller is the largest port on the northwest coast of Mallorca. Full of sailboats, it is also the starting point of many marine excursions.
The maritime trade in Sóller and Port de Sóller was very important in the old days, flourishing by the natural isolation of Sóller from the rest of Mallorca due to the presence of the Serra de Tramuntana mountain range.
Thanks to the export of its products, especially citrus to France and other destinations, the town developed and captured the great wealth we can appreciate and enjoy today when visiting. The construction of the tunnel in Sóller has increased the influx of vehicles and people in area.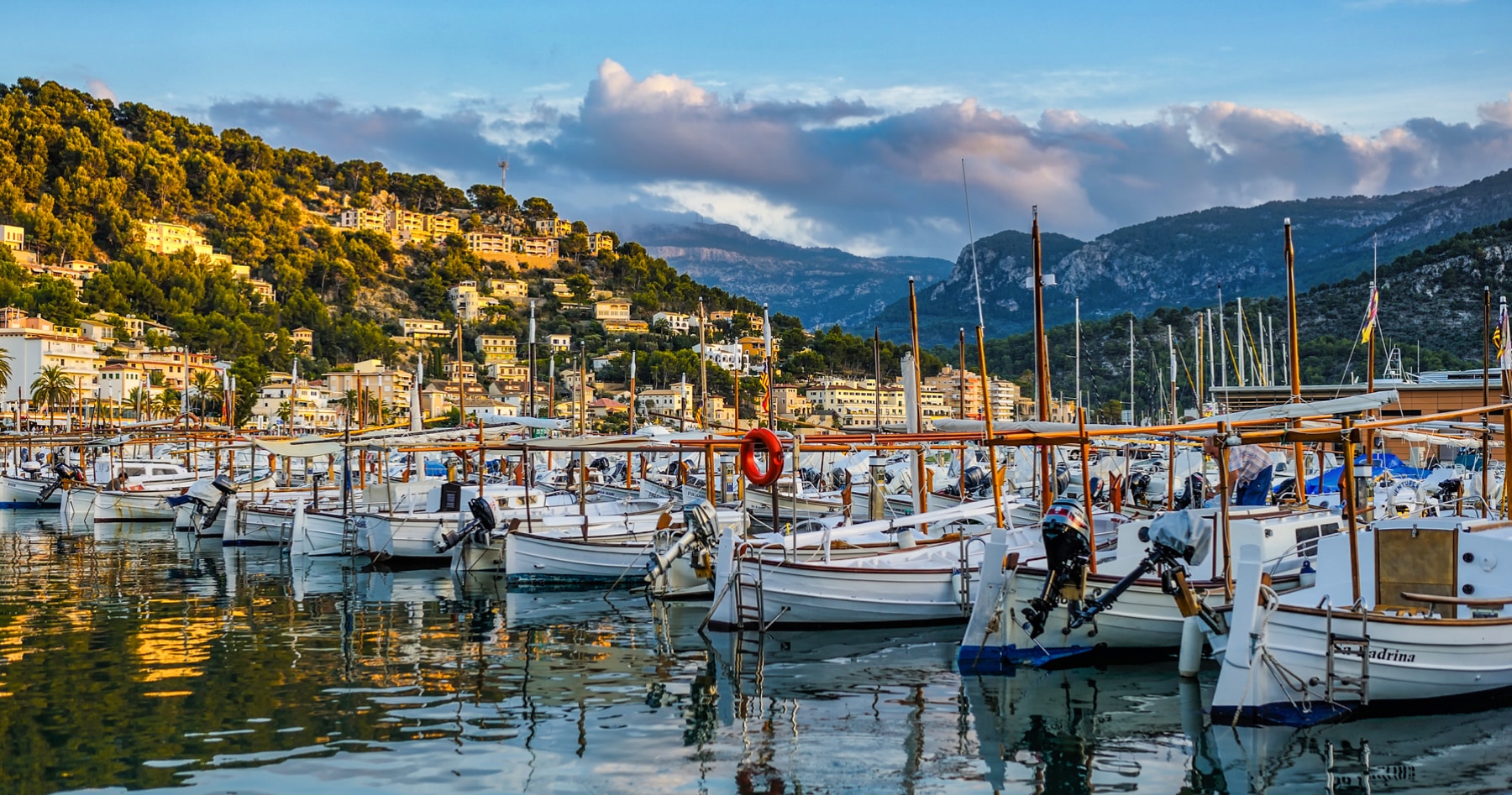 How to get there
What to see
Port de Sóller is part of a shell-shaped bay. It is a fishing port but also a tourist complex that offers all kinds of services to tourists.
There is a small black and white lighthouse called Faro Muleta. The presence of this lighthouse, together with boats and the busy movement of its docks, convey an image of extraordinary beauty. Needless to say that the sunset we can savour from this lighthouse is remarkable.
You can walk the steep streets and reach the old chapel, also known as Santa Catalina hermitage, from where we can have a stunning panoramic view of the bay and the sea. Santa Catalina viewpoint is located at the foot of the hermitage and there are no words to describe what nature has created for us here, as in front of us, the deep blue sea opens to infinity.
The Museum of Mar de Sóller is in the hermitage and offers information about the marine history of this town.
What to do 
Excursions from the port
Boat from Port de Sóller to Sa Calobra
You will enjoy the landscape of the north coast of the island and the Sierra de Tramuntana mountain range if you choose to do this tour. Once you get to Sa Calobra, we recommend walking to Torrent de Pareis as it is an enjoyable stroll and short distance. As an alternative, you can drive to Sa Calobra but you will have to do so along a road full of sharp curves and spectacular landscapes nonetheless. If you are prone to carsickness, you should give it some thought before taking up this curvy adventure. Taking a boat is a fine alternative.
Piedra en Seco Route
This route crosses the Sierra de Tramuntana mountain range and goes through Port de Sóller. It is ideal for mountaineers or Nordic Walking enthusiasts.
Water sports
You can go diving in the harbour and explore the beauty of the seabed. You can hire water activities from the Octopus Diving Centre Company, whether you are a professional or beginner.
Beaches
There are 2 beaches in the port called En Repic and Es Travès.
En Repic beach
It is a 271-metre-long sandy beach with calm waters and modest slope; it is perfect for families with kids. It is serviced with showers, rental boats with pedals, umbrellas and hammocks.
Es Travès beach
It is the closest beach to the port, with palm trees and train tracks that stand out behind it. You will find this beach as you reach the port on your left-hand side. Here, you will enjoy the calm waters and very fine sand, but also the service of showers, sun beds and umbrellas. There are several restaurants and hotels on the beach.
Where to eat
There are plenty of places that, among other options, offer good paella and fresh fish in the port.
Check out our selection of restaurants in Port de Sóller.
Where to lodge
In Port de Sóller, you can stay in apartments, hostels, 2 to 5 star hotels, hotels with spa, boutique hotels or rural properties.
Check Available Accommodations
Surroundings
The visit to Port of Sóller goes hand in hand with the exploration of the streets in Sóller town.
Deià and Valldemossa are other nearby towns also full of charm, and places you should not miss out on during your holidays in Mallorca.