Cala d'Or is a regarded and admired tourist area where to spend a holiday in Mallorca. It's part of Santanyí and is located on the island east coast.
With a lively atmosphere during the summer months, Cala d'Or has adapted its services to tourists frequenting the area. There are several restaurants, bars and shops, a yacht club and numerous places that stir nightlife up here. Around all this, you will find some beautiful beaches.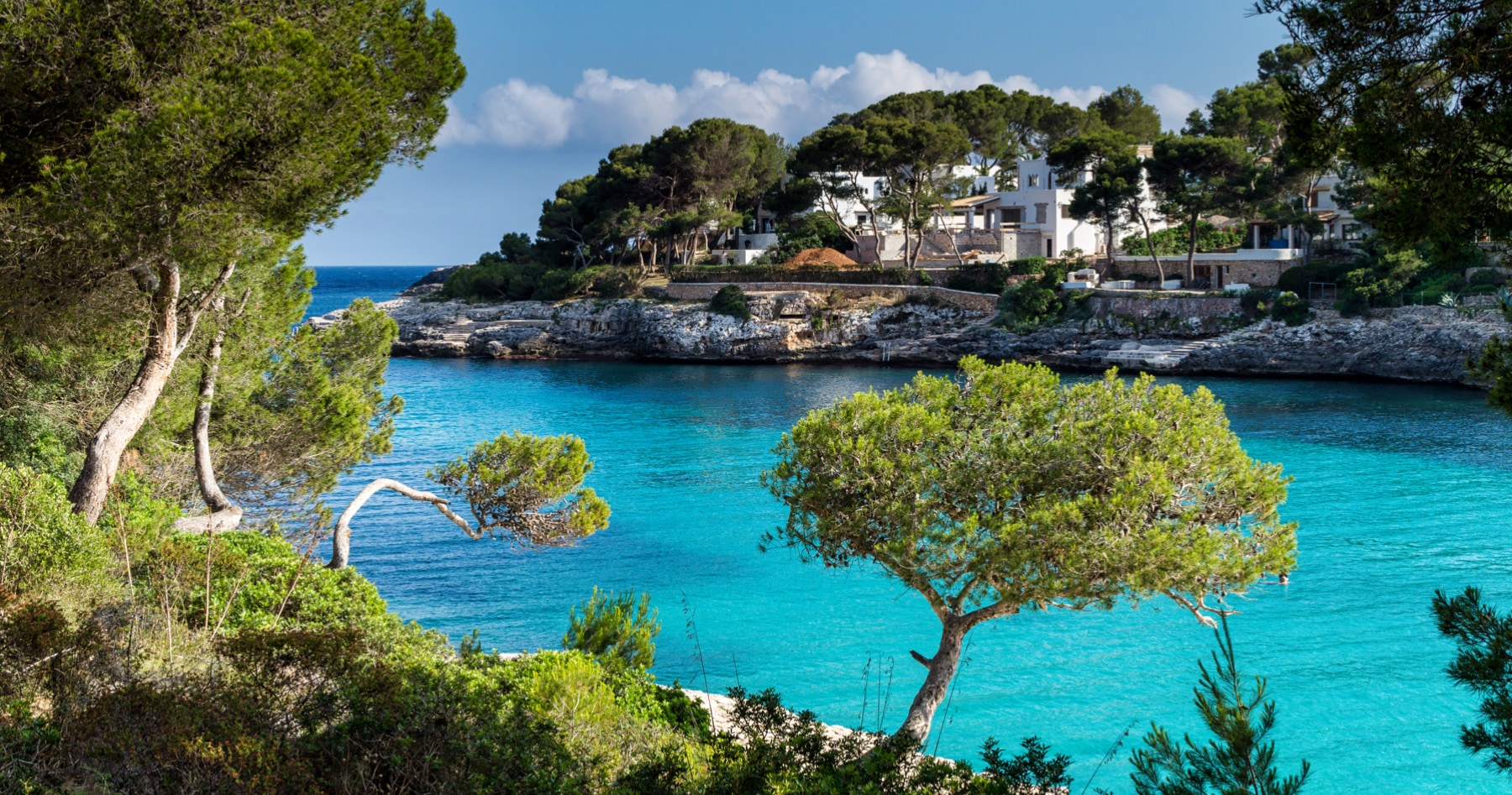 How to get there
From the Airport
Cala d'Or is 59 km from Palma airport (about 50 minutes by car). To reach this destination, take the autovia towards Santanyí. Once the autovia ends, cross the village of Campos and follow the signs to Santanyí and then you will find the diversion to Cala d'Or.
How to get from Palma de Mallorca to Cala d'Or
Whether you have a rental car or you are here with your own car, you can easily go from Cala d'Or to other points of tourist interest to get to know the island better.
There are public buses, busier during summertime, available for tourists who don't have a car on the island.
Line 501 goes from Cala d'Or to Palma. The journey takes 1 hour and 50 minutes and has several stops along the way.
What to see
Cala d'Or has been the first area to be developed as a ​​tourist complex in Mallorca. It preserves though the original architecture of white houses that reminds us of Ibiza.
Shopping
The pedestrian zone is a long promenade where you can find a great variety of shops that are in summer open until late. It is great for a walk with the family or with children. To be found on Avenida de Bélgica and Calle de Andrés Roig.
There is a mini train that you can ride to go from one place to another.
Cala d'Or harbour
Cala d'Or harbour is located in Cala Llonga (Cala Larga). It is a marina where, in addition to boat maintenance services, several shops, bars and restaurants can be found.
Cala d'Or International Jazz Festival
The Cala d'Or International Jazz Festival is on in June. Jazz bands and musicians from all over the world come here to play. This festival is highly recommended if you are a Jazz lover.
Beaches 
Serena Cove
This is a sandy cove, ideal for those travelling with kids. You will find that this area is highly developed and you will have access to it through the Cala Serena Robinson Club.
Esmeralda Cove
It is a sandy beach with some pine trees that provide some shade and it is, as a matter of fact, perfect for families with kids. The buildings are somewhat further away from the shore than in the rest of the nearby beaches.
Cala d'Or beach
It is also called Cala Petita or Caló de ses Dones. It is a very small beach but just the thing to spend the day relaxing with your significant other.
Cala Gran
It is one of the most crowded beaches in Cala d'Or and is fully serviced.
What to do 
Water sports
Sailing, surfing or diving are some of the water sports you can practice in the port or on some beaches.
Boat ride
Enjoy this unique experience as a way of getting to know the landscapes of this area better. If you wish, you can also have something to eat on board.
There is an ample selection of companies offering boat trips along the coast.
Vita Bel is one of these companies, offering years of experience and a very pleasant approach to business and customers.
Sea Riders is another company offering boat rentals, fishing trips and adventures on high-speed boats!
Play Golf
Vall d'Or Golf Club is a golf course with beautiful sea views. On top of that, it has a restaurant for players and non-players to enjoy.
Nightlife
Cala d'Or is an area that offers a wide selection of places to have fun at night, such as bars, karaoke bars and nightclubs.
Stop by Betty's Music Bar for a drink and enjoy their karaoke box, or if you prefer, try a tempting cocktail at The Quarterdeck Café & Bar while enjoying the atmosphere here.
Where to eat
Cala d'Or is not lacking in gastronomic options. Most of them are focused on tourists, but you will find a bit of everything and a variety of prices as well. And if you want an example, here are two well-known ones:
Churchills Tapas Bar is a good tapas restaurant. Some dishes may be a bit pricey but of great quality nonetheless.
Restaurant Different is a very popular restaurant in Cala d'Or. Here you will find international food and a lot of tourists.
Where to lodge
Within the Cala d'Or tourist complex, you will have access to plenty of hotels and apartments almost everywhere. There will be for you to choose from rural hotels, aparthotels, hostels, all-inclusive hotels, hotels with spa, hotel resort or a boutique hotel.
Check Available Accommodations
Surroundings
Cala D'Or is very close to Mondragó Natural Park, a natural environment that is worth visiting. Here we can walk along the paths and visit its beautiful beaches.
Cala Figuera is another nearby tourist point that enjoys amazing scenery and that we highly recommend visiting.
German visitors really like Santanyí town. Here you can also stroll through the streets, especially on Saturday morning as the local market is open and the streets are buzzing with life and excitement.
Discover the towns of Portocolom and Porto Petro as well. If you want to go a bit further, you can reach Porto Cristo and visit Cuevas del Drach (Drach caves). Be ready to be awed!