Cala Millor is a coastal town located in the northeast of the island of Mallorca, between the two municipalities of Sant Llorenç des Cardassar and Son Servera.
It is one of the holiday destinations par excellence of Mallorca, very much favoured by both national and international tourists. It is a place surrounded by protected natural areas and has a long beach, which is perfect for family tourism. The hills around it make it a wonderful destination for hiking.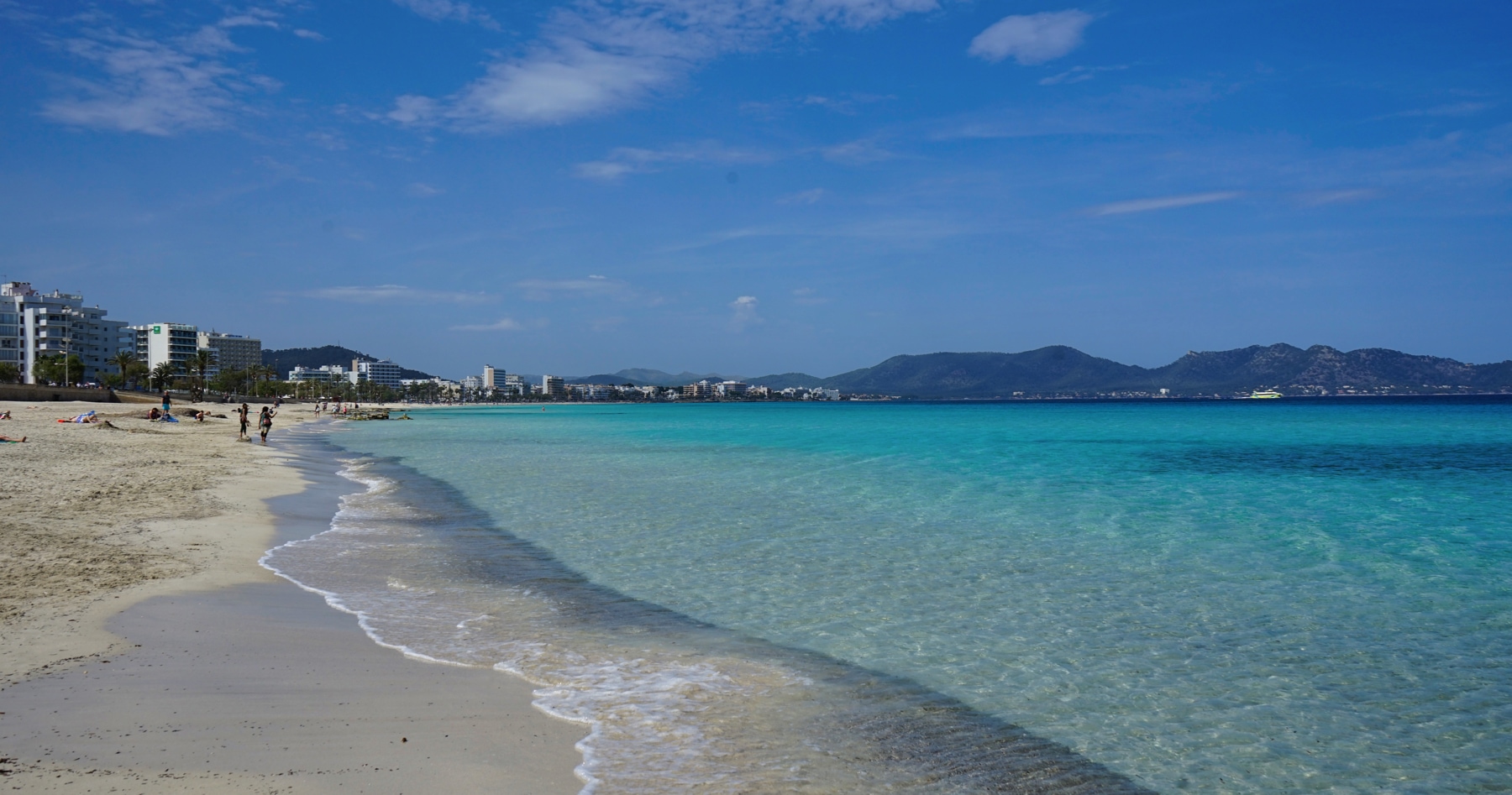 How to get there
You must assess the different ways to get to Cala Millor's urban centre. If you are driving from Son Servera, you have to use the MA4026 road, reaching your destination in just a few minutes. There is always parking available.
You can access Cala Millor using public transportation with the bus from Plaza de España in Palma city and line 412, which usually takes about 2 hours. You can take line 520 from Son Verí and get off to take line 454 at a point where both lines meet, although this option may take a little longer.
What to see
Cala Millor has much to offer the visitor as well as the tourism of sun and beach, although this is undoubtedly the prime option for most people. In any case, the most outstanding touristic attractions are the following:
Punta d'Amer
It is a Natural Area of ​​Special Interest. It is formed by a small peninsula of great ecological value, with pine forests and amazing dunes. From here, you can relish a great view of the area and discover this privileged natural environment.
Castell d'Amer or d'Amer Castle
It is one of the most emblematic places in the area and is located in a small museum that can be visited throughout the year. It is a 17th century fortified tower and much loved in the area.
Safari Zoo
It is a spot especially dedicated to young children, since it has a playground offering tons of fun and almost 600 animals for the youngest members of the family to discover living creatures from around the world.
Mini train
It is a small touristic train that links Cala Millor to Cala Bona, sa Coma and s'Illot. It does not run throughout the whole year though. It opens in Easter and closes in October, covering the high season of tourism.
Weekly market
It is a market held in Plaza Mallorca every Monday morning. You can find the typical products sold at any market stand such as fruit, clothing, accessories or handmade products.
What to do
If Cala Millor is famous for something, it is for leaving no room for boredom.
Water Sports
In the area, water sports such as diving, windsurfing or paddle surfing, among others, are of great importance.
Tennis or Golf
Other sports are also practiced here such as tennis or golf, since there is a wonderful 18-hole course in Canyamel.
Rent a bike
And if all this were not enough, we can find bicycle rental services for touring the area (hire a rickshaw for the whole family at once) and explore its many corners.
Hiking
Hiking also has an important role among the activities that can be enjoyed in the area, since there is a myriad of roads and places to stroll in nature. The Green Way is perhaps the most frequented by hikers and has a route of up to 29 kilometres of little difficulty.
Other activities much in demand by tourists are horseback riding and boat renting for those more accustomed to the sea.
Events
Events are a constant in Cala Millor and there are many festivals and fairs throughout the year. The best known are the Medieval Fair, the Classical Music Festival or the Fiestas del Turista, which are held in September.
Beaches
Cala Millor beach brought the development of the urban nucleus in the 60s and remains its main charm today. Its length, 2 kilometres long, and fine white sand and shallow crystal clear waters make it perfect for all types of tourism, especially if they are travelling with children.
Where to eat
Although Cala Millor's nucleus has just over 5,000 registered inhabitants, the town has a wide range of restaurants due to the large influx of tourists. You can find options for all tastes and gastronomic preferences, keeping in mind that many of the restaurants are on the seafront.
As it could not be otherwise, the majority of bars and restaurants serve Mallorcan or Mediterranean cuisine, but you can also find restaurants serving excellent Italian food.
Where to lodge
Since the area began developing in the 60's, touristic facilities have not stopped flourishing. You can find many hotels in Cala Millor, from all-inclusive hotels, hotels with spa, affordable hostels and hotels with swimming-pool.
There is also a luxury hotel for the most select public. Sleeping and staying in Cala Millor is not something to worry about since the existing options are for all types of visitors.
Check Available Accommodations
The weather
Cala Millor's weather is a reflection of the Mediterranean climate of the area. Winters and summers are milder than in the peninsula, so even though there is difference between seasons, these are not as severe as in other regions.
Good weather and sunny days can be enjoyed throughout most of the year, with the exception of the months of November to March, when most of the rainfall is registered. Summer days are warm and the temperature during the night is ideal for resting.
Surroundings
The beautiful town of Porto Cristo can be found only 10 minutes away by car. Come and enjoy a long walk on the beach and eat in one of its many restaurants.
Cala Ratjada, another major touristic destination in Mallorca, is located to the north and 20 minutes from Cala Millor. Walk its stunning beaches, or if you wish to spend a day in Menorca, you can board a ferry here that will take you to that island.
If you are looking for a big city to do your shopping, you can find it just a few kilometres away: it is called Manacor and is your best choice.
Palma de Mallorca is quite far from Cala Millor, 1 hour away by car, but it is undoubtedly a city that we recommend visiting if you have enough time during your vacation.