Cala Ratjada is a beautiful touristic spot in north-eastern Mallorca. It is located in the municipality of Capdepera and is home to the second most important fishing port on the island.
The numerous natural coves and the rugged coastline have made of this area a very popular place; considered to be privileged for the over 40 kilometres of spectacular coves and beaches and especially attractive for tourists. It is one of the favourite summer destinations among families.
In addition to the numerous beaches, the town has a vital marina where the fishing activity takes place. However, this port maintains its special charm and traditional character due to the abundant boats mooring there. You will see here the typical and distinctive Mallorcan llaüt; a must-see in the area.
It is a town that offers all kinds of services for tourists, but this has not altered its original temperament and historical charm. It has been and continues to be the ideal destination to spend some quiet days on the beach with the family, while enjoying leisure, many diverse and fun activities, and visits to the most picturesque corners near you.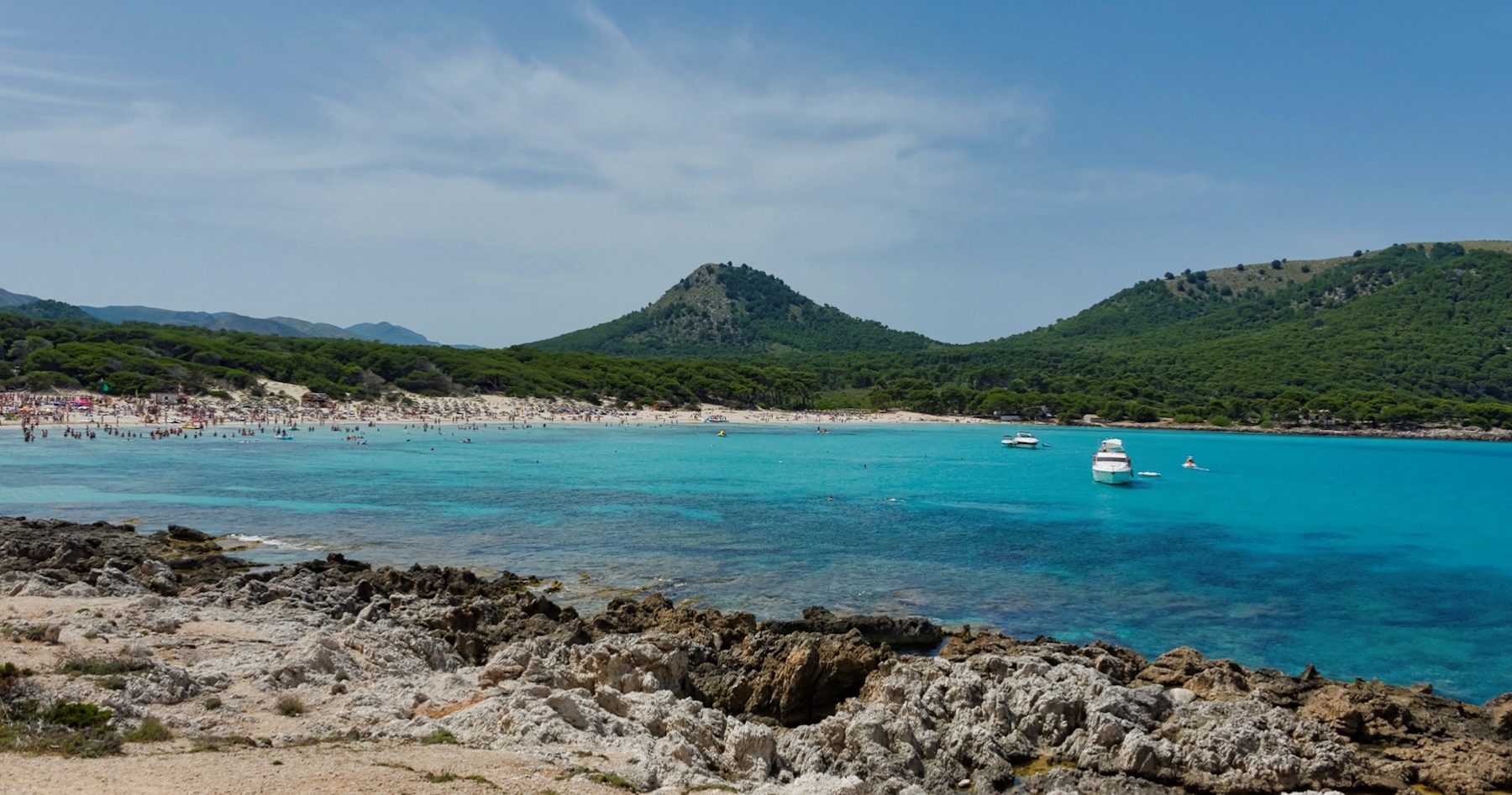 How to get there 
There are several ways to get to Cala Ratjada from Palma de Mallorca Airport.
If you travel with your own vehicle or rental, the shortest route (80 kilometres long) takes approximately 1 hour and 15 minutes.   
If you do not have a car, you can take a taxi or use public transportation from the airport. There are both shuttle services and private drivers that can take you to Cala Ratjada, being the former option more affordable than the latter. In addition, you can also choose to take the bus from the airport. Take either line 411 or 441, in which case the duration of the trip will be approximately 2 hours and 30 minutes.
What to see
Cala Ratjada promenade is remarkable and invites you to enjoy long walks by the sea.
Although there is little doubt that the main attraction of the area around ​​Cala Ratjada is its spectacular beaches and natural environment, there are also countless monuments and fascinating places to visit, some of them described below:
The lighthouse
It is located at Punta de Capdepera and dates back to the 19th century. Come and enjoy the wonderful views from Esbucada Tower, to be found right next to the lighthouse.
The March family palace
Besides being an important piece of architectural work in terms of style and materials, it has magnificent gardens with sculptures by Henry Moore, Chillida and Rodin. You can visit by making an appointment at the tourist office.
Cala Ratjada weekly market
Open every Saturday morning. Here you can find everything from food to flowers and plants, clothes and also footwear.
Talaia de Son Jaumell viewpoint
If you would like to combine the beach and the mountains, we recommend that you visit this impressive viewpoint. From here, you will have access to the best views of the beaches in the area, while exploring and enjoying a family walk.
What to do
Besides being an alluring location for its beautiful landscapes, beaches and a powerful natural setting, Cala Ratjada can also present a variety of activities to do, ideal for spending a fun time with family and friends.
Sports activities
There are several routes for cycling or hiking in Cala Ratjada and its surroundings.
Golf lovers can practice this sport in the great course of Capdepera Golf, located between this town and the town of Artá. Learn or improve your game with a professional instructor, play surrounded by the magic of the scenery and enjoy a delicious meal at the restaurant.
Water activities
Due to the nature of the area, the choppy waters of the east coast are perfect for surfing and windsurfing, especially in Cala Mesquida.
There are also companies offering canoe rentals or arranged canoe excursions to tour the coast.
Diving is another activity you can do here. If you are interested in renting professional gear, there are several stores where to find it.
Boat rental
Rent a boat without a license to explore the beautiful coast and live an unprecedented adventure.
Ferry to Menorca
The proximity between the two islands makes it a very popular excursion. The ferry arrives in Ciutadella de Menorca after a 55-minute journey. This is undoubtedly a fantastic opportunity to discover the pleasant island water at an affordable price.
Bird watching
If you are passionate about birds, you will be able to observe a great variety on the coast near Cala Mesquida and Cala Agulla, which has been declared a protected area.
Tourist Day
If you happen to visit the island in September, you will be able to celebrate this fun day, the Tourist Day, as it is held every last week of this month in Cala Ratjada. There will be dancing, theatre, fireworks, concerts and many other activities that without a doubt will bring endless joy during your stay in Mallorca.
Beaches 
Cala Ratjada has a coastline with plenty of beaches of fine sand and crystal clear water that enjoy the prestigious 'blue flag' rating. For example, only after a 15-minute walk from the city centre, you find Cala Agulla, the famed white sand beach.
Also, after a 10-minute drive towards Canyamel, we reach Sa Font cove, ideal for families. In addition to these two stunning places to enjoy, there are others such as Cala Gat or Sa Pedruscada, the latter being made of rock and full of small fishermen's huts that grant a very characteristic feel to it.
Where to eat
If you are a gastronomy lover and you relish discovering different and daring flavours, you can find in Cala Ratjada both a wide variety of restaurants serving international food, as well as high quality typical Mallorcan cuisine. Some of the restaurants in the area have been awarded with the prestigious Michelin Stars. Fish, seafood and rice are the main protagonists of the dishes.
Charcuterie artisan products, such as sausages and cold meats, are also an important part of the local cuisine. We highlight a classic, the typical Mallorcan sobrasada, as well as various pork and lamb stews.
Where to lodge
Cala Ratjada has a very wide offer of accommodation and apartments. Most of them are located near the different beaches, as it is a very touristic area.
Any hotel that you may have in mind, from a standard place where to stay for the night to a more sophisticated accommodation with all its added comforts, you are sure to find them in Cala Ratjada.
If you look at the issue of accommodation as just a place to sleep and where you are to spend little of your time, you can find modest hostels at very affordable prices. If on the other hand you fancy the services of a luxury hotel, with all the amenities such as swimming-pool or spa to name a few, Cala Ratjada has just the right places for you to have your pick and find what you are looking for. Enjoy your stay.
Check Available Accommodations
Surroundings
Come to Capdepera and visit the ruins of a castle located on the mountains. There is also a medieval market during the month of May. Its dynamic nature attracts many visitors.
Even though the town of Artá (in the northwest of the island) is little known by tourists, it is worth mentioning that it is blessed by a special charm and great archaeological interest, offering many places to visit. Artá Cave is one of them.