A whim of nature
Sa Calobra is located on the northwest coast in Mallorca, in the municipality of Escorca and Sierra de Tramontana mountain range.
Playa de sa Calobra and Torrent de Pareis are the two beaches that form this very popular area among tourists visiting Mallorca.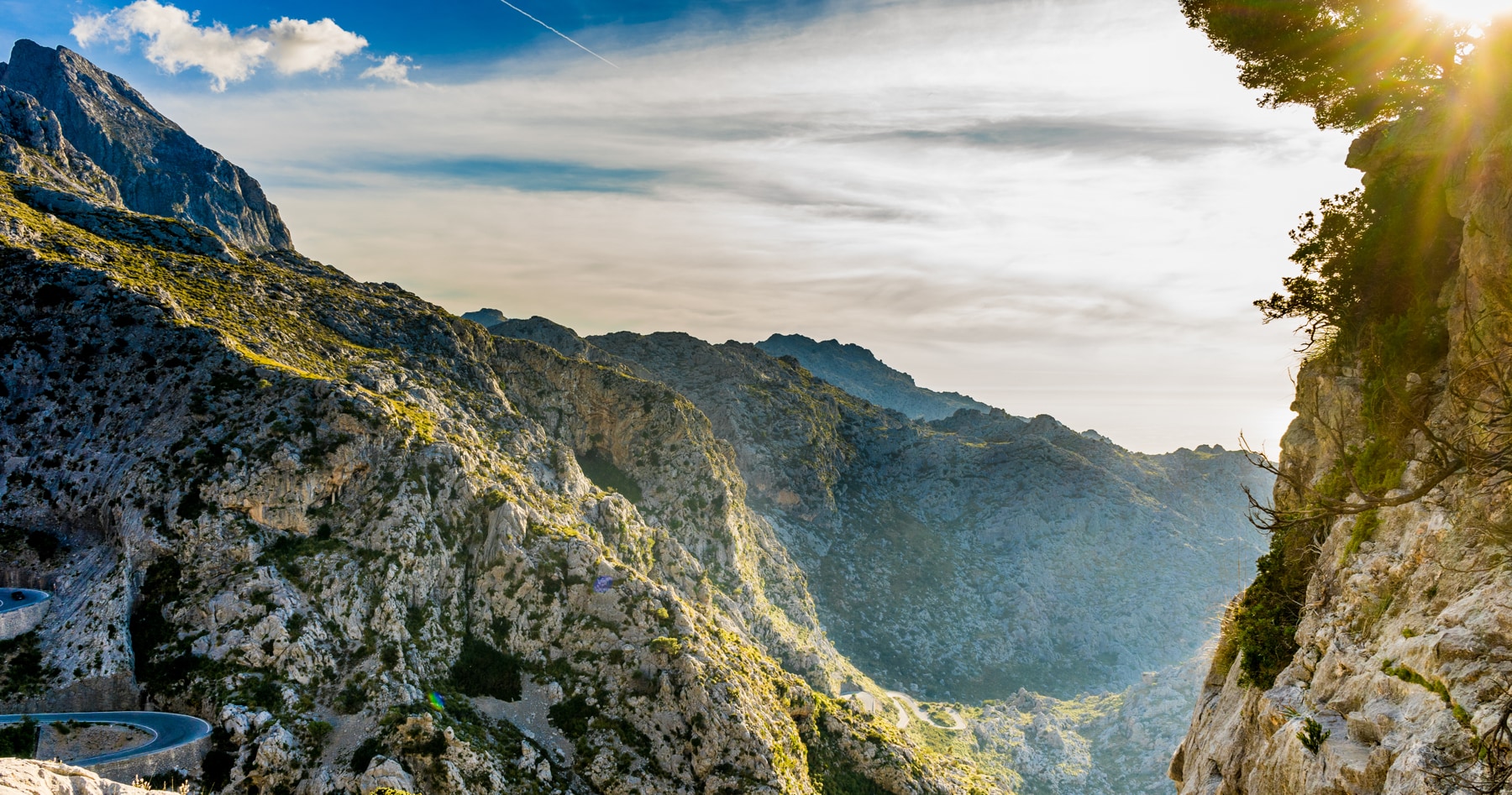 How to get to Sa Calobra
Cycling is frequent on this road, as it is a good training place.
There are hiking trails to get to the beach if you want to access it on foot and avoid this way, the curves on the road.
By car
Car travel is not easy in this area, as you drive here along a road full of impossible curves that seem to never end. However, what awaits at the end of the road is worthwhile the effort. If you usually get carsick in a curved road, you should think twice before adventuring on this drive. In order to reduce the stress, you can stop halfway through and rest a bit. There is a viewpoint at a certain point on the road and a bar across. You can take a break here, have something to drink and enjoy the wonderful views.
By bus
Although it may seem complicated, the public bus also reaches Sa Calobra on that same road.
By boat
There are frequent boats to Sa Calobra during the summer months from Port de Sóller. This is a one-hour journey.
Beaches
We will find a private parking lot next to the beach when arriving at Sa Calobra. If you are one of the first to arrive there, you may be fortunate enough to park in a free area, but a bit further away from the beach.
Upon parking, we will reach the beach of Sa Calobra. Further away, by a road of about 1 kilometre long, we will cross a small tunnel and enjoy the scenery, reaching the impressive Torrent de Pareis soon after.
Sa Calobra beach (or Sa Calobra Cove)
It is quite small, only 30 metres long, with sand, pebbles and turquoise water. It is easier to find a spot on it, and also to get away from the tourist overcrowding, early in the morning or off the peak season. Boats on the route Port of Sóller - sa Calobra arrive here.
The beach is serviced with public showers and bathrooms.
Torrent de Pareis
It is a torrent that begins in the Lluc mountains, crossing Sierra de Tramuntana mountain range and reaching the Mediterranean Sea forming a small 100 metres long  beach at its mouth, which is at the same time fringed by two huge walls of natural stone. This place must be seen to be able to grasp its beauty.
The beach is a pebble beach, but you should not be discouraged by that, as you can still enjoy a swim or lie down to relax and sunbathe. It is usually busy during the summer months, but its magnificence is something you cannot miss.
Many hikers begin in Escorca and descend by the ravine there until reaching Torrent de Pareis and Sa Calobra beach.
Excursion to Torrent de Pareis
It is one of the most beautiful excursions but also among the most difficult, so it is highly recommended to engage in this adventure with an experienced tour guide in order to avoid any unnecessary incidents. The route starts at Escorca and it is 5 kilometres long, taking from 4 to 5 hours. It is a difficult level excursion and requires a moderate physical effort to make the descent.
There is option to make the excursion in reverse, from the Torrent de Pareis' mouth in Sa Calobra up to where we feel the terrain is becoming arduous; we advise to stop to avoid any danger ahead. This excursion is not possible during winter due to the large amount of water covering the way.
Concerts
Once a year, in July, the 'Torrent de Pareis Concert' is staged free of charge for all kinds of audiences. This setting is ideal for such a performance since the cliffs around offer the exquisite attributes of an auditorium.
Where to eat
There are several restaurants and bars near Sa Calobra beach and also on the way to the canyon called Torrent of Pareis. Unfortunately, many of them will be closed in low season, so if you decide to visit the area during those months, remember to bring enough food and drink.
Where to lodge
If we want to stay in this area, we should go to Escorca town, where we will find several hotels and hostels. There is also the possibility of spending the night in a refuge or in the monastery Monasterio de Lluc.
Check Available Accommodations
Surroundings
Reach Cala Tuent from Sa Calobra and discover the beauty of this uncongested beach.